Remember when CB radios were actually useful?
Like CBs and just about everything originally intended for emergency purposes, many of the safety items listed in this article are for situations of distress, where life, eyesight or organ health is in danger. Let's all be careful and professional when using PLBs (personal locator beacons) and ELTs (emergency locator transmitters).
On February 1, 2009, the international COSPAS-SARSAT program will terminate satellite processing of signals from 121.5/243 MHz ELTs. If you want full satellite-monitoring benefit, you'll need to use an ELT (or PLB) that transmits on 406 MHz; the 121.5 units we're all used to will still work, but the satellites will no longer be listening, so you'll need to have line-of-sight to your rescuers if you're using old-tech 121.5 alone. It's a good idea, right now, to retrofit 406 MHz ELTs or at least carry a 406 MHz PLB.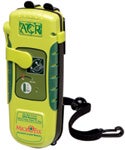 ACR Electronics MicrOFix
The new MicrOFix from ACR Electronics is a 10-ounce, one-button-activation PLB that's ideal for hikers, explorers and, naturally, pilots. With a clip mount to fit on your flight vest, it features built-in 12-channel GPS and 406 MHz satellite transmission, plus a 121.5 MHz locator signal for line-of-sight rescue. If your airplane still has a 121.5 ELT and you're not ready to upgrade to 406 MHz (or if you're a renter), this five-watt, waterproof device may be the transition piece you're looking for. The long-lasting battery (up to 40 hours nominal, and eight hours at minus-40 degrees F) makes this cell-phone-sized gadget indispensable if you're on any risky adventure, from an emergency call-out in a mountain blizzard to a flight across the Sahara. The antenna wraps conveniently around the unit when not deployed, and its manual activation means that you won't be "rescued" when you merely make a bad landing. Look for a street price around $650.
For more information, contact: ACR Electronics Inc., (800) 432-0227, www.acrelectronics.com.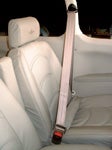 AmSafe Aviation Inflatable Restraint
In service since 2001, the AmSafe Aviation Inflatable Restraint system has, to date, been installed on nearly 80% of new GA aircraft (it's also available for retrofit on several models). Weighing just over two pounds, the system protects in a way that's similar to your car's air bag, but with significant differences in the way it's built and how it operates. For instance, it's stored in the lap (or shoulder) portion of the seat belt; it's powered by compressed helium gas (rather than an explosive charge, as in your car, so it deploys cool rather than hot); and its high-pressure canister has a safety circuit that releases its pressure in the event of a nondeployment accident that results in a fire—so it's safer for both survivors and rescuers. Of course, it expands up and away from—instead of into—the subject. Within 10 seconds of deployment, the AmSafe device deflates, so it won't get in the way of someone who's exiting the aircraft. The G-sensor is designed to prevent accidental discharge (such as in transit, during a poor landing or when being hit by a beverage cart). AmSafe and the FAA continue to conduct extensive research in the lab—see technical papers on the AmSafe Website.
For more information, contact: AmSafe, (602) 850-2850, www.amsafe.com.
---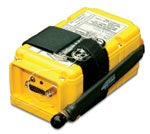 Artex 406 MHz ELT
The Artex line of 406 MHz ELTs is designed to afford the user maximum exposure to search and rescue whenever the devices are activated. Hannes Geiger (Sales and Marketing Manager) cautioned against having a false sense of security from relying on just a PLB as a substitute for an automatic (fixed) ELT. PLBs (frequently carried by hunters or found in life-raft survival packs) need to be manually activated, "and what if you're incapacitated or unconscious?" he asked. The Artex 406 MHz ELTs all have TSO-C126 approval and are complete systems with specific antennas. All fixed installations connect to a remote cockpit switch that allows manual activation and closes the G-switch loop. (They're left open until installation, so they won't go off accidentally when the units are in transport.) Antenna requirements are dependent on the rated speed of your aircraft: up to 200 knots, a whip antenna will do the job; up to 350, you can use a rod antenna; above that, you'll need a blade antenna to ensure full functionality.
For more information, contact: Artex Aircraft Supplies Inc., (800) 547-8901, www.artex.net.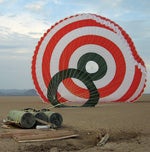 BRS Parachutes
"We've turned a corner in the marketplace in the last five years," said BRS CEO Larry Williams. "Then, the question was, 'Why do you need a parachute for the airplane?' Now, it's 'Why doesn't this airplane have one?'" The gradual acceptance through the industry paralleled the consumer acceptance of (and finally demand for) air bags in cars. "With more than 205 documented 'saves,' the product is established," said Williams, and the industry is responding. At AOPA Expo 2007, BRS announced that Cessna now offers a parachute option on the new C-162 Skycatcher LSA. In addition, Cessna service stations will begin sales, distribution and installation of the BRS parachutes for the 172 and 182 models as an aftermarket retrofit. BRS has also begun work on an STC for the C-206, making BRS whole-airframe parachutes available for the full line of Cessna single-engine pistons. Williams also reported that the D-JET system is scheduled to begin certification testing in November 2007.
For more information, contact: Ballistic Recovery Systems Inc., (651) 457-7491, www.brsparachutes.com.
CO Guardian Model 152WD
CO Guardian can save your life for $149. That's how much its Model 152WD (without display) costs; the 152A, which has a display that starts showing at 30 ppm of carbon monoxide (you need about 400 to go to sleep), lists at $179. Plug it into your 14- or 28-volt cigarette lighter, and it's ready to alert you to dangerous CO. It's shielded from radio-interference for aviation use, and it's temperature-compensated to work in cabins from minus-20 to 70 degrees C—this Arizona-based company knows about extremes. It's been tested at cabin altitudes up to 13,500 feet—all you'll need. (Above that, you're on oxygen, right?)
For more information, contact: CO Guardian, (800) 639-7139, www.coguardian.com.
Eastern Aero Marine Aviation Rafts
Eastern Aero Marine's line of aviation rafts starts with bare-bones, two-person, non-TSO'd units and goes up all the way to a 46-man, airline-approved monster. Among the smaller-sized flotation devices, single-tube Type II rafts and even smaller, lighter, less-expensive (non-TSO'd) rafts are popular choices—even the most basic raft is better than no raft at all! In the twin-tube designs, Eastern Aero Marine's twin-tube Type I (TSO'd) rafts come in capacities as small as six-person (with an overload of nine). Additionally, this Miami-based company offers a variety of survival items, prepackaged kits (tailored for survival in various environments) and individual pieces of gear.
For more information, contact: Eastern Aero Marine Inc., (800) THE-RAFT, www.theraft.com.
---

Icom IC-A24
Icom's newest navcom handheld device, the IC-A24, is an indispensable addition to your flight bag. Its small size and 15.2-ounce weight won't disturb your cockpit, and this one-hand-use VOR receiver with one-touch 121.5 tuning, weather and 10-channel "flip-flop" recall will be all you'll need to get home safely if your panel goes dark. And if you're flying a light machine, the A24 may be all you'll feel like carrying—period! It's weather-resistant (you shouldn't drop it in a lake, but you don't have to worry about early-morning mist), works in temperatures between minus-14 and 140 degrees F, and has its own rechargeable battery pack. With 200-channel memories (spaced 25 kHz apart), you'll always have your familiar freqs available, and your favorite trips can be programmed into separate "banks" of 10 freqs each to keep them all together. Rugged, capable and small, it comes with a built-in speaker and mic (and also has a headset adapter), belt clip, charger, antenna and strap. List price is $430; look to pay around $325.
For more information, contact: Icom America, (800) 426-7983, www.icomamerica.com.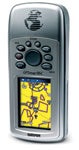 Garmin 96 & 96C GPS
Garmin has a lot of pages in its catalog, but for sheer handiness, it's hard to beat the company's affordable handheld GPS 96 and 96C (the color-screen version). Pull these babies out of your flight bag and you can use all the normal GPS functions, along with an HSI simulator. You can see what you really need: tracking, position and (ground) speed. You can easily calculate winds aloft and find active waypoints. The 96s are preloaded with the major highways of North and South America (the City Navigator North America, which includes just about everything, downloads for $140) and its plans are routable. So, it's good for auto, aviation and even marine use (it even floats)! With a weight under a pound, 20 to 30 hours of life on two AA batteries (the color version has longer battery life), and a street price of about a hundred dollars less than the $499 and $599 list prices, the littlest Garmin aviators are a pair of good ideas.
For more information, contact: Garmin, (800) 800-1020, www.garmin.com.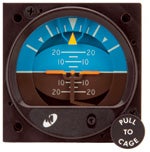 Mid-Continent Instruments Models 4300/4200
Mid-Continent Instruments offers a nifty pair of electric backup instruments: The 4300 "Lifesaver Gyro" has a three-inch display and an internal battery, and the 4200 "Mini Gyro" has a two-inch display. The larger 4300 has a lead-acid battery that provides power for up to an hour, including illumination. It's continually charged in normal operation, and the push of a button will tell you the charge's state. And if panel power is interrupted, an orange annunciator flashes to alert you of that. The "Lifesaver" has a slip-ball option, allowing you to also use the 4300 as a turn-and-bank substitute.
The "Mini Gyro" version is gaining acceptance in space-premium applications and now incorporated as a backup attitude indicator in high-line flat-panel installations by Avidyne/S-TEC (for the King Air 200 and Conquest 441) and Garmin G1000 (as used in its King Air C90 conversion).
For more information, contact: Mid-Continent Instruments, (800) 821-1212, www.mcico.com, www.lifesavergyro.com.
Survival Products Life Rafts
Survival Products makes a line of unusual square-corner rafts, a design feature the company says makes storage easier and the finished product lighter, for any given capacity. The company uses high-quality materials to produce lower-cost rafts that will do the job for many fliers (depending on regulations and certifications, etc.). Other features, such as aluminum inflation cylinders rather than the oft-seen steel, also cater to owners of smaller aircraft. In June, a couple flying a rented C-150 in Hawaii "tested" one of the company's four-man rafts and, predictably, informed the Honolulu Fire Department that they were happy with it! Survival Products, like many of the companies in this section, also provides a lot of other gear—from complete package to individual items—that can be stowed with your raft or used on the trail, in the unlikely event that you ever do anything but fly. Based in south Florida, they distribute worldwide.
For more information, contact: Survival Products Inc., (954) 966-7329, www.survivalproductsinc.com.
---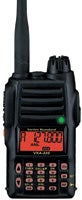 Vertex Standard VXA-220 Pro VI
Vertex Standard introduced its marine-cased VXA-220 Pro VI at EAA AirVenture 2007. Its ease of use, rugged construction (it's submersible) and quick-operating features (such as one-touch 121.5 tuning, auto-tuning to NOAA's National Weather Service, instant recognition of frequencies so you don't have to type numbers, auto-squelch and voice activation) have made this inexpensive (advertised price is just above $200, street price is often lower) transceiver a hit. With 250 memory channels and a bright display, this NiMH-powered radio is smaller than most; and its large speaker is also quite loud—one of the happy byproducts of its marine heritage. It comes with a headset cable, drop-in charger and helical antenna; options include other chargers, a speaker-mic and antenna-installation adapters.
For more information, contact: Vertex Standard, (714) 827-7600, www.vxstd.com.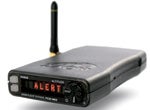 Zaon Flight Systems PCAS MRX
Zaon's PCAS MRX—"the world's smallest traffic alert device"—is a self-contained, portable traffic-alert system that runs for six to eight hours on a pair of AA batteries. Traffic that uses Mode C or Mode S transponders is monitored and relayed to the pilot with bright-red symbols that show their relative distances and altitudes, and indicates if the bogies are climbing or descending. As other aircraft approach, you receive three levels of notification; the ranges (including relative altitude) are pilot preferences within the unit's operating sphere (useful for tuning your alerts in various levels of congested airspace). It's great for renters or pilots with multiple aircraft, and it's a real treat for CFIs who are always flying in high-traffic areas that are often populated with unpredictable flight ops.
For more information, contact: Zaon Flight Systems, (800) 496-9430, www.zaon.aero.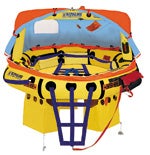 Winslow LifeRaft
We spend a lot of money on things we don't want to use—health insurance and gym membership, for instance—but we realize that life is unpredictable, so we prepare for the worst and count on that preparation to see us through. And so it is with life rafts (or their little brothers, "rescue rafts"). Winslow has a complete line of the highest-rated rafts in the business tailored to aviation—from "small and light" to "all the comforts of home" (okay, that's a bit of an exaggeration). What you select depends on your probable routes, your aircraft's capacity for people and cargo, certification and overflight requirements, how much floatation you think you'll need, and the nature of!nature along your route.
The company's Website and many professional users offer good advice on how to match the Winslow raft to your mission. In fact, Winslow will custom-pack a life raft to almost any shape to meet storage requirements.
For more information, contact: Winslow LifeRaft Company, (800) 838-3012, www.winslowliferaft.com.