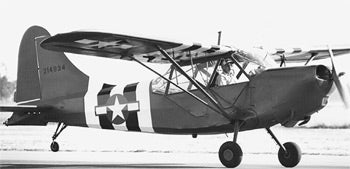 STANDARD DATA: Seats 2. Gross wt. 2,158. Empty wt. 1,472. Fuel capacity 36. Engine 190-hp Lycoming.
PERFORMANCE: Top mph 130. Cruise mph 112. Initial climb rate 975. Ceiling 15,800. Range 275. Maximum range 420.
The V-76 Sentinel two-seat liaison and observation airplane was developed from the Model 105 Voyager in 1941 by the Stinson Division of Consolidated Vultee. The first deliveries to the U.S. Army were made in 1942. Deliveries of the initial version, the L-5, totaled 1,731, and subsequent orders brought the total production to 3,283. In 1943, changes in the electrical system resulted in the designation L-5A. The L-5B version was an ambulance modification with the addition of a special down folding door aft of and adjoining the standard backseat door. When both rear doors were opened, a single stretcher could be loaded. Other versions included the L-5C with a reconnaissance camera, the L-5F with drooping ailerons, and the L-5G with a 190-hp Lycoming. Fuel was carried in two tanks, one in each wing. The spruce wing spars and ribs were fabric covered. The same materials were used for the tail. The fuselage was fabric covered steel tube.