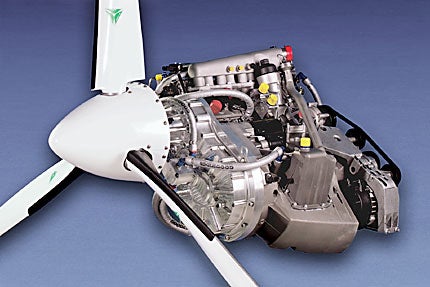 Thielert diesels are designed to burn Jet A, which is in much greater supply worldwide than traditional aviation 100LL. The engines are common in Europe and more common everyday in the United States.
The diesels are coming…the diesels are coming—to general aviation, that is. And the company that's leading the charge isn't one of general-aviation engines' "big two." No, it's a relatively small company that has its sights clearly set on relieving your dependence on avgas.
The company is Thielert Aircraft Engines GmbH (TAE), and it's based in Liechtenstein, Germany. TAE was founded in 1999 with the sole goal of designing, developing, certifying and manufacturing a brand-new Jet-A-burning diesel cycle engine for the entire general-aviation industry.
As Thielert's founder, Frank Thielert explains that engine technology development in general aviation stagnated for 40 years, leading to a market demand for new-technology engines. And new technologies become available when they adapt successful automotive developments. "One motivation is to translate this state-of-the-art technology to general aviation because it's reliable, cost-effective and proven by the millions," he says. And TAE's experience in motor sports and prototyping engine parts, along with its state-of-the-art manufacturing facilities, will help the company achieve its goals.
---
Thielert's newly certified 135 hp, Centurion 1.7, turbocharged, four-cylinder, liquid-cooled engine is the first diesel engine to be part of the type certificate of a new OEM aircraft. The engine is available on both the Diamond DA40 single and the incredibly cool DA42 Twin Star and is in flight testing on the Robin DR400.
For the lucrative retrofit market, Thielert has gained a supplemental type certificate (STC) to re-engine many Cessna 172 models and is expecting to have approval for a similar package for the Piper PA-28 family this summer. The option to swap old O-320s for the new Centurion 1.7 may well be attractive to flight schools and other high-use operators because of the considerably lower hourly operating costs (the company states up to a 50% reduction in operating costs in the United States because of lower fuel consumption and fuel costs).
But Thielert has another engine up its sleeve. The company has developed a 350 bhp V8-engine version of the Centurion 1.7. Named Centurion 4.0, this more powerful, FADEC engine will run only on jet fuel and is expected to show up both in new aircraft and as a retrofit in older aircraft. It's running and being tested in other aircraft, including High Performance Aircraft GmbH's TT62, which made its maiden flight earlier this year. The Centurion 4.0 already received its EASA certification on October 28, 2004, but is still awaiting FAA certification, which the company hopes to obtain by spring 2006.
---
So what is the future of the diesel engine in the United States? Thielert is philosophical in his answer.
"In all aspects of industry and life, no one accepts [the requirement] to work with technology that is out of date because it doesn't fill the customer requirements. The only aspect of life in which old technology has to be accepted, until now, was general aviation engines," he said. "So we believe that in the long run, more and more U.S. pilots will opt for the special advantages of modern diesel engines, like the Centurion 1.7s—low fuel consumption resulting in longer ranges and lower operating cost, ease of maintenance and operation through Full Authority Digital Engine Control (FADEC).
For more information on Thielert's Centurion 1.7 and 4.0 diesel engines, log on to Thielert Aircraft Engines' Website at www.centurion-engines.com.