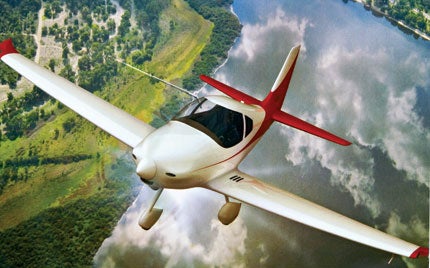 Epic Aircraft, known for high-tech VLJ and turboprop designs, has an LSA project in the works. Called Focus, the carbon-fiber, two-seat airframe will be available in three configurations. The LSA's all-up weight of 1,320 pounds will include a 615-pound useful load, 40-knot stall speed (full flaps), 115-knot cruise at 75% power and 1,050-mile range (34 gallons with 30-minute reserve).
In spite of lighter attendance than last year, the 2009 EAA Sun 'n Fun Fly-In drew an enthusiastic crowd to Lakeland, Fla., for the week's festivities.
Hot, windy but clear skies showed off aviation vendors in their best light.
Present were major producers such as Cessna, Piper, Hawker Beechcraft, Garmin and Cirrus, as well as more LSA companies than expected in the economically challenged market.
Many LSA vendors reported fewer, but more serious, shoppers. Evektor, Legend Cub and Flight Design, among others, reported strong and encouraging at-show sales.

Piper Jet

Phenom 100
The Phenom 100 was open for inspection after it was announced that the VLJ passed the European Aviation Safety Agency (EASA) certification process. The Phenom is already FAA-certified, and 12 have been delivered so far in the United States. Piper CEO Jim Bass described the Piper Jet's "significant progress" en route to FAA certification: "We've installed landing-gear doors, the pressurization system and a state-of-the-art data-acquisition system…[to] verify the high-altitude performance." Bass stated his confidence that the VLJ will meet or exceed all of its stated design goals.
---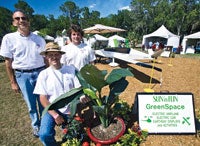 ElectraFlyer-C
Randall Fishman's electric airplane, the ElectraFlyer-C, a modified, amateur-built Moni motorglider, was the centerpiece of the EAA's first-ever Earth Day exhibit and activity display. Also prominent in the "green" mini-mall were displays of a hybrid Ford Fusion and booths offering information on composting, natural eating, hydroponic gardening and the Lindbergh Foundation, which funds grants for environmental aviation programs.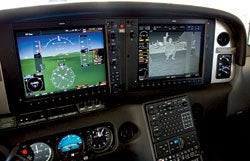 Cirrus EVS Infrared Vision Display
Cirrus showed off its cockpit installation of the Perspective EVS, incorporating the Max-Viz EVS-600 to complement and augment its Garmin Synthetic Vision Technology. It's a multi-sensor system that blends visible and infrared light for day and night flight environments where full vision is compromised by weather, clouds or night. The certified display is available for all Cirrus SR20, SR22 and Turbo aircraft.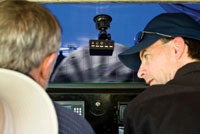 VirtualHUD
William J. Steele's revolutionary VirtualHUD (Heads Up Display) allows a pilot to see flight display information projected onto the reflective strip–lined backside of a spinning propeller. The ingenious device projects all standard flight information for normal VFR and IFR navigation, day or night. Infrared NightVU also is possible.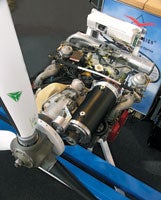 Hybrid Engine
LSA maker Flight Design GmbH of Germany is in advanced development on a new hybrid aircraft engine that weds a Rotax 914 turbocharged engine to a 40 hp, 30-kilowatt electric motor. The electric powerplant joins to the prop hub with a V-belt and will be used for takeoff and climb only. Lithium-ion batteries power the electric mill. Expect flight-testing later this year. One safety bonus: If the gas engine should fail, the electric motor will extend a typical light airplane's glide ratio from 10:1 to as high as 30:1.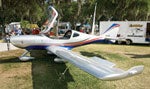 Arion Lightning S-LSA
The sleek, amateur-built, composite Arion Lightning S-LSA that has caught many an eye at air shows is now ASTM-approved. To conform its performance to the light-sport rule, droop flaps, aileron wingtips, a different airfoil, a larger prop, "draggier" gear-leg fairings and 3.5 inches more wingspan were incorporated. Also notable: the under-$100,000 price tag.
---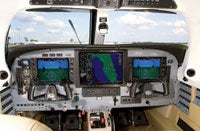 Piper Meridian With Garmin G1000
Piper CEO Jim Bass introduced the new G1000 installation in its Meridian turboprop as a system so perfectly harmonized with the airplane's mission profile that it "performs more like a business jet than a personal airplane." The system includes 10.4-inch PFD and 15-inch MFD EFIS screens (with another right-seat PFD as an option), an audio panel and a console-mounted keypad for convenient remote operation of the screens.
Legend Cub
American Legend announced an addition to the Legend Cub panel options: the big (seven-inch-diagonal) Garmin GPSMAP 696 display. The company also offered its "Aeronomic Stimulus" program at the show, promising to price its next five LSA sales at $99,895.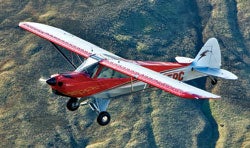 Super Sport Cub
CubCrafters introduced the Super Sport Cub, a remake of the revered Piper Cub. Key to the dramatic performance of the bird (climb rate: 2,100 fpm!) is its electronic ignition, high-compression CC340 engine. Of note is the engine's 180 hp rating for takeoff and climb, and 80 hp rating for sustained cruise, which delivers 5 gph performance.