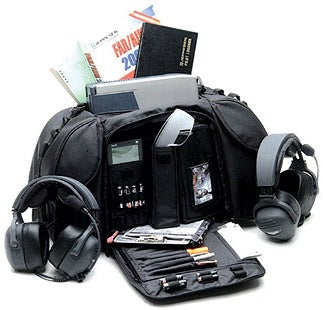 Sky High
Ah, the flight bag. What, in the air-mail days, was a lowly canvas sack into which was stuffed a bedraggled map, a candy bar and a dime for a phone call if the weather got bad has become a cockpit staple. Though electronic flight gadgets have replaced the manual E6B computers and the pedantic Jeppesen chart binders of yesterday, the flight bag has only grown in popularity and usefulness. Though some forego flight bags altogether, the fact is that pilots today need flight bags just to keep all their gadgets organized! Holding everything from chart readers and portable navigators to laptops and radios, gear bags need to organize and function like never before.
The humble flight bag has always been a symbol of aviation. The great aviation writer Ernest Gann used laying down his flight bag as a metaphor for ending his flying career at the close of his masterpiece, Fate Is the Hunter. Bob Buck, the revered TWA pilot and author, symbolized the beginning of his airline career with a comical photo of him climbing aboard a DC-3 with his suitcase, typewriter and what he called his "brain bag." And, of course, there's the iconic scene in Top Gun with Maverick speaking his famous, "I feel the need for speed" line, carrying his sage-green flight bag.
The great thing is that, today, there are hundreds—if not thousands—of pilot bags to choose from, and no two pilots can agree on which is best. As part of my research for this piece, I asked nearly all the pilots I know what flight bag they carry and why. The response was anything from the new, mega-engineered BrightLine bag, to "an old day pack I bought for eight bucks at the swap meet." Some have even created their own design! Being humans, we pilots like different things, and, like underwear, flight bags become personal for each of us.
Modern flight bags also are marvels of design and engineering. For example, many bags today are made of "ballistic nylon." DuPont first developed ballistic nylon during World War II to make flak jackets for airmen. That first formulation was an 18-ounce fabric made from 1050 denier, high-tenacity nylon thread (denier refers to the weight of a fabric). Modern formulations are even heavier, and newer variations on that fabric (such as Cordura) are more abrasion-resistant yet softer to the touch.
Some bags on the market today have gone through extensive computer-aided design (CAD) and have been conceived and engineered meticulously and with flying in mind. The arrangement of pockets and compartments utilize every centimeter of space, making efficient use of material, clasps, straps and vertical space. Changes in the way we fly airplanes have influenced much of this.
Headsets, for example, made flight bags different. Suddenly, a student had to have someplace to put that bulky headset and cord. While early bags were just one big canvas pocket, bags became more compartmentalized as time went on. Students wanted to carry their E6B, fuel tester, charts and headset in separate pockets. Anybody who has ever tried looking for a pencil or battery in a single-compartment flight bag in turbulence knows why.
And, speaking of students, remember when you were first learning to fly and couldn't wait for the new Sporty's or other pilot gear catalog to come? You'd sit around on a summer day, poring over the latest issue of your favorite aviation magazine, circling all the pilot gadgets in the back pages. As a student pilot, you'd buy everything ("Hey, that 'pattern entry calculator' wheel is just what I need!"). But do you also remember that, as you matured in your flying, your flight bag had less and less stuff in it, and that soon you had edited your stuff down to only that which was absolutely critical?
---
Today, we continue to pare the list down, but the number of electronic gizmos has grown. In 2011, a modern pilot probably carries a laptop, portable GPS, handheld com radio, an LED flashlight or two, a headset, electronic chart reader (or smartphone with aviation apps), maybe a paper chart or two, an MP3 player, airplane manual, fuel tester, sunglasses, spare batteries, kneeboard and, finally, a gaggle of personal items—from your favorite gum to a good book.
So, we present the modern flight bag. We have a sea to choose from—in every color and with more functions than a Swiss Army knife. We list here a few of our favorites. Most of these manufacturers have a varied line of flight bags, so if you disagree with our choices, there's undoubtedly one that fits your flying style better. Whatever your preference, there's a flight bag out there for you!

Brightline
BrightLine Bags
www.brightlinebags.com
Right off the top, this bag blows our socks off with its 25 pockets and the ability to carry one or two headsets in a 13x10x9-inch footprint. If you want innovation and advanced design, this bag has it and then some. It was designed by a pilot, and was created on the computer and refined countless times before it ever went to production. Versatility and innovation are the hallmarks of this bag.
Each of the bag's features makes you nod in approval. Here are just a few: The zippers are color-coded so you know which pocket to open. The bag will hold all FAA navigation charts without folding. The BrightLine has dedicated and ergonomically positioned pockets for sunglasses, cell phone, batteries, fuel tester, radio and many more items. It easily unzips into two separate bags with its SwitchSnap handle system. Check out the complete video on the BrightLine website. Price: $129.

Sporty's
Sporty's Flight Gear Mission Bag
www.sportys.com
Sporty's usually does things right, and their new Mission bag is no exception. First off, the exclusive "MyBag" system allows you to customize and expand your flight bag with a variety of snap-on accessories, so you can literally change the size of the bag on the spot. Dedicated pockets for the most-used gadgets like fuel testers, flashlight, charts, etc. are ideally positioned. The Mission bag has a well-constructed, hard-rubber handle for durability, a separate shoulder strap and internal file folders for organizing charts. We like that it's top-opening so you can easily fit it between seats or on the side of the cockpit, and we love the useful certificate holder and credit card pockets on the front.
Snap-on accessories include a matching headset bag (though a headset fits fine in the main compartment), camera/radio holder, cell phone case, water-bottle holder and others. Sporty's will embroider the bag with up to three initials. Price: $62 (base bag).

ASA
ASA CRM Flight Bag
www.asa2fly.com
This super-functional bag is designed to be your "copilot in a bag" and keep your cockpit clean and organized. Constructed of 600 denier polyester with PVC backing, the bag is designed to take abuse. An assortment of pockets on the inside and outside allows a place for everything. We like the outside mesh "hideaway" pocket, perfectly sized for a water bottle, and the sleek, silver-on-black bag design. The heavy-duty metal zippers feel rugged to the touch, and the nonslip shoulder strap is a nice touch. ASA's Tech Bag retains many of the features of the CRM, but adds a wider, padded compartment for electronic EFBs and navigators. The CRM Bag is 14½x12x9 inches; the Tech Bag is 19x8x12½ inches. Both priced at $69.
---

Pilot Mall
Pilot Mall Soft Leather Small Pilot Bag
www.pilotmall.com
Leather is luxurious. There's something about the feel and the smell of leather that hearkens back to the golden age of flight. Since not everybody is a fan of nylon and polyester, we thought we would include the Pilot Mall bag in the "classic" category. First, the bag comes in a choice of natural, black or black with light-brown trim leather. This bag, being on the roomier end, accommodates 10 charts, two headsets, binders and a number of extra gadgets in an array of inside and outside pockets. Thoughtful design includes a double-zippered main compartment and separate pockets for everything, from your GPS to your flashlight and much more. We like the exterior pen slots as well as the roominess and feel of the bag. It measures 16x12x11 inches. Price: $149.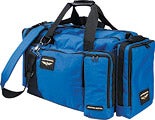 Jepessen Captain
Jeppesen Captain Bag
jeppdirect.jeppesen.com
A staple in the Jeppesen flight bag for many years, why mess with a good thing? Jeppesen knows a thing or two about aviation gear, and their Captain bag is a great example. To begin with, the bag is made from DuPont 600 denier Cordura along with a special PVC coating on the outside to make the bag water-resistant. The bag features a detachable headset case on each end, detachable transceiver/GPS bag and a four-way adjustable divider in the main compartment. We like the zippered front compartment sized to hold a laptop and the additional two roomy pockets on the bag's exterior. The blue color option is a nice touch. The Captain bag measures 12x24x13 inches. Price: $119 (blue color).

Jeppesen Pilot
Jeppesen Pilot Bag
jeppdirect.jeppesen.com
You wouldn't expect a "serious" company like Jeppesen to come out with something as downright sporty as their new Pilot Backpack, but we think they have a winner here. Some pilots love the backpack-style, "throw it over the shoulder" convenience. Resembling a modern day pack, the Jeppesen Backpack is flexible and efficient. In addition to the large main storage area, the backpack has a padded laptop sleeve, computer accessory storage and an internal file sleeve. There are pockets everywhere, and we love the cool little Jeppesen zipper pulls. There's a fleece-lined audio pocket with a headset port and a digital-media pocket that can hold various gadgets and phones. The pack is constructed of 600 denier polyester and 400×400 pindot nylon, with fleece-lined inner pockets. It measures 21x14x9½ inches. Price: $79.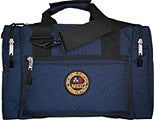 Noral
Noral Mach 1 Flight Bag
www.noralenterprises.com
The Mach 1 is Noral's latest entry in their extensive flight-bag line. Considered a "medium-sized" bag, it holds everything a pilot could want. One of the stronger bags in our list, the Mach 1 is made of 1000 denier DuPont Cordura and is fully padded with 1⁄4-inch foam and is water-resistant. We like the quality of the handle seams and the overall construction of this rugged bag. Outside pockets include headset, GPS/transceiver, pencil holders and two large end pockets, though they're not removable. The main compartment is double-zippered and opens from the top, making in-flight opening and closing easy and convenient. The padding on the pockets is a nice addition, too. The main compartment doesn't have dividers but is expansive at 13x7x9.75 inches. Overall, the Mach 1 measures 15x11x101⁄2 inches and comes in several colors. Price: $89.
Sky High Gear Discovery Flight Duffle
www.skyhighgear.com
Sky High Gear was something of an innovator with these bags. Employing patent-pending designs, these flight bags take advantage of space in an innovative way. Their small-sized Freedom VII gear bag is ideal for pilots who carry minimal equipment or are constantly moving from one small cockpit to another. Sky High's Discovery carries a ton of gear very efficiently. To start with, it's padded with closed-cell foam. Second, the Discovery is made from ultra-tough 1680 denier, dual-strand ballistic nylon. It features dedicated pockets for GPS, kneeboard, sunglasses and your EFB or smartphone. In addition to a bunch of other organizing pockets, the Discovery sports two spacious headset pockets, and a holder for 14 AA or AAA batteries and seven pens! The features list goes on and on. It's an impressive bag at 21.5×10.5×9.5 inches. Price: $99.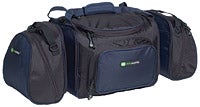 Zuluworks
Zuluworks Gazelle Flight Bag
www.zuluworks.com
Zuluworks is known for their unique Zuluboard with which many pilots have fallen in love. Zuluworks has ventured into the flight bag arena with a small line of bags, one of which is the Gazelle. The bag gives pilots 3,200 cubic inches of room to store just about anything. Two removable end bags are perfect for headsets, while a main center compartment allows storage of laptops and larger items, using three divider panels. A front organizer pocket features a card slot, pen pockets and zippered interior pocket. There's also a back pocket dedicated to your fuel tester and navigation charts. The clever end pockets have special compartments for—you guessed it—a Zuluboard (though it can fit other kneeboards). We love that you can remove one or both end pockets and end up with a small bag for quick trips, or use it in expanded form for longer adventures. The padded bag looks cool in blue or green trim. Full bag dimensions are 28×12.5×10.5 inches. Price: $119.
---
If there's one product that has made a splash in aviation, it's Apple's iPad. The unique touch-screen tablet device has become a cockpit must-have for many pilots, thanks to a wide array of aviation applications made just for it. In many cases, the iPad is replacing multiple devices in the flight bag, and pilots are constantly finding new uses for it. With the explosion of the iPad has come a number of innovative gadgets that go with it.


DODOcase
www.dodocase.com
The DODOcase for the iPad is unusual because it brings an old-world feel to this very modern device. DODOcase is a company whose simple philosophy is to manufacture things locally and help keep the art of bookbinding alive and well by adapting it to the world of e-readers and iPads. Each DODOcase cover has its own unique character as it was handmade in San Francisco using techniques developed hundreds of years ago. What is it, you ask? It's a case for the iPad that looks like a classic, hardbound book from long ago. It might be reminiscent of a 100-year-old journal, or the notebook of a favorite artist. The case is made with the same materials used by old-world bookbinders, including bamboo wood and faux leather. Resembling a Moleskine (a family of sketchbooks and notebooks made in Milan, Italy, to classic standards), the DODOcase is quite beautiful. Price: $59.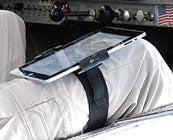 MyClip Thigh
www.tietco.com
A less classic-looking—but just as useful—accessory is the MyClip thigh attachment that allows the iPad to become a kneeboard in the cockpit. Designed by pilots for pilots who don't want their iPad sliding all over the cockpit and possibly getting damaged, the MyClip secures the iPad to your leg in either portrait or landscape mode, with a faux-suede leg strap. The simple design allows the iPad to become a true kneeboard with one-handed operation. The clips that hold the iPad are coated in TPE—a soft-rubber-like plastic—to prevent marring the iPad. The company that makes the innovative clip, TIET, is in Newbury Park, Calif., and can ship internationally. The MyClip kneeboard is priced at $39.