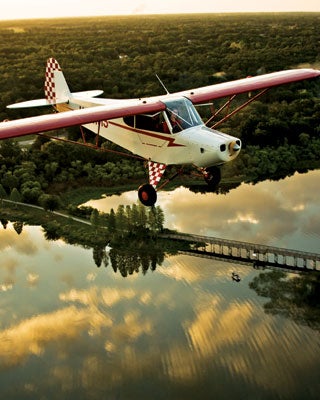 Every child remembers the alphabet blocks of kindergarten. But how many kids are raised with daily lessons in the art of flight?
Bob Siegfried came of age in the 1940s. His childhood memories, like those of his generation, were lit by the lightning of World War II. Through it all, one dream burned the brightest: "I always, always wanted to fly."
One day in his 14th year, he took money he had earned from caddying at the local links to buy a ride with Marion Cole in a J-3 Cub (yes, that Marion Cole—the legendary U.S. aerobatic champion and instructor).
Flash-forward 65 years to an idyllic grass field—Florida's South Lakeland Airport, or "X49" as it's known locally. "Old Bob" Siegfried's son, Rand, an accomplished pilot in his own right, rides rear seat in another Cub as his daughter, McKinley, shoots landings.
Now, as shadows lengthen, Rand climbs out and tells "Micky" she's ready to solo the airplane. At first she protests that her landings aren't quite good enough. Dad reassures her, so the 16-year-old taxis out to the sunset end of the picturesque home-lined strip, guns the motor and lifts off in the brand-new Cub.
Micky is only the latest member of a robust flying clan, the third-generation pilot of a family weaned on props and climb rates. But there's an added wrinkle to this story: She and her dad built the airplane together.
So back off Britney, and later with you, Paris: we're in family-values country now. And it all begins with a Cub.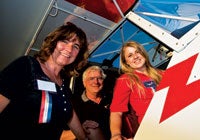 Probing the Siegfried variant of that eternal play of individual dreams against family expectations unravels a golden thread—love of family and the miracle of flight.
Summon The Legend
In 2004, Darin Hart and friend Tim Elliott were looking for an airplane. Both had enjoyed success in aviation businesses. Both were eyeing the LSA phenomenon and wondering if it was time to get a fun flyer of their own.
They hit the bricks at Oshkosh '04 just as the FAA gave its blessing to the light-sport concept with its publication of the LSA rule.
"We decided an LSA was the perfect airplane," remembers Hart, "and maybe we should go into business producing one. But we wanted to go with something already well-known, not start with a clean sheet of paper like so many others were doing. And we all loved Cubs."
Hart remembers thinking, "I know Cubs; I've done restorations and stuff. Why don't we just build one of those?' So Tim and I decided we'd each throw in $100,000. We'd either have the two most expensive Cubs flying—or we'd start a business with them."
Although other start-ups already marketed ready-to-fly and kit Cubs, nobody had done one exclusively as an LSA. "The rights to the Piper Cub design had passed into the public domain," says Hart. "That meant anybody could go to Cub Club [www.cubclub.org] or the Smithsonian and get every original Cub drawing."
Hart and Elliott bought up plan sets for the entire series (J-3, PA-11 and PA-12, J-5, Super Cub, etc.) and promptly founded American Legend Aircraft (www.legend.aero). Four years later, nearly 150 Legend Cubs, and the Texas Sport experimental-build version (www.txsport.aero), have left the company's Sulphur Springs, Texas, hangars.
Two dominant factors illumine Legend's success: The quality and integrity of product and company, and the enduring appetite for the nostalgic flight experience of the venerable Piper Cub.
---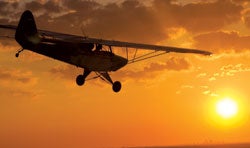 Once & Future Cub
The mystique of the J-3 has endured since its introduction 70 years ago, then powered by a not-so-mighty 40 hp engine. That lovely joybird sold for around $1,000. Today, you can buy a Legend Cub for about 100 times that price—or save some money and build your own, as Rand and daughter Micky did.
"We loved the open-up doors—that outdoor flying feel that hang gliders and ultralights have," says Hart.
"The Cub was forgiving and straightforward—a very honest airplane that does exactly what you want it to do."
Though much idolized, the original J-3 had well-known shortcomings, such as rear-seat-only solo, minimal room in the front seat, and that 12-gallon gas tank sitting right over the front-seater's knees. So Hart and Elliott asked Cub people what they could do to make it a better airplane.
"We ended up adding doors on both sides for floatplane applications, putting in wing tanks, removing the nose tank and including safety mods from over the years. We also made a higher seat position and a roomier—three inches wider—cabin with better visibility."
The result was a flivver with J-3 appeal—and Super Cub chops.
Rand
For Rand Siegfried and his four brothers and sisters, what was good for "Old Bob" the eagle was good for the eaglets…and grandeaglets. Like all his siblings, he soloed in gliders at age 14 and got his private ticket at 16.
In perfect genetic echelon, his daughter, Micky, soloed a glider at 14, then a Piper Pacer on her 16th birthday. Micky had asked for a pair of Ray-Ban Aviators for her birthday. Earlier, dad and mother Andrea had formed up to fly a more ambitious course. "Andy and I were looking around at Sun 'n Fun '07 for a Cub kit to build with our 12-year-old son Cormac," says Rand. "We figured maybe we could get it done by his 16th birthday."
Rand thought of the Cub as "the ideal little light airplane. I love the way it flies. It takes some skill to fly well, yet is very forgiving when you don't; it will still support you. I wasn't looking for fast or far, but for fun: low and slow—opening the door in flight and looking around." Don't overlook the nostalgia factor. "I first soloed in a Cub myself."
After visiting all the kit manufacturers at Sun 'n Fun, they settled on Texas Sport's factory build program. "And Andy had the idea," says Rand, "that we could do this with McKinley!"
Rand agreed. He saw Legend's factory build idea as "a way to guarantee completion. Teenagers today have 10,000 things pulling at them. The key to success is to take them out of their home element."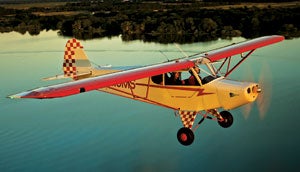 The Princess Pilot
The kit order was placed with Legend, then the surprise was sprung. After soloing in the Pacer on her 16th birthday, Micky opened her presents, including the Ray-Bans and a brochure created by her dad about the Legend Cub—her Cub.
"It took awhile for it to sink in," Rand recalls. "'Oh my God,' she said, 'You guys bought me an airplane?' Then she said, 'I feel like the movie The Princess Diaries. All I asked for was Aviators—and I got an airplane!'"
A short week later, dad and daughter winged east to Texas from their Palo Alto, Calif., home. Several trips and "five or six weeks later"—about 300 hours total—and construction on N416MS was done.
---
Parents are often intimidated by the haughty teenager vibe. Teaching a teen to drive can rank right up there with root canals. So what kind of parent builds an airplane side by side with his daughter and teaches her to fly? Have we discovered a new form of masochism?
Rand chuckles: "Some of the guys at the factory were initially leery of being caught in the middle of father-daughter rants. We never did any of that." He adds with quiet pride, "We've always been close. I wasn't at all worried. We got in a groove, and she kept a positive attitude all the way through."
Along the way, there were life-experience bonuses: "She learned that working 40 to 50 hours each week is difficult. She would come back to the room, crash on the bed and ask, 'How do people do this all the time?'"
"I told her, 'If you don't want to work that hard, do well in school!'"
In the end, according to her dad, Micky still felt mild astonishment "that we could take a pile of parts, make it into an airplane and fly it." But fly it she did.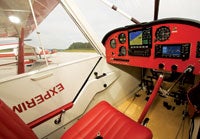 Micky
The light ebbs to gold as Micky climbs out from X49's grass carpet to bank onto the crosswind leg. Standing with other friends from the Legend Cub family, papa watches intently, sifting through the inevitable tide of a father's emotions: "Apprehension was furthest down on the list. I'd taught her well, I knew she'd do fine. Mostly I felt this amazing 'proud factor.' And I felt an overwhelming joy knowing how happy she would be, flying in the airplane she built with her own hands. That's a once-in-a-lifetime experience. Gotta be a pretty neat feeling."
Fulfilling papa's confidence, McKinley nails four perfect landings in a row, then taxis over to the gaggle of Cubs for a round of well-deserved kudos.
"It was great, it was awesome!" she says, sipping on a lemonade a few minutes later. "I really wasn't nervous at all. I had already soloed in the Pacer, and my dad had flown off the 40 hours for the experimental requirements of the Cub, so I was confident it wouldn't fall out of the sky. It was really fun! Not like the Pacer—that's a drama queen."
Pat Bowers, who assisted the project at the factory, yells out, "Did you solo?"
"Yeah!"
"Good girl!"
She jokes easily with the pilots, many of them a generation or two her senior. There's no ageism among the pilots. They ask how many go-arounds she made with dad before soloing. "Two today, two yesterday," she answers. Approving nods and smiles all around.
"I don't like flying with her," Rand jokes. "Her landings tend to be better than mine. I had to make her go solo."
Bob Elliott, another Legend Cub owner, asks Micky, "Did you like the improvement in performance after you got that lard butt out of the rear seat?"
She laughs. "It's nicer to fly but harder to land. I kept flaring at the wrong time and it floated a bit."
"Prettiest thing I ever saw," Rand concludes with a smile that says it all.
---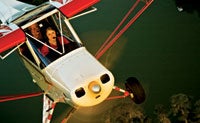 "Old Bob"
There are parents who drive their children to be sports phenoms or world-class musicians. History is rife with praise—and complaint—from children forced to practice violin rather than play ball or with dolls after school.
Filial duty can produce a Mozart—or a lifelong malcontent. Probing the Siegfried variant of that eternal play of individual dreams against family expectations unravels a golden thread—love of family and of the miracle of flight.
"Oh, the kids really didn't have a choice," says Old Bob matter-of-factly as he revels in the accomplishments of granddaughter McKinley. "They flew. I don't know if they would have turned out to be pilots otherwise, but I always said if I was a farmer, they'd have learned to milk cows. That was the only thing I could teach them—how to fly an airplane."
As for youthful rebellion, there seems to have been, well, absolutely none. Once the oldest brother soloed, the other kids couldn't wait for their own turn at the stick. Although Old Bob's daughters, Kimberly and Cathy, didn't keep up their flying, all three sons became accomplished pilots and remain active in aviation to this day.
"I think they all came to enjoy it," says the elder Siegfried, who has logged 38,000 hours as a career United Airlines captain. "I made sure flying was always available to them. And they took advantage of it."
As for his own life spent flying, "I've loved every bit of it. It's the closest thing we get to being truly free. If I had another income, I'd have been happy to pay United to fly."
At last fall's annual Tullahoma Fly-In, the "Flying Siegfrieds" gathered to celebrate the Bonanza's 60th anniversary [Read "Flying Into The Future: Behind The Bonanza's Anniversary Makeover" from Plane & Pilot April 2008 at www.planeandpilotmag.com/aircraft.]
One balmy afternoon, an echelon of four aircraft dropped down to make a low pass over the field. In the lead was Old Bob, piloting his gorgeous yellow Stearman biplane, followed by sons Rick, Bob and Rand in an AT-6, Beech Bonanza and Beech 18, respectively. To keep speeds up for the faster ships, Old Bob held a smooth, gradual inside turn.
This year, the family weighs the virtues of a five-ship flyby—with Micky Siegfried in the lead.
"When we were building the airplane," Micky remembers, "I was up at six in the morning instead of on spring break with my friends. Now, after flying with dad back to Texas in my airplane, there's nothing I would rather have been doing. I got to fly 10 feet over the water! There were weddings on the Florida beaches. People were waving to us. I saw such beautiful things on that trip. I've been flying with the family for 16 years, but that flight home was my absolute favorite flying thing I've ever done. There will be many more spring breaks. But I got to build an airplane."
In life, there are pleasures and duties, solo paths and group journeys.
With the Flying Siegfrieds, a Cub flies through it all.