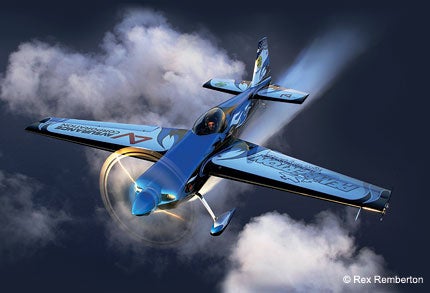 Sun 'n Fun air show performer Melissa Pemberton debuts a new, dramatic look for her Zivko Edge 540.
Spring without the Sun 'n Fun International Fly-In & Expo would be like Christmas without Santa, LSA without Rotax, Ga., without Cessna and Piper. It's the place we go to shake off the snow, ice and sleet of winter. And once again, Lakeland, Fla., didn't disappoint, with humid, mid-80s temps and mostly fair skies. Winds were a factor in a couple of seaplane accidents, but otherwise there was lots of flying every day.
Attendance at all the big air shows is lighter these days than it was 10 years ago, when cruising the aisles inside and outside was a true downtown metropolis experience. Nonetheless, the large and enthusiastic crowd was nothing to sniff at.
The biggest visible change this year was the overhaul of Paradise City, the light-sport/ultralight flying demonstration area south and east of the main display grounds. Vendors exhibiting aircraft in the LSA Mall now are just an easy push from the newly improved 1,600-foot grass runway. That made for easy sales pitches topped off with demo flight dessert for potential customers.
Veteran air show legend Bob Hoover was inducted into Sun 'n Fun's Flight Path Hall of Fame—and who more worthy of recognition than this WWII combat veteran and celebrated air show pilot?
One sorrowful note: no Thunderbirds, Blue Angels, F-18 flybys or other military flight demonstrations. Chalk that up to sequestration. Windfall bonus? It was a lot quieter!
Avionics and other technical advancements continue at an astonishing rate; new LSA debuted and wowed the crowds; colorful tents seeded dreams of summer flights.
And as always, Sun 'n Fun repatriates us to the world of flight.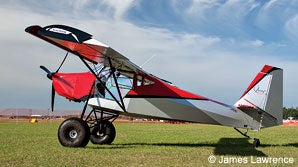 Just Aircraft Superstol
Just Aircraft SuperStol
Grabbing a fistful of attention every day at the light-sport flight area was the handsome, high-jumping Just Aircraft SuperStol. Soon to be ASTM-certified as an S-LSA, this fat-tired, shock-absorbing LSA kitplane made a habit of astounding spectators with its steep descents, short stops and high-angle takeoffs.
Designer Troy Woodland and partner Gary Schmitt started Just Aircraft in 2002 with the Escapade kit, followed by the Highlander, which quickly caught on with bush pilots.
Flash-forward 300 deliveries to the SuperStol, Woodland's side-by-side two-seat homage to the legendary Helio Courier STOL bush plane. That SuperStol racked up 40 sales within a few months of its debut is no wonder. Check it out:
• all-aluminum, fabric-covered wing with automatically deploying full-span leading-edge slats and large Fowler flaps delivers slow-flight capabilities (land at 30 mph…or less) and faster cruise speeds (110 mph)
• shock-absorbing oleo-strut main landing gear (20-inch total throw on landing compression) and tailwheel, and huge tundra tires dramatically soak up the bumps
• takeoff/landings in 150 feet or less (less as in under-30-foot rollouts!)
Folks were jumping around the Just booth like kids at a water park, even though officials wouldn't let Woodland give a full airing of its prodigious STOL chops: 800-plus fpm parachute-style descent to no-bounce landing, beyond-20-degree pitch angle takeoffs and gear that absorbs high-sink-rate smashdowns like a marble in a bowl of pudding.
If there's a craving in your soul to fly the bush like few ever have, give this bird a serious look.
Kit Price: $36,650, minus Rotax 912 or 914 engine. S-LSA price to be an-nounced. Contact: www.justaircraft.com.
---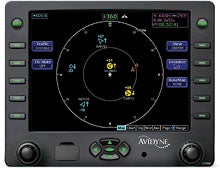 Avidyne EX600
Three New Avidyne "TAS-A" ADS-B
Avidyne's new TAS-A Series boosts the precision and accuracy of ADS-B with the active-surveillance autonomy of its Traffic Advisory Systems (TAS) to provide enhanced collision avoidance protection for GA pilots. The new models—TAS605A, TAS615A and TAS620A—feature Avidyne's VeriTAS, a technology that displays all active and passive traffic information. It also brings much more precise alerting, without typical legacy TAS and TCAS nuisance alerts.
The TAS-A Series combines the benefits of active-surveillance and passive ADS-B traffic detetion. TAS605A has a 21 nm ADS-B range. It's recommended for mid-performance aircraft and helicopters. The TAS615A has a 30 nm ADS-B range and is targeted at high-performance aircraft and helicopters. Top of the line is Avidyne's TAS620A with a 40 nm ADS-B range.
The company will also continue to offer its TAS600 model for entry-level single-engine piston aircraft for $8,490. Prices: TAS605A, $10,990; TAS615A, $14,990; TAS620A, $20,990. Contact: www.avidyne.com.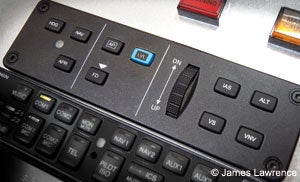 Garmin Avionics
Garmin G3X Integrated Autopilot, ADAHRS, AOA Probe
Part of its recent introduction of instruments and hardware for experimental and light-sport aircraft, Garmin debuted the new GSA 28 "smart" autopilot servo and GSU 25 ADAHRS (Air Data Attitude Heading Reference System) units—including angle-of-attack (AOA) probe.
Both units represent cost and weight reductions as part of the G3X EFIS glass cockpit flight display system ($4,375) that's popular with the light-sport/experimental market.
The GSA 28 servo integrates with the G3X and weighs only 1.4 pounds, which is 40% lighter than typical autopilot servos. With Garmin's optional GMC 305 autopilot control panel, pilots easily can access the autopilot function, as well as manually input airspeed hold, yaw damping and airspeed through a nicely placed control wheel. There's even a Level (LVL) button to restore straight and level flight in rough conditions.
Garmin's GSU 25 is less expensive, smaller, yet delivers accurate referencing of aircraft position, rate, vector and acceleration data to the G3X. Multiple ADAHRS also can be installed for redundancy.
The module also supports new G3 X features like optional angle of attack (AOA). A new GAP 26 pitot/AOA probe uses differential pressure ports to bring accurate, real-time measurement of wing performance for precise stall warnings, visual and audible.
Prices: GSA 28, $1,500; GSU 25 ADAHRS, $799; GMC 305 control panel (optional), $750; AOA probe (optional), $199. Contact: www.garmin.com.
---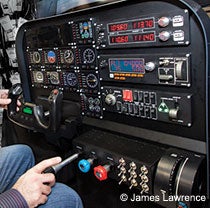 Flight Training Cockpit
Virtual Flight Reality
For the pilot who has everything: a do-it-yourself flight simulator panel. If you've ever set up a flight sim on your home computer, you've likely heard of Saitek, which makes tons of hardware, such as rudder pedals, throttle quadrants, yokes, sticks, radio/switch panels and 3.5-inch LCD instrument modules that simulate real-world flight instruments. Just push a button on the modules to reconfigure as an Altimeter, Attitude Indicator, Airspeed Indicator, Compass, Turn and Slip Indicator and Vertical Speed.
Now comes this cool product from Pilot Mall—a toy store for kids big and small—called the Flight Training Cockpit-Advanced Panel. The bright idea is to give you a place to mount all those super computer-driven Saitek components in one realistic simulation of an actual instrument panel.
Pilot Mall's president Neil Glazer and Canada's Redfab, Inc. cooked up the all-metal panel. It's a shell that's fully compatible with all Saitek products for easy mount/dismount of components.
"You can build as you go," says Glazer, "and later even change the modules with a button push to simulate instruments you add or move around in your own aircraft panel."
Price: Bare panel, $399; fully equipped as photographed, $2,200; "nicely" equipped, $1,000. Contact: www.pilotmall.com.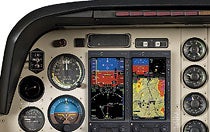 Aspen Avionics
Aspen Augments NextGen Offerings
Aspen Avionics joins the flurry of avionics makers bringing products to market for the NextGen see/be seen traffic system with two new lines offering GA pilots options for the FAA ADS-B Out equipment mandate and no-fee weather, and traffic services for the ADS-B In network. One line is new, the other expands on the company's existing Connected Panel wireless cockpit technology. Both optimize Aspen's existing displays.
First up, the new line includes the certified ARX100 dual-band ADS-B receiver for aircraft already carrying a Mode S transponder with Extended Squitter and an ADS-B-compliant GPS on board. The ATX200 dual-band ADS-B transceiver is meant for aircraft with Mode A/C transponder or Mode S without Extended Squitter and WAAS-enabled GPS. The ATX200G combines adds WAAS GPS to the ATX200. All three models work with Evolution PFDs and MFDs.
Next, expanding the Connected Panel product line is the Connected Weather CG50. This small Wi-Fi receiver hard-wires into Evolution displays to bring subscription-free ADS-B In weather there and simultaneously via an iPad.
Also out is an upgrade to the Connected Pilot CG100 that displays free-subscription weather from portable ADS-B receivers onto Evolution displays. For in-service CG100 installations as well, the upgrade adds ADS-B weather to other core Connected Pilot features like flight planning and data logging.
Prices: ARX100, $1,695; ARX200, $3,995; ATX200G, $4,995. Connected Weather CG50, $949. Contact: www.aspenavionics.com.
---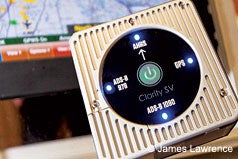 Clarity SV ADS-B
Clarity SV ADS-B receiver
Cute as a biscuit, Sagetech's Clarity and Clarity SV (Synthetic Vision-capable) ADS-B receivers are little powerhouses of data-crunching traffic awareness. The units receive signals from aircraft carrying ADS-B Out Transponders, then deliver the data to an iPad via Wi-Fi link, where iOS apps display the whereabouts of nearby broadcasting aircraft—in other words, air-to-air traffic display.
It's all part of the coming-on-line NextGen traffic awareness network, which began implementation in 2009. ADS-B Out is mandated for all aircraft flying in certain designated airspaces by 2020, other than those without electrical systems, gliders, balloons, etc.
ADS-B Out devices transmit precise location to ground stations and all aircraft equipped with ADS-B receivers.
The Clarity ADS-B Receiver communicates with Synthetic Vision software such as Wing-X Pro, Mountain Scope, iPad EFB and Xtreme Vision 3D, which then plot the aircraft on a GPS moving map to show you location, altitude, direction of flight and other readouts.
Clarity SV includes a high-precision WAAS GPS receiver, internal six- to eight-hour battery and inflight FIS-B (weather radar, forecasts, NOTAMS, etc.)—and it does not require subscription fees.
Luke Skywalker, you won't need to count on the Force with these gadgets.
Prices: Clarity, $1,150; Clarity SV, $1,400. Contact: www.sagetechcorp.com.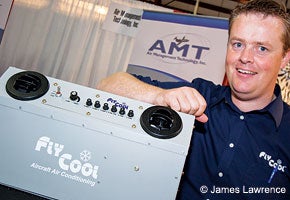 FlyCool
Keep Your Cockpits Cool
With Florida doing its bit this spring to simulate full summer heat, the FlyCool display was a busy place. Four light-sport aircraft—a CorbiAir Alto 100, Flight Design CTLS, Tecnam LSA and Czech Sport Aircraft SportCruiser—and FlyCool installations on field, with lots of appreciative pilots checking out the installations.
The compact, 10,000 BTU/hour-capacity unit puts out a refridge vibe equivalent to what a car air-conditioner can do. It's intended for the LSA and experimental-built aircraft market and is designed specifically for airborne applications.
Each FlyCool system is tailored to the specific aircraft it will live in, since LSA in particular tend to have small and diversely located baggage spaces. Compressors are electric powered and hermetically sealed. Aluminum core heat exchangers (rather than copper) make for lighter weight. Brushless DC motors drive the innards, for long life and no interference to flight instruments.
Electric-powered operation (from an additional engine alternator) was chosen over belt-drive in part to allow cooling of the cockpit on hot days while pilots are doing preflights before engine start. Installation, maintenance and repair are also easier, and maximum engine power for takeoffs and big climbs isn't compromised. Also, compressors can be installed away from the hot firewall-forward environment.
Price: $12,000-15,000 depending on complexity of installation. Contact: www.amt-aero.com.
---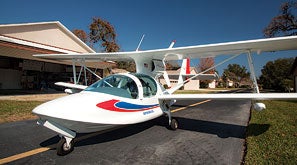 Super Petrel LS
Biplane Amphibian
Flying watercraft seem to be all the rage these days. Evidence: SeaRey and SeaMax LSA amphibs and a host of float-foot birds—Flight Design CTLS, Tecnam SeaSky and Legend AmphibCub, to name a few.
New to America but well established and certified in Brazil is a composite body/fabric wing beauty: Edra Aeronautica's Super Petrel LS. It's the only two-winged seaplane LSA in existence and is in final stages of S-LSA certification.
Why a biplane amphib? The engineering team says:
• Having the lower wing close to the water makes for easier, more robust sponson attachment and reduces water spray to the prop.
• Smaller span (29 feet; 161 sq. ft. wing area) makes for agile water/air handling and easy hangaring.
The retractable landing gear is mechanical, not electrical, reducing the chance of motor failure problems. The nosewheel retracts and hides behind clamshell doors.
Introduced 20 years ago, 300 units have gone to 23 countries. Kits are no longer offered. The Super Petrel LS is certified in Brazil, Australia and several European countries to the JAR-VLA standard.
Some quick specs:
• Rotax 912 ULS power
• 110 mph cruise at 5,200 rpm
• best climb rate: 1,000 fpm
• empty weight/max gross: 710/1320 pounds. Useful load: 610 pounds.
• 45-inch-wide cockpit; 50 pounds baggage plus two adults
• total fuel capacity: 23.7 gallons: 20 in two lower wing tanks, 3.7 (45-minute reserve) in header tank behind passengers
• electric bilge pump
Price: estimated approx. $125,000. Contact: www.floridalightsportaviation.com and www.edraaeronautica.com.br.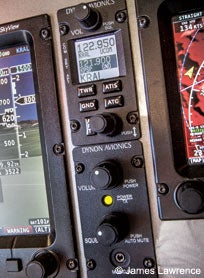 Dynon Avionics
Dynon Com Radio And Audio Panel
Dynon Avionics brings two new Sky-view-integrated devices to panels with its SV-COM-C25 COM Radio and SV-INTERCOM-2S Intercom/Audio Panel. Pilots with SkyView EFIS displays will appreciate the reduced cockpit workload with the new radio. A key feature is push-button frequency tuning, by airport and station type, rather than by spinning in numbers (old-fashioned knob twiddling is still possible).
Pilots can also send freqs from SkyView's airport information database pages direct to the SV-COM-C25 Com Radio—how cool is that? We're talking airport ATIS, tower and ground frequencies: Push a button, and you're good to go. If the SkyView display should go down, the comm continues to communicate.
Second frequency monitoring with a standby button for switching freqs and other dedicated buttons—TWR, ATIS, GND and ATC—make life simpler, too.
The two-place SV-INTERCOM-2S intercom, another lilliputian device, sports full-featured audio panel capability: support for dual radios and dual stereo headsets and a number of music inputs, as well. It cozies up nicely with the com alongside the SkyView 10-inch display, or you can get a horizontal version to mount below the seven-inch SkyView panel.
Dynon offers classroom training at airshows and at their factory in Washington State so you don't have to learn the button-push boogie all on your own.
Prices: SV-COM-C25 Com Radio, $1,295. V-INTERCOM-2S Panel, $295. Contact: www.dynonavionics.com.
---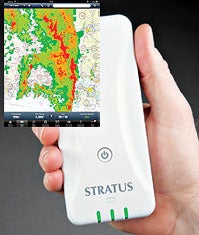 Sporty's Stratus ADS-B
Sporty's "2nd Gen" Stratus ADS-B Receiver
Electronic situational awareness is also big now, and avionics makers are jumping on the ADS-B bandwagon. By 2020, everyone flying into air traffic-prone areas is required to have installed ADS-B Out (for broadcasting location data in flight) on their aircraft.
There are clear benefits to having ADS-B In too, as the newly revised Stratus receiver from Sporty's Pilot Shop amply confirms.
You simply link the eyeglass case-sized unit to your iPad (via Wi-Fi), and you've got dual band (978 MHz and 1090 MHz) ADS-B traffic live in the cockpit. Main features:
• subscription-free weather including NEXRAD radar, METARs, TAFs, TFRs, AIRMETs, SIGMETs, NOTAMs and more
• multiple iPads and/or iPhones can simultaneously connect
• ADS-B traffic displays all aircraft near you, showing their altitude, position, heading and more
• Stratus is the only current ADS-B receiver that works with the ForeFlight Mobile app. Its built-in WAAS GPS receiver uses the app to display high-res moving and terrain maps and track-up display.
• a free iPad Stratus app (iOS) from Sporty's brings back-up, self-aligning GPS position, attitude and groundspeed (your own AHRS, or Attitude, Heading and yaw Reference data)
• more than eight hours battery life, made in the U.S.A.
Price for 2nd Gen: $899. Contact: www.sportys.com.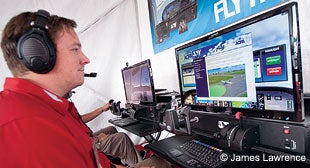 Rerbird Jay
Redbird Jay Standalone Flight Sim
Dedicated full-motion flight simulator leader Redbird just came out with the Jay By AOPA personal flight simulator. It comes complete in a single box: Pull it out, plug it in to the wall and your monitor, and off you go, because Jay comes with its own built-in computer, yoke and throttle.
You can download prebuilt training missions created by aviation professionals, publications and companies interested and involved in the product.
Example: A mission scenario takes you through a simulated approach to Sun 'n Fun, which, like Oshkosh, isn't for the faint of heart. Here's a way to get lots of sim practice before the actual event.
Users load missions and watch audio and video cues that show you what procedures to do and how to do them. Then the actual simulated mission is flown. Fun! Future downloadable
missions are planned for routine training as well as challenging scenarios like recreating an accident flight after a high-density altitude takeoff in mountainous terrain, or flying into IMC conditions unintentionally.
Currently all scenarios are free, though modest fees might be charged down the line. Rudder pedals are available as a $500 option, or use your own USB rudder pedal module.
Price: $2,490. Contact AOPA at: www.aopastore.com.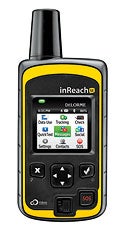 DeLorme in Reach SE
DeLorme inReach SE
The name says it all: When you carry one of these compact, lightweight, handheld satellite tracking devices on your person or in the cockpit, you can leave a Hansel and Gretel breadcrumbs-style GPS track or send off an SOS to DeLorme's GEOS 24/7 search/rescue center—with texting—to let your important people know where you're at.
The color-LCD inReach SE (there's a non-screen version also) came out of the need for backcountry trekkers to communicate or get help when needed, so it's a natural for pilots who frequently fly off the grid and out of cell phone range…which covers most of us.
InReach taps into the Iridium satellite network (100% global coverage), allows sharing and viewing of GPS coordinates, and there's even a virtual keyboard for sending 160-character text messages when out of cell range. Receive text messages too, and get automatic notification that your messages are being received.
Key feature: the 100-hour lithium battery life, important for rugged terrain when weather may delay rescue.
For the Facebook/Twitter crowd, social media posting is enabled. It's even waterproof to one meter for up to 30 minutes.
The device Bluetooth-pairs with DeLorme's Earthmate GPS smartphone or tablet app for mapping, navigation and journey tracking. Topo maps and NOAA charts also accessible. Price: $299. Contact: www.inreachdelorme.com.