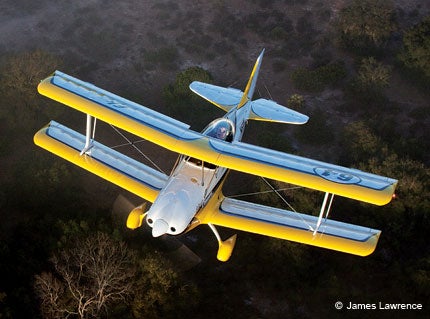 The Comet is the first fully aerobatic two-seat SLSA and the first biplane SLSA.
The golden Florida sun is living up to its reputation this day. Glowing deep-afternoon light drags the shadows long across the green airport grass as a light breeze refreshes, just enough to take the edge off 88-degree heat.
Jim DeHart of Atlanta Light Sport Aviation helps me climb into the open front hole of the FK 12 Comet's "tuholer" tandem cockpit. And this is a "real" cockpit I sink down into—the term was born in 1914, when single-seat biplane scout ships, soon to be converted to fighters, overflew the horrible trenches. Easing into the comfortable seat, the fuselage side rails reach the tops of my shoulders, evoking cherished memories: my USAFA cadet orientation flight in a T-33 jet; that supersonic ride to 55,000 feet in an F-101 Voodoo; turning 10 consecutive spins in a Pitts Special with Bill Finagin, the famed aerobatics instructor from Annapolis, Md. There's something about nestling deep in the body of an airplane that makes you feel fused to all its life and vitality.
The Comet carries the DNA of all those ships, yet the biplane sportster/aerobat represents a breakthrough of sorts as the first fully aerobatic two-seat SLSA and the first biplane. The only other LSA aerobat is the Snap!, a single-seat monoplane.
Like the Pitts line, the FK12 has a single fuselage-to-strut bay and swept, equal-span wings. Main spars and leading edges are built of super-strong, lightweight carbon-fiber composites; secondary spars are aluminum. The wings fold for trailering. Empty weight in the base configuration is 584 pounds. And though the Comet has a less-than-LSA-maximum top weight of 1,190 pounds, the stylish bipe retains a useful load of 606 pounds.
The Comet is a sport bipe rather than a long-distance cruiser, so we don't need much steenking cargo anyway. Still, even with the 15.3-gallon fuselage tank full, there's 514 pounds of heft to divide among the passengers or cargo—there are compartments forward and behind the rear headrest.
Officially named the B&F FK12 Comet, this German-designed (by the brilliantly creative Peter Funk) loop monkey—or sporty cruiser, depending on which engine it carries—has been in development since 1994. First flight took place in 1997. More than 100 are flying, mostly in Europe. That will change soon for the ASTM-approved (#123) SLSA stunter.
My host fires up the Rotax, we taxi to the active, make the call, and punch off. First clue that this won't be a normal demo: DeHart keeps the airplane 10 feet off the deck, accelerating all the way down the runway. "Self," I think, snugging down my straps, "prepare for pitch-up." Sure enough, at the far end, adjacent the exhibitors breaking down displays on this final day of the show, he pulls smartly back on the stick, and my stomach attempts to stay behind as we rocket skyward at a Patty Wagstaff-worthy deck angle.
---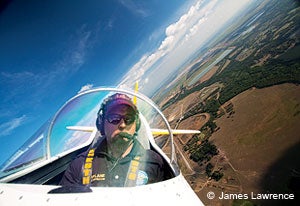 Jim DeHart of Atlanta Light Sport Aviation, a large LSA flight school based in Georgia, hopes to introduce a new category of competition airplanes for International Aerobatic Club contests. The Comet would be able to fly in the primary and sportsman classes. DeHart also sees the value of the Comet in training, and has six students already lined up for spin-recovery training. He plans to conduct basic aerobatic courses, as well.
Just For The Record
We flew the Rotax-powered version, which is intended for sport flying. Since Rotax doesn't condone aerobatics for the normally aspirated reduction-gear-propped engine, we didn't, in the ensuing 30-minute flight, turn the airplane upside down.
I didn't yank the airplane left and right to extreme bank angles to test the truly lightning-fast, smooth and solid control responses the full-span/both-wings flaperon system affords.
Jim DeHart didn't pull us up into a vertical stall, then kick rudder smartly to a hammerhead leftwing falloff. He didn't do loops that pulled the world around in front of my eyes. We didn't perform a barrel roll above the verdant green Florida landscape. None of that happened, just for the record.
We also didn't perform that, I mean a, Cuban Eight. So of course, my face didn't sag like a weary beagle's in these maneuvers that we didn't perform.
Ahem. Let's just say this: I've done a little acro in my day, from hang gliders to ultralights to Citabrias, AT-6s, SIAI Marchettis, Extra 300s and Pitts Specials, but usually as a student or photographer, seldom as PIC. Yet, I can and will say with certainty that this is an aircraft built to rock-and-roll around the sky. Joyfully light in response to control inputs, stick-and-rudder pressures aren't so twitchy that you'll overcontrol, unless you—heh heh—want to. In that respect, it's thoroughly and agreeably an SLSA in character, as well. It's easy to hold in straight and level flight or just boating around, enjoying the view.
But when you do think, "Go left," and move stick and rudder accordingly, in a heartbeat, folks, you're going left. The Comet is stable and won't scare you to death just because you sneeze, then find yourself pointing at the ground half a second later. The Comet is amazingly, exuberantly responsive when you want it to be.
Well Grounded
Short-coupled taildraggers can be a handful on the ground. We pulled a combat approach to landing: a steep-banked, 180-degree downwind-to-final curve that rolled us out a few feet above ground. With minute and infrequent control inputs and a relaxed flare, DeHart settled the bird easily onto the numbers on two wheels. We high-speed taxied all the way down Lakeland's long runway, eased off power, then in typical taildragger style, delayed tailwheel touchdown with ever-forward stick until aerodynamic forces ebbed away, then full-back-stick planted the tail and we taxied back to the Hansen Air Group display.
Steering is a breeze, by the way, although from front or rear you do need to do the classic taildragger fishtail to see what's ahead.
Back to this engine question. The Rotax normally aspirated engine isn't designed for acrobatic flight…but the new fuel-injected Lycoming AEIO-233 engine, when outfitted with an inverted fuel and oil system, most certainly is. The acro-ready Lycoming debuted as a static display on a Comet fuselage at Sun 'n Fun, and that booth was mobbed every time I went by, which was several times a day for six days. The Comet has drawn eager crowds since the friendly flying Hansen family—veteran airline pilots (and twins) Ron and Jon, and seasoned airline pilots (and Ron's twin sons) Mike and Mitch—first unveiled it in static mode at the Sebring Expo in 2011.
---
Closing notes: The twin instrument panels are weighted, of course, for the rear cockpit. In front are just two steam gauges—altimeter and airspeed—and a turn/bank bubble indicator. The compact rear panel on the Rotax-powered bird also sported steam gauges: altimeter, airspeed and vertical speed, and a couple of small engine dials. At low center sits a UL-MIP flight log, a German-made electronic engine control instrument that incorporates engine control, temperature monitoring, fuel management, engine time, flight logging and more.
For pilots who want the best of three worlds—enclosed canopy, two-hole open cockpit with small windscreens or single race canopy at rear, with front hole covered—the Comet comes standard with all. Conversion is a quick five- to 10-minute process for two people.
Whether unbridled aerobatic fun in the sky is part of your dreamscape, or you simply love the look and snappy feel of a short-wing biplane, there's a Comet with your name on it.
The Great Biplane
Why two wings, when modern engineering has shown one wing is sufficient and offers less drag and better cruise/top speed/glide performance?

Choosing a biwingual airframe can be more than just a matter of aesthetic preference. Bipes can also be built incredibly strong at a light weight. How is this accomplished?

The legendary free thinker Buckminster Fuller, visionary exponent of triangulated design (geodesic and tensegrity structures et al), would have intuitively appreciated that the single bay created by joining the Comet's two wings with a vertical interplane strut, when braced by "X-ed" or diagonal wires, makes for a very efficient load-distributing, torsion-resistant structure.

The Wright brothers' Wright Flyer was a biplane due to the structural advantages at a light weight. The biggest drawback for a biplane design is the drag. With two wings, struts and wires, bipes offer more resistance to the relative wind.

As aerodynamic engineering advanced into the late 1930s and ever-faster speed was the common goal, biplanes faded into the twilight—except for aerobatic and sport configurations. Modern biplanes like the Pitts Special excelled in competition for a long time until the modern Extra, Edge 540 and other monoplane designs held sway, due largely to the bipe's short-coupled ability to wrap a tight radius in the sky and its short-winged capacity for downright heroic roll rates.
---
Shootout At The High-G Corral
James DeHart gives every impression of a kid who can't sleep the night before Christmas. He's a mainstay at Atlanta Light Sport Aviation, which he describes as the largest LSA flight school in Georgia. And when he talks about getting his mitts on the very first fully fuel-injected, 124 hp, inverted oil/fuel system-rigged Lycoming AEIO-233 LSA engine, you want to send him to bed with a warm glass of milk to calm his nerves—he's that excited.

No small wonder either: The Comet "will cause a new category of competition airplanes for I.A.C. (International Aerobatic Club)-sanctioned competition," he says. He hopes to do exactly that by June or July.

The Georgia native is already walking his talk and walking it tall, with sponsors in place to back his play, including David Clark, Precision Airmotive, Tempest spark plugs/oil filters and Hooker Harness. "There's a marketing plan behind the competition, too," he continues. "We hope to prove the Comet's potential in the sportsman class. It's factory built, not experimental. It can't fly in the intermediate class, but is perfect for the primary and sportsman classes.

"Nothing in its price range will even come close to its roll rate or vertical climb. And don't forget the optional BRS parachute: in my opinion, a must-have for aerobatics."

A recent ultralight-class pilot in Europe proved the point when he shed an entire wing in a high-G outside loop—400 feet above ground! The pilot yanked the red handle, and the chute explosively deployed and opened in time to save him—without injury. It's a must-see on YouTube!

DeHart sees the Comet as a valuable training tool, as well. "We have six students lined up for spin-recovery training. I know my LSA spin recovery and basic aerobatic courses will be very popular."

With 2,000 hours of LSA instruction in 13 different LSA under his lap belt—Atlanta Light Sport has six different models in continuous operation, including the Sky Arrow 600 (now back in production) and FK 9 ELA – he has learned that LSA aren't your grandfather's Cessna 172.

"They take a more precise touch on the stick and are by far more responsive."

The school has had 36 students—22 have earned their tickets—and currently enjoys 32 LSA renters. Those are enviable numbers for any LSA operation.

Air show star Sean D. Tucker, appreciatively ogling the Comet at Sun 'n Fun, told DeHart, "You have a great opportunity to make this plane and yourself look very good, or very bad."

The comment caused DeHart some sobering moments. Later, he thought, "You're right, Sean…but I also saw that 'I want to fly that little monster!' look in your eye. And yes, Sean, you can—anytime and anywhere!"

Okay boys, pistols at 20 paces!