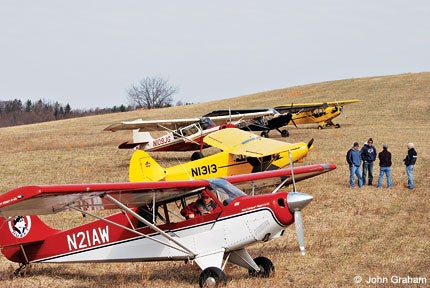 Intrepid pilots from the Ohio Bush Planes find a bare piece of ground that may not be level, but it's inviting.
Hiding far beneath the surface of aviation's well-known conservative demeanor are those who find their flying excitement off the beaten path. Far off the beaten path. These are the backcountry/off-airport folks who are having more fun than anyone should be allowed. All it takes is the right airplane, the right training and the right attitude to jump in and discover aviation all over again.
"Why do I do it?" answers John Graham, off-airport addict and one of the founders of the Ohio Bush Planes (www.ohiobushplanes.com). "It may have started because I'm a pipeline patrol pilot and spend a lot of time cruising low, and I wanted to be able to put the airplane anywhere should I have a problem. However, after our first Alaska trip, I was hooked. Landing off-airport is addictive."
The Ohio Bush Planes is typical of similar loose organizations popping up around the country, in which a bunch of pilots who dearly love seeking out challenging territory on which to land have banded together. Most of these landing spots are semi-recognizable as runways (more or less), maybe on farms, maybe out in the desert, up in the mountains or on river banks. Other spots are truly off-airport and may be an open spot in the sagebrush or a gravel bar in the middle of an Alaskan river. Most are shorter than normal but aren't overly challenging to a qualified pilot in even a light Cessna 182. Others present challenges that should be tackled only by the experienced crowd.
We're not talking hard-core bush flying here. Backcountry flying is a pleasing combination of social event and aviation challenge. These pilots like the fun and challenge of going where few, if any, people have gone before, and they like doing it with their friends (plus, there's safety in numbers).
John Graham and Greg Swingle, charter members of the Ohio group, point out, "This isn't for everybody, and most people probably shouldn't be doing it." Graham has a sign on his farm (which has five winding "runways" cut through his grass and snaking up his hills). It says "WARNING: Landing off-airport is dangerous. Landing on hills or gravel bars is treacherous. Don't risk yourself or your airplane to such foolishness." Of course, the only way you can read the sign is by landing off-airport on his farm.
Many of the groups, like the Ohio Bush Planes and Backcountrypilot.org, will organize major multiplane expeditions to Utah, Canada and Alaska to broaden their off-airport experiences. In fact, Greg Swingle and his wife Becky were married on a hilltop in the Alaskan wilderness while on one of those expeditions.
One of the focal points for many of the backcountry/off-airport fliers is Supercub.org. As the name implies, it's PA-18-centric, but just about everyone who likes to play in the dirt/grass/rivers belongs, so a wide range of airplane types are represented in their membership. If it can land short, or can be made to land and take off short, it will be found on Supercub.com. Anything goes.
---
It's important before attempting a landing anywhere but on a recognized, approved runway that a pilot start at least monitoring the chat groups on places like
Supercub.org
or
Backcountrypilot.org
. Start talking to those who do it to understand the risks and the rewards. Then seek out the best training available.
Even when properly trained, the smart money goes about learning all of this in baby steps. Don't pick the nastiest runway in the state for your first backcountry venture. And go with guys who really know what they're doing. Don't be a pioneer.
Backcountry pilots are rewarded by the sure knowledge that they're doing something of which only a few pilots are capable. Better yet, they've tasted the delicious silence that settles on an airplane, when the prop stops turning and there isn't another living soul within 100 miles. As the saying goes: That's priceless.
ADVENTURE AIRPLANE
Considering the unusual requirements of off-airport operation, there's a surprising number of long-time certified manufacturers supplying suitable hardware.
American Champion


www.americanchampionaircraft.com
American Champion's 160 hp Explorer will handle most backcountry runways. For the extreme situation their 180 hp big-wing, big-flap Scout and the 210 hp Denali will get the job done. Price: $134,900 (Explorer); $157, 900 (Scout); $182,900 (Denali).
Aviat Husky


www.aviataircraft.com
The Aviat Husky is a purpose-built, fast and roomy alternative to the Super Cub. Available in a number of engine and propeller variations, they're all more airplane than the average pilot needs for the kinds of runways they're likely to challenge. Price: $204,192
(180 hp A1C); $249,260
(200 hp A1C).
---
Cub Crafters


www.cubcrafters.com
Not only can you buy a brand-new Super Cub clone from Cub Crafters, but they've improved the breed with several variations like their Carbon Cub. The Super Cub is still the standard by which all other bush/backcountry airplanes are measured. Price: $205,480 (Top Cub); $163,200 (Carbon Cub).
Found Expedition


www.expeditionaircraft.com
The Expedition Big Foot is a long way from beinga small airplane (3,800 pounds gross), but you can fill the tanks and still have 900 pounds of usefulleft. Price: $565,000.
GippsAero GA8 Airvan


www.gippsaero.com
Another heavy hauler (eight-place!), the Airvan GA8 comes with either a 300 hp recip or 320 hp turbine. Being Australian, it was built with hostile environments in mind and allows you to carry everything, including the kitchen sink, with you. Price: $699,000.
Petersen Performance: Katmai/260SE


www.katmai-260se.com
Technically, the Petersen aircraft are modified 182s (yours or theirs), but they're both faster and slower and the ultimate in STOL performance for the masses. Anyone can make them perform with a minimum of experience. Price: $101,485 (full conversion); $255,000 (remanned "new" aircraft).
Maule Air


www.mauleairinc.com
One of the oldest names in the utility aircraft community, the Maule is a dead-simple four-place airplane that comes with a wide variety of engines 160 to 420 hp (turbine), with both tail- and nose-dragger landing gears. Contact Maule for pricing.
---



Finding Training

There are a number of operations that offer training for bush flying that apply to backcountry and off-airport operations. Here are several places to start.

Above Alaska Aviation
Talkeetna, Ala.
www.abovealaska.com
As they put it, "These courses are not for the weak of heart!"

Andover Flight Academy
Andover, N.J.
www.andoverflight.com
Basic and advanced tailwheel instruction, plus a bush-flying course.

Alaska Cub Training Specialists
Wasilla, Ala.
www.youflyalaska.com
Super Cub-specific training in tailwheel checkouts, bush and mountain flying


At Andover Flight Academy, Damian DelGaizo specializes in tailwheel training and bush flying.

Alaska Bush Pilots
Washington and Alaska
www.cubdriver749er.com
Customized training done on site anywhere in the world. Student supplies the airplane.

Big Tire Bush Flying School
Boulder, Colo.
www.learntolandshort.com
They offer bush- and mountain-flying courses
in a modified Maule M5 210c on 31-inch
Alaskan Bushwheels.

AVSIM
www.avsim.com
A number of online Bush Flying Simulations exist. AVSIM is one of those.
---
The Backcountry Community

The backcountry community exists nationwide and simply Googling "Backcountry Aviation" will plug you into an almost endless series of chat groups, websites and forums.

Supercub.org
Supercub.org
The Super Cub group forms the hub of the backcountry movement. It has a long- established chat group that archives a lotof information from that group, but it's byno means the only one.

Backcountry Pilot
www.backcountrypilot.org
The BCP is a good clearing house for all sorts of information about all kinds of airplanes flying in many different types of backcountry and bush situations.

Backcountry Aviation
www.flybackcountryaviation.com
Backcountry Aviation is a specialized charter operation that flies customers in and out ofthe Idaho backcountry from their Grangeville, Idaho, base. It's an easy way to sample backcountry flying before taking the plunge yourself.

McCall Aviation
www.mccallaviation.com
Another Idaho backcountry-flying service. This one is based in McCall, Idaho
.
Shortfield.com
www.shortfield.com
An online community of pilots working together to create a comprehensive database of backcountry airstrips and uncharted landing sites.

Idaho Aviation Foundation
www.idahoaviationfoundation.org
"Protecting Idaho's Backcountry Air Strips—Our National Treasures. Companion organization to the Idaho Aviation Association."

Big Tire Pilot
www.bigtirepilot.com
"Kevin Quinn: Flying posts from a flying freak" Quinn has put together a visual blog about backcountry flying in his C-180. If you prowl around the web, you'll find other similar websites.