The love bite of beguiling trade winds, the rolling slap of crystal, turquoise waters against varnished gunnels and a primal urge to explore magical places can become a sailor's undying passion.
So, it's the Bahamas, those magical isles and cays off the southeast coast of Florida, that bit Mike Zidziunas, and bit him good. Mike Z is the enterprising, successful LSA dealer and flight school owner who found a way—in the midst of a dreadful economy, no less—to combine his newest love, light-sport aviation, with one of his oldest: sailing.
His Breezer aircraft dealership and flight school, now at the Lakeland, Fla., regional airport (and site of the annual spring Sun 'n Fun air show), was humming along just fine. And, since central Florida isn't a long flight at all from the Bahamas, Mike Z had dreamed more than once of flying his German-built Breezer S-LSA over to the islands, where he had spent so many happy hours sailing his own boat.
There was one big obstacle though: no International Civil Aviation Organization (ICAO) agreement between the Commonwealth of The Bahamas and the U.S. government existed that allowed LSA to fly into the island nation. The 191-member state ICAO is charged with fostering and supporting the sustainable growth of air transport. FAA-certified GA aircraft have been flying to the Bahamas for decades, but LSA were viewed as an air horse of a different color.
"I love the Bahamas," says Zidziunas. "So, at EAA AirVenture in Oshkosh in 2010, I decided it was time to get permission for LSA to fly over there. I went to the Federal Pavilion on the air show grounds and came across Greg Rolle, who just happened to be chief aviation specialist for the Bahamas Ministry of Tourism.
"Greg had just announced on the air show radio broadcast a few minutes earlier that the government of the Bahamas was dropping all restrictions on both experimentally-built and light-sport aircraft, as long as they matched the applicable U.S. laws," Zidziunas recalls. "If we were licensed and legal to fly in the U.S., then you were legal to fly in the Bahamas—special permission was no longer needed.
"I was so thrilled, I was jumping around like a madman!" he remembers. "For me, it legitimized LSA. It made the Bahamas the first country to recognize the U.S. sport-pilot license, and we could now legally make that short hop over the water with minimal hassles.
"I flew home from Oshkosh and immediately started planning my first trip. I invited Dan Johnson to go and offered him a Breezer to fly. Jacob Peed of Aviators Hot Line also signed on," Zidziunas adds.
---
But first, it was time for a shakedown cruise. That September, Zidziunas and a friend lifted off in two Breezers from Fort Lauderdale and headed southeast to Nassau, then on to Staniel Cay and Great Exhuma. "We were there four days and had absolutely no problems of any kind," he says.
After landing in Nassau, they ordered a fill-up of the Breezer's wing tanks. When the spout overflowed after just 10 gallons were pumped, the line guy looked at Zidziunas in astonishment and asked, "Where's the rest of the gas go?"
"He'd never seen anything like it before," says Zidziunas. "GA airplanes burn a lot more fuel, and he couldn't believe we'd gotten there on only 10 gallons! The guys in the tower in Nassau and Grand Bahamas asked a bunch of questions about the Breezers and LSA, in general. Everywhere we went, people were really curious. They had heard about LSA, but nobody had ever seen one there."
The trip was a huge success, so Mike Z planned the first official Bahamas LSA flyout for December 10, which would be hosted by Bahamas Tourism.

I was so thrilled, I was jumping around like a madman!" he remembers. "For me, it legitimized LSA. It made
the Bahamas the first country to recognize the
U.S. sport-pilot license…

"We had 17 LSA owners sign up! We took that group to Grand Bahama for the whole time, but I set it up for Jacob Peed, Dan Johnson and his wife Randee to fly on with me from there to Staniel Cay," Mike Z remembers. "After that trip, Dan saw the full significance of what we could do—fly from island to island, legitimately, as 'real' airplanes."
For Mike Z, it not only made his dream of flying LSA among the islands he loved a reality, but added a huge boost of lifestyle appeal to the image of light-sport flying. Here was this entirely different, exotic place just a short distance by air from the Florida coast (50 nm at the shortest crossing: half an hour or less over water), where LSA pilots could get away from it all, fly in the more relaxed airspace of an entirely different country, and enjoy the rich and diverse cultures of the Bahamas.
"Every island has something unique and fascinating to offer," says Zidziunas. "There are so many amazing stories down there. It's really a great place to have a lot of fun flying from island to island. It's relatively simple, too. You just do the paperwork in advance, jump in the plane and go.
"I see it as the epitome of what LSA can be, not just another transportation airplane, but more like owning a flying motorcycle or sailboat—the Harley Davidson experience, where the journey is an important part of the lifestyle," Mike Z says. "It gets you out into a new world. It's a lot more than just the destination."
---
After that first LSA flyover in 2010, the Commonwealth of The Bahamas made Mike Z the very first LSA flying ambassador. "It's a program they've established for American pilots who are enthusiastic about the islands, love flying and wish to assist others getting over there. Ambassadors organize flyovers and generally encourage pilots to make the trip."
Since that flyout, Zidziunas has averaged five flyovers per year. Last year, he organized a flight of five airplanes from EAA Chapter 1178 out of Plant City, Fla., to fly to Stella Maris Airport, on what many consider the most scenic spot in all the Bahamas: Long Island, aptly named since it's 80 miles in length and just 3.7 miles wide. The group flew over, and in the process, pulled off the first ever Young Eagles fly-in to the Bahamas.
They flew 27 Bahamian children, aged nine to 17. Young Eagles is the EAA program for volunteers to take young people for rides to motivate them about private aviation. Many of the children later reported their favorite part was flying over their homes and familiar landmarks.
Mike Z's status as LSA Flying Ambassador includes acting as a liaison with the Bahamas tourism department to give feedback, both good ­­and bad, so they'll be able to constantly improve programs that appeal to pilots. "They want to make it as easy as possible for pilots to know that if something isn't right on a trip, they can call an American who will speak up for them.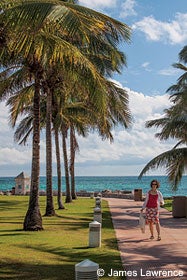 The German-built Breezer S-LSA is Mike Zidziunas' mode of transport to the Bahamian paradise.
"Every year we get feedback," Mike Z adds. "I'm trying to develop a great, easy fly-in that everyone feels they can participate in. We want to keep it affordable and short: a taste of the Bahamas. It's intended to get people started, so they can plan their own flying adventures in the future."
Of the last post-Sebring Expo trips, Zidziunas has led 34 aircraft to the Bahamas. Thirty had never been to the Bahamas at all.
"It goes back to that whole lifestyle thing. We want people to see how easy it is," Mike Z explains. "Flying over the water to a foreign country can dissuade pilots from going. So, we get a good deal on hotels, show them how to cut through the paperwork and try to eliminate all those excuses not to go."
Friendly people, lots of things to do once you get there—such as scuba diving and snorkeling, nightlife fun, many excellent restaurants, shopping bazaars, uninhabited remote island getaways and so much more—make the Bahamas one of those hidden treasures just off our own shores that shouldn't be missed.
There are nearly 60 airports in the Bahamas. LSA pilots now have their own Ambassadors to make it easier than ever to fly to any one of them.
For complete information on how to join the fun, including the latest 2012-2013 Private Pilot Guide, Bahamas VFR Flight Planning Chart and more, contact the Bahamas Tourist Office at www.bahamas.com/flying or Mike Zidziunas at www.breezeraircraftusa.com.