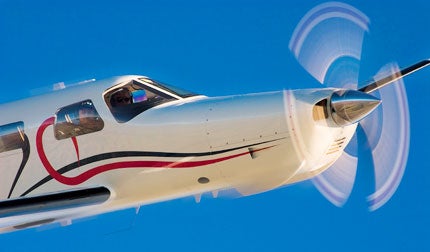 You start to feel your age a little when you can clearly remember the introduction of an airplane that's now 21 years old. The new model party for the 1984 Piper Malibu was a major event in Vero Beach, Fla. It was, after all, the first all-new general-aviation airplane in at least a decade.
In fact, as if in defiance of renowned author George Orwell's prediction, 1984 was one of Piper's most optimistic years. The company premiered three other new models that year: the Cheyenne 400LS, Mojave and Aerostar 700.
The Malibu was a revolutionary machine for Piper, the company's first attempt to field a pressurized single in direct competition with Cessna's successful P210N. The latter was an adaptation of a design that had been around for nearly two decades, and although it had a six-year head start on Piper's entry, it fell well short of the PA-46 Malibu's performance. Cessna had attempted to inflate what was essentially a box rather than a tube, and the P210N wound up with a pressurization differential of 3.35 psi, offering only a 10,000-foot cabin at 20,000 feet. Still, it was pressurized, the only such single-engine model on the market.
In contrast, the Piper Malibu was designed from the outset for pressurization. Maverick designer Jim Griswold equipped Piper's all-new airplane with a 5.5 psi system, worth an 8,000-foot cabin at 25,000 feet. Griswold also concentrated on reducing drag so the Malibu could cruise at least 20 knots quicker than the P210N.
Another Malibu advantage was the airplane's large cabin, as generous as a Navajo Chieftain's in width and height. Specifically, the Malibu cockpit measured 491⁄2 inches across by 47 inches tall, dwarfing the Pressurized Centurion's comparatively cramped dimensions.
In total, it was an attractive machine, an exciting, new, low-wing design with none of the smatterings of old technology. Even at an introductory price of $275,000, nearly $70,000 more than the previous year's Cessna P210N, the first pressurized Piper single realized instant success.
One result of the new Piper's introduction was that Cessna didn't even bother to offer a 1984 model of the P210N. Instead, the Wichita, Kan., company concentrated on updating the airplane to the P210R and premiered the new model in 1985. The R incorporated a number of improvements, most notably, a horsepower increase from 310 to 325, a foot more wing per side, a fuel increase from 90 to 115 gallons and a boost in gross from 4,000 to 4,100 pounds to accommodate the extra weight.
Unfortunately, despite excellent performance, it was too little, too late. Piper sold some 200 PA-46s in the first two years, and Cessna only managed to sell 40 P210Rs. The Pressurized Centurion expired with the shutdown of all Cessna piston production in 1986.
Regardless of a fizzling market and growing product liability awards, the Malibu somehow soldiered on and became, at one point, a puzzling contradiction. In the early '90s, the PA-46 was both the best-selling single-engine airplane in the world and, at the same time, Piper's only product. In fact, the Malibu is the only Piper model that has managed to maintain continuous production since 1984. By the time you read this, the Malibu will be (forgive me) old enough to vote.
---
Larry Carter of Sacramento, Calif., understands the attraction of the Mirage. Carter is a general contractor specializing in single-family subdivisions and has projects in progress in California and Colorado. He needed an airplane that could transport him around the southwestern U.S. efficiently.
"I was considering several single-engine turboprops, the Pilatus PC-12, SOCATA TBM-700 and Piper Meridian, when I suddenly realized I was aiming too high. I discovered the Mirage might actually suit my needs better," explains Carter. "Price wasn't the primary consideration, but it certainly didn't hurt that the Mirage was $750,000 less costly than any of the others, not to mention exponentially cheaper
to operate."
Carter is no newcomer to general aviation. He has been flying off and on since 1979, has owned a Cherokee, a trio of Bonanzas and an Apache and has even chartered a variety of business aircraft, including a King Air, in conjunction with his contracting business.
"Most of our trips are over stage lengths of 500 nm or less, so range isn't an issue," says Carter. "We usually travel to destinations such as Las Vegas, Bend [Ore.], Elko [Nev.], Colorado Springs and Southern California. For those trips, the turbine singles were simply more airplane than the mission demanded.
"Piper's Mirage turned out to be exactly the right airplane for us," continues Carter. "It's not quite as fast as the turboprops, but it's a true cabin-class machine that can handle ice and climb through the weather if necessary without the inconvenience and discomfort of any of the oxygen masks or cannulas."
According to Piper, a typical Mirage empty weight is about 3,100 pounds, leaving 1,240 pounds for fuel and people. Subtract 720 pounds of fuel, and the airplane winds up with 520 paying pounds. That works out about right for Carter, as his trips usually involve two to three people plus baggage. As with the Saratoga HP and the Cherokee Six 300 before it, the Mirage features two baggage compartments, one forward of the cabin and another behind the rear seats. This allows the crew to balance the airplane and further insulates the passenger compartment from noise
and vibration.
While it's true some pilots always will choose turbines if given the option (and the financial wherewithal), there's little question that pistons hold most of the economic aces while yielding to turbines in reliability and performance. Piston engines still offer remarkable life when properly flown, and it's conceivable that a Mirage engine might even reach its recommended TBO of 2,000 hours.
I flew Carter's Mirage twice for this report, once out of Long Beach, Calif., and the second time out of Chino, Calif., on an air-to-air mission. The first flight was revealing in that it was somewhat representative of the short hops Carter and company might take on a regular basis. With corporate pilot Mike Hooper in the right seat and Carter monitoring from the back, I lifted off and pointed uphill to 17,500 feet for some cruise checks.
At 4,340 pounds gross, the Mirage is the heaviest piston single in the industry, and that becomes obvious when you power up for takeoff. Even the airplane's 350-hp Lycoming is hard-pressed to accelerate the Mirage to takeoff speed. The PA-46 takes a while to catch its breath, and the result is a 2,090-foot horizontal distance to clear the ubiquitous 50-foot obstacle. Once the airplane reaches its best rate speed, however, it starts uphill aggressively at 1,100 to 1,200 fpm. You can plan on maintaining at least 1,000 fpm through the first 10,000 feet, and about one minute per 1,000 feet of climb to any height below 20,000 feet.
---
With power set at max cruise and a conservative 20 gph cycling through the Lycoming, the Mirage turned in a TAS of 196 knots at 17,500 feet MSL, almost exactly what the book promises. If there was a need to stretch the trip, you could count on 185 knots in exchange for 16 gph and add 150 nm to the range.
Fuel management is relatively easy with 120 gallons of total capacity. Standard practice is to take off and climb out to altitude on one tank, switch to the opposite tank and run each tank for an hour after that. The manual suggests keeping the fuel balanced to within 10 gallons to avoid asymmetric loading.
The model is certified to 25,000 feet (a maximum operating altitude, not a service ceiling), and it's perfectly capable of flying at such heights. Many Malibu and Mirage owners report their PA-46s are most comfortable when operated at altitudes in the high teens or low 20s, however. Neither the engine nor the pressurization system is working hard at the lower altitudes, yet even 17,500 feet allows you to top every mountain in the lower 48 and realize speeds of nearly 200 knots.
At 17,500 feet, you'll be above all the normally aspirated traffic, below the airlines, out of ATC's hair and, perhaps most important of all, above 90% of the world's weather. That means most of the time, you'll cruise in smooth, clear air and sunshine, navigating through uncongested skies. Okay, it's true you won't catch the Mooney Bravos or Lancair 400s, but you'll have the satisfaction of cruising in pressurized comfort at 25,000 feet while Bravo and Lancair pilots must suck on oxygen.
Another benefit of flying a mile or so beneath the Mirage's maximum operating altitude is that you won't be subject to the sometimes viciously cold temperatures at medium flight levels. In northern latitudes, winter temperatures can go below the recommended minimums for avgas. Below certain temperature limits, fuel refuses to vaporize, which makes it difficult to burn in any engine, piston or jet. Even the turbine-powered Meridian is restricted to operation in temperatures of minus-35 degrees C or higher, imposing a natural altitude limit.
Pattern manners are relatively benign, with normal approaches possible from 120 to 85 knots and short-field efforts as slow as 75 knots with a full 36 degrees of flaps extended. Dirty stall is only 58 knots, so 75 knots represents almost 1.3 of the Vso and allows a Mirage to grind to a halt in 1,000 feet at the max landing weight of 4,100 pounds.
At just over $1 million for a typically equipped airplane, the Piper Mirage is the world's most expensive single-engine piston airplane. It also may be one of the best buys in business aviation. Owners such as Larry Carter serve to reinforce the Mirage's image as the ultimate piston single and an economical alternative to a single-engine turboprop.
Piper likes to brag that perfection is no illusion. It's a Mirage. It may be a bit over the top, but for those who need an efficient short- to medium-range transport in luxury and comfort, it's more than just an illusion.
For more information, contact New Piper Aircraft Inc. at (772) 567-4361 or log on to www.newpiper.com.
SPECS: 2005 New Piper Mirage