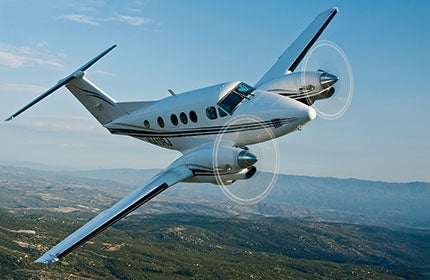 In one form or another, Beech King Airs have always managed to top turboprop popularity polls. Since the mid-'60s, Beech has introduced a King Air for every mission, about a dozen variations on the basic theme. The C90 is still the entry-level model, and it has always represented perhaps the most popular and least expensive King Air. In 1979, Beech introduced the F90, a model that addressed virtually all the early C90's performance deficiencies. The two big improvements were the more powerful Pratt & Whitney PT6A-135 engines, boosting power from 550 to 750 shp per side, and the broad T-tail, adapted from the larger King Air 200.
The F90 offered the same ultracomfortable, 54-inch-wide cabin as the C90, combined with the reduced wingspan of the King Air 100, but the F90's extra power made a major difference in performance. It also positioned the new F90 closer to the ultraluxurious 200 than to the C90. Short wings and plentiful horsepower are part of the formula that air racers use to fly fast at Reno, but in the corporate context, the F90 realized a major performance boost.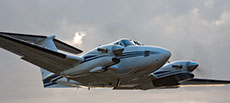 Ron Zagami, CEO of Clairemont Equipment (www.clairemontequipment.com) in San Diego, Calif., purchased his F90 six years ago to service his growing heavy-equipment business in Southern California. Zagami's company offers a variety of heavy-equipment options—Terex (formerly Massey Ferguson), Dresser, Bomag and the Japanese Komatsu. Clairemont operates five offices in California that rent or sell machinery—including forklifts, backhoes, skid loaders, bulldozers and excavators—to the construction industry.
Such dynamic, high-ticket equipment demands comparably fast-moving management, and Zagami knows exactly how to solve that problem. "In addition to our San Diego office, we have facilities in Escondido, Fontana, Indio and Imperial, and those require regular visits to keep everything on track," says Zagami.

With its two PT6A-135 engines, the King Air F90 climbs so well that owner Ron Zagami often files for low-20,000-foot cruise levels, no matter how short the leg. The broad T-tail enables smoother airflow and enhanced pitch control.
"I've been using corporate airplanes for years, always Beech products. I started with a Turbo Bonanza, then transitioned to a pair of Dukes and finally on to the King Air. I deliberately chose the F90 because it's universally regarded as the hot rod of the King Air family. The F90 makes it possible for me to visit all my outlying facilities in one day, rather than just the one or two locations I might manage in a company car. I typically fly the airplane twice a week, usually with three people aboard."
Video by Rochelle Buley
King Air owner Ron Zagami and Senior Editor Bill Cox fly the King Air F90 out of French Valley Airport in Murrieta, California.
---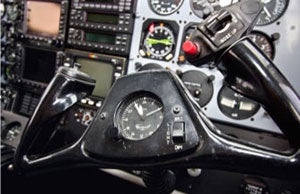 Zagami bought his King Air specifically for its outstanding performance and adaptability to a variety of missions. The CEO's airplane is configured for eight seats plus a blue room or 10 seats total, but the executive says he rarely has the need to carry that many folks. "The F90 is a very flexible airplane with more talents than I'll ever use," Zagami laughs. "Most of my flying consists of relatively short hops, 100 to 200 miles, and the F90 is perfect for those trips. I do let the airplane stretch its legs a few times a year, however. I fly it to the Kentucky Derby every year and also to Florida; it's a good long-distance traveling machine.
"From my point of view, the F90 is a tractable airplane, easily capable of lifting six people plus baggage plus 2,400 pounds of fuel if I need to fly that mission. The big PT6A turboprop engines make the F90 about as safe and bulletproof as an airplane can be. It's easily adaptable to an up-and-down, out-and-back mission, comfortable for any passenger load and a very quick mode of travel."

In fact, in a perverse sense, the F90's very speed and efficiency may have helped doom it to a short production run. The larger and more powerful King Air 200 flew only about 15 knots quicker, though it could carry five more people at much higher altitudes. It's significant to note that the F90 was produced for only eight years before being discontinued, possibly to avoid stealing sales from its larger, more expensive stablemate.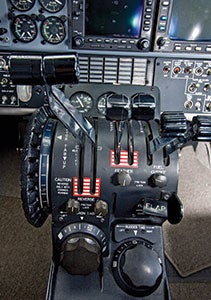 Like the 200, the F90 was labeled a Super King Air and granted roughly the same 1,200 to 1,500 nm maximum range. The F90 was 1,500 pounds lighter, however, and only 100 shp less enthusiastic per side, so its high speed was no great surprise. The F90 also incorporated a few other improvements. One was an increased pressurization differential from 4.6 to 5 psi, enough to provide a sea-level cabin at 11,000 feet and a 10,000-foot cabin at 26,500 feet. Considering that the F90's service ceiling is only slightly above 29,000 feet, there's little incentive for owners to certify the airplane for RVSM operation (Reduced Vertical Separation Minimum starts at 29,000 feet), and perhaps appropriately, Zagami reports that his King Air does its best work at heights between FL220 and FL250.
"The best performance comes at about FL230," Zagami explains, "and the airplane climbs so well—2,000 to 2,200 fpm—I'll file for cruise levels in the low 20s on practically every flight, no matter how short the leg. Even on a 100 nm hop, I can usually be level at cruise within 10 minutes of takeoff, cruise for 10 minutes and be on the ground in another 10 minutes."
That's partially because Zagami's particular King Air is faster and more efficient than the stock airplane. It incorporates a ram-air recovery system and an exhaust-stack drag-reduction program developed by American Aviation Inc. (www.americanaviationinc.com) of Hayden Lake, Idaho. American uses more efficient cowling and induction design to improve airflow at high altitudes.
---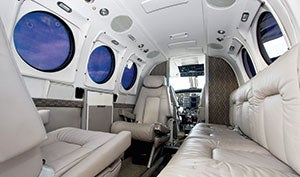 Equipped with dimmable window shades developed by InspecTech, Zagami's King Air is an ideal corporate transport. The ultraluxurious aircraft is configured for either eight seats and a blue room or 10 seats total, though the CEO rarely needs to carry that many passengers
American Aviation's turbine ram-air recovery system has been around for nearly a decade, and the initial application of the improved ram-air mod was to Piper Cheyenne turboprops. Six years ago, American applied the same techniques to the Beech 90– and 100–series King Airs, and the performance improvements have been even more dramatic. The American induction system nearly doubles ram-air recovery in normal mode and more than quadruples it in anti-ice mode. The result is 150 pounds of better torque at altitude and an impressive 10 to 15 knots of extra speed.
Zagami says he sees a 2,000- to 2,500-foot improvement in critical altitude and a consistent 15-knot speed increase, plus better climb and lower ITTs. "You might not think a simple ram-air recovery enhancement and cleaner stacks would make such a pronounced difference," says Zagami, "but nearly every parameter of performance and efficiency benefits. I can now realize full torque on an ISA plus 15 day, something I couldn't even consider before.
"With the American Aviation mods, my F90 is never temp-limited—it climbs better and the Pratts run cooler to a higher critical altitude—plus the airplane flies faster and single-engine service ceiling increases," Zagami explains. "If I'm in a hurry, I can usually run 265 to 270 knots, at least 10 knots quicker than before the conversion. Like most things worth having, the mod isn't inexpensive, but the way I operate the F90, I'll amortize the additional cost in about three years. After that, I'll be money ahead with every hour I fly."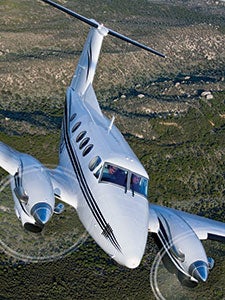 Zagami's corporate transport is special in more ways than one. His F90 was used as the certification prototype for Raytheon Aircraft's unusual electronic, dimmable window shades—a novel, variable light-transmission tint system that allows pilots and passengers to control the darkness of cabin windows by dynamically varying the level of tint. The window system, developed by InspecTech Aero Services Inc. (www.inspectech.net) of Ft. Lauderdale, Fla., employs a suspended particle device (SPD) light-control film that electronically controls the tint of all Plexiglas in selected Beech King Airs.
As the owner of the certification airplane, Zagami received a special deal on the modification, but normal price for the electronic window-tint system is about $35,000. Then, of course, as with any Beech product, Zagami has high praise for the airplane's handling. I couldn't help agreeing. I flew the airplane for perhaps an hour in conjunction with the air-to-air photos you see in this story, snuggled up to within 30 feet of a Piper Turbo Saratoga SP, and the big King Air was a joy to hold in position. We weren't anywhere near the F90's 10,900-pound gross weight on the day of my flights, but at any weight, the airplane handles slow-speed maneuvering very well.
The construction-equipment executive says he had placed a deposit on a VLJ, but recently canceled it. "My F90 has such excellent payload and range that there's really no comparison," Zagami explains. "I can go places I couldn't consider in a little jet, and of course, I couldn't realistically carry as many people as seats in a VLJ on any reasonable stage length. As far as I'm concerned, the F90 is about as good as it gets for an owner-flown corporate airplane."