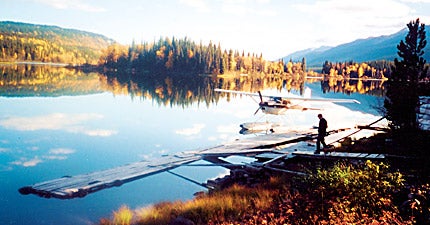 In 1978, Bert and Grace Poloson, both licensed pilots, flew a wheeled Cessna 182 from their Montana home into northern Canada. From the air, they surveyed the expansive scenery and the myriad remote lakes, and they pondered what it would be like if they brought a floatplane on their next trip.
So in 1979, the Polosons, now licensed to fly seaplanes, purchased a Cessna 185 equipped with floats, and set course for the Yukon. Their plan was to explore the Canadian lakes for a few weeks, then sell the aircraft and return to "wheels."
That journey was 27 years ago, and this summer—as they have every year without fail since that initial floatplane expedition—the couple will load up their Cessna 185 and point the floats north to explore isolated Canadian lakes and visit the many friends they've made in the remote regions of Canada, the Northwest Territories and the Yukon.
The Cessna 185's logbook perfectly summarizes the nature of the floatplane addiction: Chief pilot Bert Poloson has 70 flying hours on wheels, but 3,700 hours on floats.
As in years past, the Polosons' adventure will begin with a very fully loaded takeoff from Flathead Lake in northwest Montana. The first stop will be Porthill, Idaho, where the couple will file a flight plan (required for border crossing) and clear Canadian customs. Bert comments, "You call a minimum of two hours ahead of arrival, and then you wait in your plane for the customs inspectors. They're usually surprised to find out that we're…older." Bert Poloson will be 80 on his next birthday.
From the border, the Polosons make an overnight stop at Egan Lake, then they continue on to Williams Lake for refueling at the Port Williams Seaplane Base. Next, they set course for Lake Athabasca in the remote northeast corner of Alberta, before flying on to the Northwest Territories.
At least, that's the plan, but the advice of Grace Poloson carries wisdom borne of experience: "Don't commit to a plan. Don't have a schedule. You have to watch the weather; you have to be willing to change course and land at a different lake. And you have to carry enough equipment and supplies to just wait. You may be sitting inside a tent for several days, until the weather improves."
To prepare for such situations, the Polosons reference the pages of handwritten notes that they've accumulated over the years. As Grace explains, "Make a list, then weigh everything on the list. It's all a calculation of the weight of an item compared to how badly you really need it. And there are a lot of ways to save weight. We strip all the cardboard packaging off food before we leave. Our ax has a short handle—it saves a few ounces."
---
Even the fire-starting supplies that Bert packages are light. "Birch bark and pitch," he says. "A big bag weighs just an ounce or two, but it burns like oil."
Although Bert Poloson is an experienced mechanic, he carries no spare parts. "You wouldn't have what you need," he asserts, "and parts are heavy." Interestingly, he does include cautionary items such as pieces of rubber cut from auto tires. "Some of the places we stop have docks. But they're old and often there are bolts sticking out. I use the tire pieces to cover them, and protect our floats."
The loaded plane always contains fuel cans, which leads us to the Polosons' most sternly repeated advice: "You have to know where the fuel is. You have to call ahead. Ignore the guidebooks; they're out of date. Confirm your fuel sources before you take off."
In some cases, aviation fuel is available only at a base some miles from the lake. This is where the fuel cans come in handy. Shuttling back and forth with the cans, the plane is slowly refueled. This situation is becoming more common, because environmental considerations are causing many older floatplane refueling stations to close. "There just isn't enough traffic to justify the cost of rebuilding the stations, so we end up heading inland for fuel," says Bert.
Fuel availability again brings up the subject of what Grace simply refers to as "patience." A flight path that encounters heavy headwinds usually necessitates dropping into the nearest suitable lake and camping until the wind dies. "The performance of a floatplane really takes a hit in a headwind," Grace says. "You burn too much fuel and you don't make much progress. So don't fight it, get down out of the air, make camp and go fishing."
Closed fueling stations also limit access to the higher lakes. "You've got to go in light," Bert cautions about visiting high-altitude locations, "and then you're not going to have enough fuel to get to the next refill. So, many high lakes have become inaccessible."
Bert and Grace's years of flying in Canada have instilled them with many valuable lessons, and the couple is happy to share their knowledge with others. They actively support the British Columbia Seaplane Pilot's Association, and pilots who are planning trips to the North Country often call the Polosons for guidance.
"You have to realize that all lakes and rivers can be hazardous," Bert advises. "So when you prepare to land, you must first overfly the water and look for rocks, logs, sandbars. And from the air, you plan where you're going to put the airplane once you land. A lovely, calm lake can turn nasty when the wind comes up, and unless you've figured out a way to shelter your plane from the wind and the waves, it can be blown up against rocks and destroyed. Watch out for standing dead trees, they can blow over and land on your plane."
Bert also emphasizes another harsh reality—a pilot must be prepared to fly a mechanically impaired aircraft. "We've had alternator failures, which means you've got no working electric starter. Fine, you hand-prop the plane. This is where a three-bladed prop is valuable," he advises. "You're standing on the floats trying to grab the prop, and with a two-bladed prop you often can't reach it unless you're a professional basketball player."
---
And, yes, improvisation is often required. From Grace's handwritten diary comes an example: "We decided to travel to Little Doctor Lake to visit Gus and Mary Kraus. We didn't have a map of that area with us. We planned to pick one up at Watson Lake Seaplane Base. We landed there, and asked if they had a map of the Fort Simpson area. No map! I asked the woman if she had a large piece of paper or grocery bag I could have. With that in hand we headed to the wall map. Bert held the paper while I sketched out our flight route to Seaplane Lake, where we spent the night. Nothing exciting except a young bear standing by the cabin window, clicking its teeth."
Bert is particularly cautious when landing on lakes that are glassy and surrounded closely by mountains. He suggests, "Because of the reflections, you can't tell where the lake begins and ends. It's really important to make a couple of passes before you land, to make sure you can land and then get back out. There are wrecked airplanes out there, testimony to the fact that you can't always get out of places you can get into."
Among the many stories that evolve from twenty-six years of flying in the north, one is often retold. "We were in the Yukon when 9/11 happened," Bert relates. "We didn't know anything about it for nearly two weeks. When we stopped at Porthill on the way home, we learned all about the attack and that we couldn't fly across the border. We were about to abandon the airplane and hitchhike home. Then one of the men from customs said, 'You know, that's a pretty nice boat you have there. Why don't you just float it across the border and then when you're in the United States, see if you can make that boat fly?' So that's how we got home."
Dry clothes, hip boots, a satellite phone, a lightweight wood stove and a propane stove for camping above the tree line—all of these items from Grace's list will once again be loaded into the 185 this year, and the extended wingtips that increase the plane's useful load by 200 pounds will be much appreciated. The journey to Canada begins in early September ("We like to get there after most of the bugs are gone.") and extends into October, depending on the weather.
Bert's eyes glisten as he anticipates the trip, and he has a message: "People are always saying they'd like to learn to fly. Well, I was 50 years old when I got my license. So it's never too late; you just have to make it a reality."
And now, almost thirty years after soloing, Bert and Grace Poloson will embark on another ambitious flight to the wilderness of northern Canada. What seems like a pilot's dream of a lifetime is this couple's annual reality.