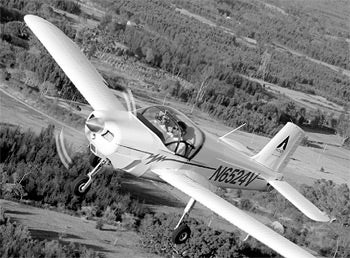 STANDARD DATA: Seats 2. Gross wt. 1,270. Empty wt. 775. Engine 100-hp Continental 0-200.
PERFORMANCE: Fuel Capacity 21. Cruise speed 107 kts. Initial Rate of Climb 750 fpm. Ceiling 12,500′. Takeoff Roll 450′. Landing Roll 495. Range 317 nm.
The two-seat low wing Thorp resembles Piper's Cherokee line for a reason: Both were designed by the same man, former Lockheed engineer John Thorp. The Sky Skooter featured external ribbing on the wing surfaces, which reduced the required number of internal ribs, saving weight and improving performance. The Thorp 211 earned FAA type certification in 1963. A Kentucky company, Thorp Aero, reengineered and recertified the airplane in 1990. T211s were manufactured under their production certificate for two years. The Thorp is now manufactured by InDUS Aviation, headquartered in Dallas, Texas. Examples of Sky Skooters are flying in both the certified and experimental categories.