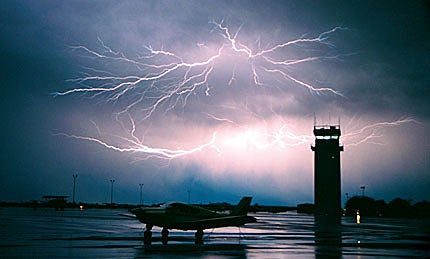 It was June 1977, and I had climbed out of Reading, Pa., in a new Rockwell Commander 114, heading for Bethany, Okla. The weather was characteristic June gloom, hot, hazy and humid, typically unstable for summer in the Northeast.
As I drifted southwest at 8,000 feet, the clouds thickened and finally closed in on me. Looking straight up, I could see occasional patches of blue flashing by above, but I knew the winds were stronger up high, so I elected to stay at 8,000 feet.
Radio reception was poor, and center's secondary radar was out. Paul Ryan was still in the process of inventing Stormscope, so there was no way of finding out how the weather was developing. Not good. Regardless of a reasonable forecast, I was becoming more uncomfortable as I droned southwest in the thickening clag, wondering what might lie ahead.
The ride became progressively rougher, so I finally asked for 10,000 feet and started uphill just as I crossed into Missouri. Within a minute or two, I popped out into the clear at just over 9,000 feet. Straight ahead was a huge thunderstorm threatening to eat St. Louis. The cumulonimbus (CB) looked like an aberration of a nuclear explosion, a monster with a classic anvil shape stretching east and cloud-to-cloud lightning flashing throughout its middle levels. It took a 45-degree course correction to fly around the monster. If I hadn't elected to climb….
Whether you're test pilot and aerobatics aviator Bob Hoover, aerobatics extraordinaire Sean Tucker or a lesser pilot, thunderstorms are almost universally regarded as the great equalizers. No amount of experience or skill can overcome the violent forces inside a thunderstorm. Those few aviators who have survived a close encounter with a fully developed wooleybugger have done so more by luck than skill.
---
The destructive forces associated with a thunderstorm include tornadoes, hail, wild updrafts and downdrafts, and even lightning, though the latter is, by far, the least dangerous of the four. Tornadoes are a formidable concern, but they're relatively rare unless atmospheric conditions are just right. The greatest risk is from severe turbulence that can tear an airplane to pieces in a few seconds. Lightning, certainly the most spectacular manifestation of a thunderstorm's power, is also the least likely to cause damage or injury. National Transportation Safety Board records suggest few airplanes have crashed as a direct result of lightning strikes, although many have been damaged.
It's important to understand a little about thunderstorms before you try to analyze the best way to negotiate them. A combination of moisture, unstable air and heat, a thunderstorm is one of the most dramatic and changeable powers of nature, with at least three defined stages: youth, maturity and old age. Rod Machado's Private Pilot Handbook provides all the detail you'll ever need on the birth, maturity and death of a thunderstorm, so we'll leave it to him to define the type in detail. For our purposes, a thunderstorm is simply the most violent force of nature you're ever liable to encounter.
Certainly, the most simplistic advice regarding operation around thunderstorms is…don't. That's fine for the West Coast or the Northeast where nasty summer storms are rare, but it's not a practical approach in other parts of the world. Severe weather is severe weather, no matter where you live, but much of the American Midwest must contend with thunderstorms on practically a daily basis for at least four months a year. From Texas and Louisiana to Minnesota and Wisconsin, June through August can be a turbulent, unstable period. For that reason, Midwestern pilots learn to make do with weather that the rest of us wouldn't even consider.
No, that doesn't mean aviators in Wichita, Kan., or Oklahoma City go charging off into conditions that most pilots would regard as unflyable. It does mean they have a stronger incentive to study thunderstorms extensively and try to arm themselves with knowledge.
Alex Unruh is a CFIIM with perhaps the ultimate teaching credential. He's a senior instructor pilot with Cessna Aircraft Company in Independence, Kan. Unruh has spent most of his flying career in the Midwest, having instructed at the Aviation Division of Kansas State University in Salina before joining Cessna.
---
These days, Unruh's job is teaching transitioning pilots and owners to deal with the Garmin G1000 and other systems in Cessna's hot-selling Skyhawk, Skylane and 206 Stationair. He also teaches other instructors in the Cessna FAA Industry Training Standards Accepted Training program.
"Most of my rules for operating around thunderstorms are just common sense," says Unruh. "I wouldn't consider IFR flight near CB activity, so if we can't stay VFR, we don't go. When we do fly, we use flight following religiously so we can get the help of a controller with a radar screen. An approach or center controller has ready access to the big picture and can see how things are developing along your proposed course.
"Sometimes, it's possible to fly beneath a thunderstorm, but only if there's plenty of clearance underneath, the storm isn't too large, and there's no rain or virga coming out the bottom," adds Unruh. "Hail sometimes hides in virga, and by definition, there will nearly always be significant downdrafts in the rain shafts."
Cessna's senior instructor pilot says it's possible to fly most days during thunderstorm season, as long as you're willing not to. "We like to get our flying done early in the day whenever possible, usually before noon. Independence is right in the center of Tornado Alley, so we're always on the lookout for severe weather developing during the summer afternoons, and we stay out of any storm cell, no matter how small the cell or how big our airplane."
Unruh has the right idea. No matter what the size of your airplane is, there's no consistently safe way to fly through a thunderstorm. That leaves under, over or around. Operating underneath a CB usually isn't wise because of the chance of encountering hail. Even a light hailstorm can do considerable damage to a typical general aviation aircraft, especially if cruise speed is over 170 knots.
Thirty years ago, while flying from Santa Barbara, Calif., to Lock Haven, Pa., in a new Navajo Chieftain, I crossed the Rockies and came up against a solid line of thunderstorms I was told stretched at least 100 nm north and south of Colorado Springs, Colo. I saw what I thought was a light spot in the rain beneath one of them, tried to cross at about 3,000 feet AGL and was rewarded with a staccato, machine-gun assault of hail. I reduced power and reversed course, but it was too late. I came away with a seriously pockmarked wing and stabilizer. Typical of its kind, the tough Navajo still flew fine, and I continued to Lock Haven, happy that the airplane was insured.
---
If flying beneath a CB involves a roll of the dice, climbing above a storm often isn't even possible, unless you happen to be flying a U2. I fly the Rockies and Sierra Nevada on a regular basis, and it's not unusual to hear briefers warning of tops above 50,000 feet, and updrafts and downdrafts in excess of 3,000 fpm. Tops typically reach 30,000 to 35,000 feet on even a small storm, and you wouldn't believe how fast a CB can build when temperature and humidity are just right. Once, in the summer of 1979, on the last leg of a delivery flight from Santa Maria, Calif., to Lakeland, Fla., in a new Aerostar, I was out over the Gulf of Mexico at FL250 watching a CB cloud develop, and I decided to take a closer look.
As I approached the storm from perhaps 30 miles away, I could see the horizon on the other side of the cloud tops, so I knew I was above them. When I was within two or three miles, however, the building cumulus was already at my level and climbing higher. As I sidestepped by the clouds, now climbing slightly above me, I could see the muscular cumulus boiling upward at probably 800 to 1,000 fpm. Fifteen minutes later, when I was perhaps 60 miles past the clouds, I looked back and saw the tops passing through at least 35,000 feet.
The only viable (read safe) method of negotiating a thunderstorm is to fly around it. Traditional wisdom regarding circumnavigating a CB (in the Northern Hemisphere) is to always deviate to the right, the tailwind side of any low-pressure system. (Just remember the rule "low counter"—air always flows around a low-pressure system counterclockwise.) That may not work if turning right will put you on the downwind side of the storm.
Question is, how wide a berth should you allow between you and a fully developed thunderstorm? It may be a little pointless to lay down a strict numerical rule, since even many pilots don't know the difference between 10 and 20 miles. Twenty miles is often considered a reasonable buffer. Even if the storm is moving in the direction of your diversion at a typical 20 to 30 mph, you'll have plenty of time to widen out as necessary.
Most folks with experience around thunderstorms suggest the safest method of circumnavigating a storm is on the upwind side, regardless of whether that will provide the best winds. The downwind side may be beneath the anvil, and that location is infamous for rain, hail, turbulence and other forms of meteorological misery.
---
Night flying around thunderstorms presents a whole new set of problems. It's possible to operate adjacent to thunderstorms at night, but experience and equipment requirements increase exponentially. Pretty obviously, flying in the black with clouds about demands an instrument rating and the experience to know how to use it. If thunderstorm country is VFR-only in the daytime, it's the same, only more so, at night.
A Stormscope or Strike Finder becomes almost mandatory if you're to have any hope of circumnavigating thunderstorms. Radar also can be of some benefit, but most of the radar energy may be attenuated by the first line of storms, seducing a pilot into assuming that all is clear on the other side of the forward squall line.
Stormscope and Strike Finder track electrical discharges generated by air masses moving against each other in the surrounding airspace (not just lightning flashes), and that can be invaluable for sensing turbulence and instability in thunderstorm country. Most pilots experienced in the use of both systems prefer Stormscope over radar. Obviously, the best of all worlds (for those who can afford it) is both.
Perhaps the most accurate real-time information regarding the surrounding weather is available through the recent proliferation of uplink products, from NEXRAD to XM. These allow a pilot to see updated depictions of dangerous weather as often as every six minutes. Contrary to what many pilots believe, it's sometimes possible to fly in the vicinity of thunderstorms, but only when conditions are right, the airplane is properly equipped and the pilot is smart enough to just say no if that becomes the only reasonable option.