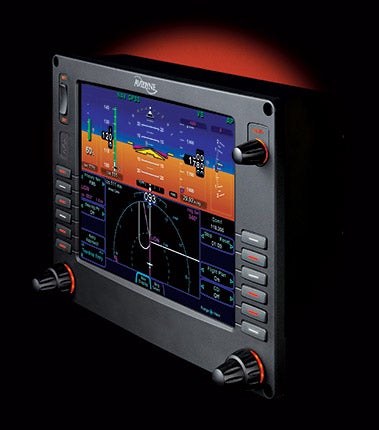 One of the best things about EAA AirVenture, more than any other aviation gathering, is the sheer number of cool things you'll find, whether cruising the fly market for tools, sheet metal and bungee cords, or stalking through the hangars for treasures and things you never knew you'd need. We've found some incredibly clever products; many that you may not have sampled yet. Prices run the gamut of ranges, but the items are all worth a look. When you go to Oshkosh, you never know what you may come home with!
Avidyne PFD4000
Avidyne's latest glass offering, the PFD4000, is an eight-inch "six-pack replacement" that offers legacy GA aircraft a truly modern glass flight deck. Traditional primary flight instruments are augmented by autopilot and flight director support, plus altitude preselect, vertical speed select, heading select mode and a full HSI with moving-map presentation of flight-plan data, RMI/bearing pointer and full-time wind vector. Six-second trend indicators track altitude, airspeed and vertical speed. There are also bugs for one-button access to altitude, vertical speed and heading, plus a dedicated BARO knob. Soon, expect USB-port upgrades to synthetic and enhanced vision and Highway in the Sky (HITS). Pricing is installation-specific. Contact: Avidyne Corporation, (800) AVIDYNE, www.avidyne.com.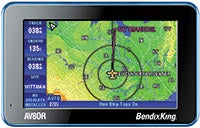 Bendix/King AV8OR Portable MFD
This is a rare low-end (i.e., affordable) product from Bendix/King by Honeywell. It's designed for the GA consumer market. The portable little box is made for aviators, but it looks and operates more like a road-based GPS (in fact, it also contains road-based GPS software). The AV8OR has a 4.3-inch touch screen that appears larger than its actual size because there are no knobs, etc., sticking out from the face. Pilot-intuitive device navigation mimics larger Bendix/King MFD systems, and the display features familiar aviation symbology. Think of it as a really nice poor man's touch-screen 396 with extra capability and on-the-ground usefulness. Price: $749. Contact: Bendix/King, (800)601-3099, www.bendixking.com/AV8OR.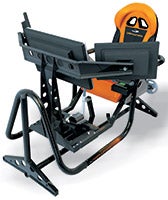 DreamFlyer Home Sim
The DreamFlyer is an in-home recreational flight simulator with realistic motion. Users run their own simulation software, such as Microsoft Flight Simulator, on their computers, connecting through a USB port. The DreamFlyer uses pilot-induced roll and pitch oscillations that the brain interprets as nearly real, giving a very convincing feeling of flight that has been lacking in other home-based systems. The DreamFlyer has a powder-coated aluminum frame and a comfortable sports seat; it makes a 3×6-foot footprint in your room. Price: $2,800 (includes joystick, pedals and throttle). Contact: FMS Flight Motion Simulators Inc., (877) 435-9746, www.mydreamflyer.com.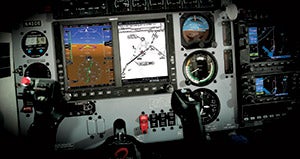 Garmin G600
The 10×6.7-inch G600 panel from Garmin is now STC'd for some 785 makes and models of normal and utility category aircraft, making this customizable PFD and MFD system a natural retrofit for popular singles and twins weighing less than 12,500 pounds. With customizable packages "designed for easy retrofit applications," the dual-screen LCD allows for quick, accurate scans. It provides SafeTaxi, terrain, airspace, weather and traffic while integrating with panel-mounted WAAS/GPS products and adding Garmin's solid-state AHRS, which is certified to interface with most GA autopilots to fly arcs, procedure turns and holding patterns. Pricing is installation-specific. Contact: Garmin, (800) 800-1020, www.garmin.com.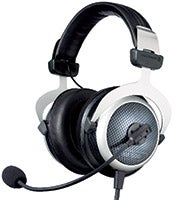 Beyerdynamic HS 600 Headset
This long-anticipated DANR (digital adaptive noise reduction), noise-canceling headset was showcased at AirVenture. A standard model should be available sometime this fall; farther down the road, a "build your own" configuration (in which you select colors and features on Beyerdynamic's website) will be offered. Because noise cancellation is automatically on, you won't hear that "ocean in the background" sound. There's an optional audio box for both a cell phone and an MP3 player. The German-made HS 600 uses either panel power or two AA batteries; it weighs approximately 11 ounces. Expected Price: Low $700s (includes five-year warranty and U.S. service). Contact: Beyerdynamic, (800) 293-4463, www.beyerdynamic-usa.com.

Elite Sim V8.5 With GNS 430
The Elite GNS 430 is a time-saving, money-saving, full-featured Garmin 430 simulator that exactly mimics the GNS 430, allowing users to learn the system, master all functions and conduct a simulated flight prior to a real flight. The simulator has WAAS capability and allows pilots to practice flying precision GPS approaches in both real time and challenging weather conditions. At Oshkosh, Elite also showed its "short-stack" AP4000 (with the GNS 430, there's no need for an ADF, DME or NAV/COM 1). The AP4000's six modules provide the exact functionality needed to practice on the ground and without burning a drop of fuel. Price: $575 (V8.5 with GNS 430); $1,995 (AP4000 and V8.5). Contact: Elite Simulation Solutions, (800) 557-7590, www.flyelite.com.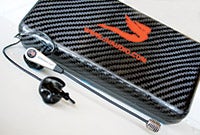 JH Audio Aerous VX3 In-The-Ear Headset
The Aerous VX3 is a custom-molded, passive noise-attenuating headset that offers -31 (+/-3 dB) dB of noise attenuation. There's a three-way crossover that's sensitive to whether a voice or music is coming into the earpiece. If it's music, then the crossover automatically engages the low bass tones, so there's a rich music sound. If it's a human voice, those tones tend to muddy the reception in the user's ear, so it cuts those low tones out altogether. That way, the pilot hears nice music and clear talk. The integrated-boom, noise-canceling, electret microphone adds little mass, and with no neck loop, this should be one of the most comfortable headsets—ever. The cable is removable, so cable problems never become headset repairs. For audiophiles, JH Audio offers an optional PS Engineering Muse Audio Interface. Price: $999 (includes carbon case and GA plug). Contact: JH Audio, (866) 485-9111, www.jhaudio.com.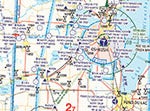 Jeppesen VFR+GPS Charts
What was once called "the GPS fad" isn't ending anytime soon, so Jeppesen has developed enhanced 1:500,000 VFR+GPS Charts that are akin to what the company thinks a modern VFR chart should be like. Jeppesen says its newest charts feature "intuitive symbols and colors, better coverage areas and an emphasis on GPS navigation." Data from shuttle missions are integrated with current data from NAVTEQ, which provides state-of-the-art depictions of roads, cities and points of interest (e.g., shopping malls, industrial complexes, etc.). Jeppesen also includes such handy and indispensable items as minimum safety altitudes and GPS coordinates for VFR reporting points and airfields. Price: $5.99–$11.99. Contact: Jeppesen, (800) 621-5377, www.jeppesen.com/vfrgps.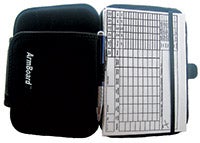 2H Innovations ArmBoard
Products like this make so much sense that you wonder why you didn't invent them yourself. The ArmBoard is an ergonomic, compact device that's incredibly useful and works on either arm, sliding easily over the hand and wrist while giving you a comfortable writing surface midway down your forearm. The inside flap has two clear pockets for memory aids or commonly used references. A writing pad is included and a flight-planner version is available, as are various presized flight-reference cards. Price: $31.95. Contact: 2H Innovations, (866) 7FLYARM, www.flyarmboard.com.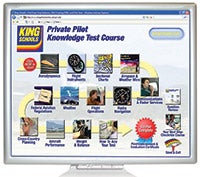 King Schools' Online Courses
The Kings have probably helped more people learn about aviation than the Wright brothers. Their private pilot and IFR courses are now offered online, through any high-speed connection in the world. The courses are identical to the CD/DVD programs, and they'll track your progress, even as you move from computer to computer. They also offer an improvement over "hard" media: free lifetime updates are automatically included. With unlimited free practice tests, a free Practical Risk Management CD and a free FAR/AIM CD included, the Kings continue to dominate their field. Price: $279. Contact: King Schools,
(800) 854-1001, www.kingschools.com.