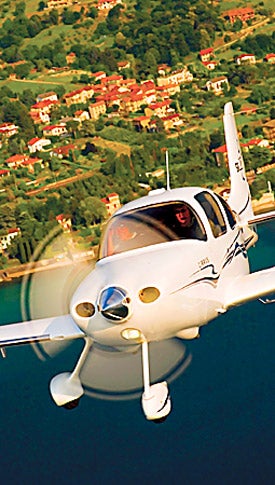 Battle of the four-seat speedsters
Contrary to what many people think, there's little to support the idea that general aviation's glass is half empty. Examine the last dozen or so years of aircraft development. In that time, at least six single-engine, four-seat airplanes—all capable of cruising near or even well above the magic 200 knots—have emerged.It's true that one is a homebuilt, but take a look at the other five planes. Two of the models easily exceed 210 knots; the remaining three approach 190 knots without the benefit of a blower under the bonnet. Considering that it has only been 40 years since the industry passed the 200 mph barrier, topping 200 knots is a major accomplishment.
It's true that some manufacturers produce and sell the same or similar models in nearly identical wrappers, but there are several major aircraft companies that offer totally new products, specifically Diamond, Columbia and Cirrus. Even Cessna is planning an all-new single, presumably something along the lines of a modernized Centurion.
Here's a rundown of the six fastest, piston, four-seat singles available in either production or kit form. Before anyone cries foul, we're aware that there are faster airplanes out there—the Marchetti SF260, Beech V35TC Bonanza, Comanche 400 and Bellanca Turbo Viking, to name four. For this comparison, however, we've confined ourselves to new aircraft or, in the case of the Lancair IV, an available kit machine. (Considering the price of admission, we're aware that many aspiring Lancair IV owners may not be able to devote the time required for building their own airplanes, but there are legal ways to have one built while still satisfying the FAA's 51% rule.)
1. Lancair IV/IVP
Lance Neibauer's remarkable Lancair IV, which is the only homebuilt we looked at, is, predictably, also the fastest airplane in the group. For better or worse, its homebuilt lineage carries both positive and negative ramifications. You do have to build it, and for some pilots, that's a major disincentive. True, you could shop Trade-A-Plane's used experimental section and purchase someone else's handiwork, trusting to faith that they were as meticulous as you'd be and constructed a strong, reliable airplane, with no weak components or systems. However, some pilots, this one included, wouldn't consider flying anything they built themselves.
Whether you construct a Lancair IV with your own hands or purchase someone else's handiwork, Neibauer's ultimate four-place, piston homebuilt has an advantage of at least 60 knots over the rest of the group. In terms of sheer speed, the Lancair IV's 350 hp Continental pushes the airplane along at turboprop speeds. (Neibauer also offers a version of the IV that may be powered by a 750 shp Walther turbine.)
In a first-rate Lancair IV, plan on 300 knots at FL250. Even a slow IV should score an easy 275 knots at max cruise. Consider that Conquest I, Cheyenne II or King Air C90 turboprops are all working hard to deliver 250 knots. With Lancair's largest fuel tank option (110 gallons) you can plan on covering at least 1,100 nm between pit stops at max cruise, 1,200 nm if you're willing to pull back the inches a little and linger aloft for five hours. Perhaps best of all, you can construct a pressurized version of a Lancair IV that will deliver pretty much the same performance without requiring an oxygen mask.

---
2.
Columbia 400
It should come as no surprise that the second-quickest machine in our survey also comes from Lance Neibauer. Columbia Aircraft, formerly known as Lancair Certified Aircraft, currently lays claim to the world's fastest piston, production single.
Columbia airplanes and Neibauer's homebuilt models do share certain similarities, but the 400 is very different from the Lancair IV—most of the differences relate to the fact that it's FAA certified as a normal-category aircraft. The 400 uses a 310 hp twin-turbocharged version of the Lancair IV's 550-cubic-inch Continental engine. The Bend, Ore., company advertises the airplane's max cruise speed as 235 knots at 25,000 feet, 230 knots if you settle for 18,000 feet. Even 230 knots makes the 400 the world's fastest piston, production machine, and remember, Columbia realizes its speed with all three main gears down and laminated.
A top-of-the-line 400 sports an electric operating system (with dual batteries and dual alternators), a huge front cabin, an optional Avidyne Integra PFD/MFD avionics display, a Thermawing deicing system and enough goodies to make a Gulfstream pilot envious.
3. Mooney Bravo
The Mooney Bravo took life in 1989 as the TLS, short for Turbo Lycoming Sabre. (North American objected to the Sabre appellation, so Mooney changed the name to Bravo in 1995.) By any name, the new airplane represented a significant break from Mooney tradition.
The new model was the company's first departure from engines of 220 hp or less. Mooney had always prided itself on delivering maximum speed on minimum horsepower. Out front, the Bravo's large Lycoming TIO-540 delivers an impressive 270 hp. With only 3,368 pounds of stretched Porsche-Mooney body trailing behind, the airplane manages to blaze along at nearly 220 knots at FL250. Until the advent of the Columbia 400, that was enough to earn it the title of fastest, piston four-seater in the sky.
Even in stock trim, a Bravo can fly coast-to-coast eastbound in a relatively easy day. My wife and I did exactly that in 1994 when we piloted a new Bravo from Los Angeles to Jacksonville, Fla., in slightly over seven hours (including a fuel stop in Dallas) at an average speed of 300 mph, a point-to-point speed record. Sure, we did have some tailwinds on the westward flight, and the return trip took longer, but we demonstrated what was possible.
4. Mooney Ovation
The Ovation features a significantly derated Continental IO-550, turned all the way down to 280 hp, and the result is Mooney's fastest normally aspirated airplane. It's also one of the company's all-time best-selling machines, with an engine TBO that just might make the advertised 2,000 hours.
The Ovation shares an essentially identical fuselage and wing with the Bravo. After a major switch from a three-blade to a two-blade prop a few years back, the current Ovation cruises at 190 knots under ideal conditions. With the standard 89 gallons aboard and a reduced power setting, fuel burn on the Ovation drops to as little as 13 gph. That allows range to increase to a whopping 1,550 nm. Add the STC'd, 30-gallon Monroy tanks, and max range under ideal conditions can approach 2,000 nm.

---
5.
Columbia 350
The normally aspirated Columbia does exactly what the 400 does, but at breathable altitudes. Down at 8,500 feet, both the 400 and the 350 will storm along at 190 knots. If your flying doesn't demand a turbo, the all-electric 350 offers essentially the same talents without the higher acquisition costs. Without turbos to cool, the 350 also benefits from slightly reduced fuel burn.
If the turbo model can loft up into the flight levels with ease, the 350 manages fairly good high-altitude performance on its own. Service ceiling is 18,000 feet, so it's not unreasonable to flight-plan for 12,500 or even 14,500 if there's a need to top clouds or terrain. At 55% power, the Columbia 350 can cover ground at nearly 155 knots, and the result is a range of nearly 1,300 nm.

6.

Cirrus SR22
Certainly one major contributing factor in the phenomenal success of the SR22 is its impressive performance. Despite an entry-level price that's almost double that of a Cessna Skyhawk, the SR22 has outsold the 172 (and everything else in the industry) four years in a row, making it the world's best-selling general aviation design.
At 185 knots following a 1,300 fpm climb, the Cirrus offers plenty of performance. In combination with its built-in ballistic parachute, the largest cabin in its class, and a list of options that would do Boeing proud, the SR22 is a serious cross-country traveler. Like the Columbia 350, the SR22 thrives at high altitudes and will turn in excellent speed through at least 10,500 feet. Fuel capacity is the least of the group, only 81 gallons, but if you pull back the left power control slightly, you'll see a 1,000 nm range.