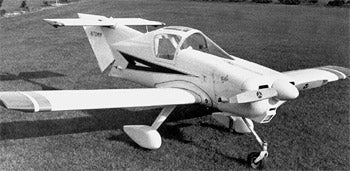 STANDARD DATA: Gross wt. 1,100. Empty wt. 710. Fuel capacity 24.5. Wingspan 20′. Length 18′. Engine 100-hp Continental.
PERFORMANCE: Top mph 150. Cruise mph 130. Stall mph 57. Climb rate 1,100. Range 200.
The VCA-l is a tiny single-seat low-wing monoplane of all-metal construction. The wing section is NASA GA (W)-1 with no sweepback. It has a constant chord with plain ailerons and electrically operated flaps. The fuselage uses 2024-T3 aluminum alloy. The tricycle landing gear is non-retractable. A Continental 0-200 flat-four engine drives a two-blade Sensenich fixed-pitch propeller. The cockpit is enclosed and sweeps back to a combination fuselage and T-tail empennage.