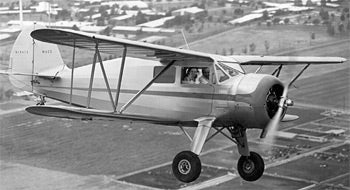 STANDARD DATA: (E) Seats 4. Gross wt. 4,200. Empty wt. 2,563. Fuel capacity 125. Engine 300-hp Jacobs radial. PERFORMANCE: Top mph 185. Cruise mph 177. Initial climb rate 1,170. Range 600. Ceiling 18,000.

STANDARD DATA: (S series) Seats 5. Gross wt. 3,250. Empty wt. 1,945. Fuel capacity 70. Engine 225-hp Jacobs.
PERFORMANCE: Top mph 144. Cruise mph 135. Initial climb rate 750. Ceiling 12,500.
The heart of the Waco cabin biplane family is the C series. It was first introduced in 1935 and remained in production until 1939. The first models received the designation of PDC and employed a Jacobs radial rated at 170 hp. The subsequent model that was produced in the greatest numbers during 1931 was the QDC, which was powered by a 165-hp Continental. Other engines used were the 165-hp Wright, 210-hp Kinner, and 210-hp Continental. The design of the C series continued unchanged until 1935 when its constantcord wing design was swapped for an elliptical design. After that, the various models were powered by the 320- hp Wright Whirlwind and the 330-hp and 285-hp Jacobs.
The N series appeared in 1937 and was essentially the same as the C series with the exception of tricycle landing gear. The F series was intended to replace the C series by virtue of its design refinements. The most noticeable of these changes was the elimination of the slanting wing struts and the use of wires instead. The S series was put into production in 1935 when the C series changed to the elliptical wing design. The S series was initiated to take the place of the old C series and retained the use of a constant-chord wing structure.