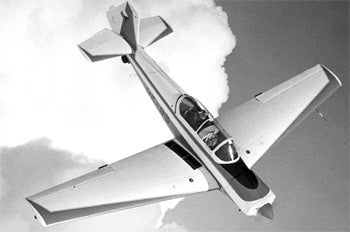 STANDARD DATA: (526 L) Seats 2. Gross wt. 2,150. Empty wt. 1,521. Fuel capacity 24. Engine 200-hp Lycoming.
PERFORMANCE: Top mph 158. Cruise mph 140. Stall mph 56. Initial climb rate 1,378. Range 310. Ceiling 22,300. Takeoff distance (50′) 1,050. Landing distance (50′) 1,345.
The Zlin's impressive record in aerobatic competition includes awards for first place in the World Acrobatic Championships of 1960, '62, '64, and '68, plus the Lockheed Trophy in Britain in 1957, '58, '61, '63, '64, and '65. Production of the Czechoslovakian training and aerobatic planes started in 1947 and includes the 726, 126, 226, 326 and 526. The Z 526 L is for all practical purposes a development of the Zlin Z 526 F Trener, the major difference between them being the 526 L's use of a 200-hp Lycoming in place of the usual 180-hp Avia M 137 engine. Both aircraft were designed to perform duties as ab initio or advanced trainers, acrobatic trainers, competition planes, and glider towplanes. The pilot and passenger are seated in tandem fashion under a continuous sliding canopy. The main landing gear retract backward into the wings, and the tires protrude slightly to reduce damage in the event of a wheels-up landing.
Zlin produces the 242 model primarily as a VFR/IFR trainer, operating in both normal and aerobatic categories with a +6/ -3.5 G factor. It is powered by a Lycoming AEIO-360-A 1B6 with a three-blade propeller.