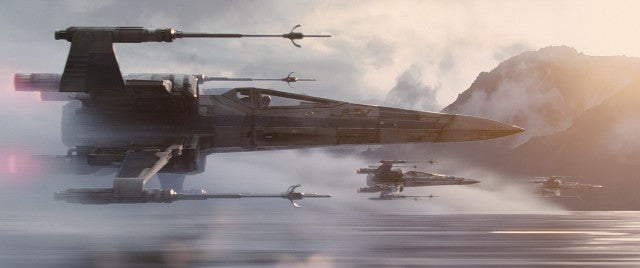 At the risk of spoiling the fun for you, I'm about to talk about the latest Star Wars film, The Force Awakens, as well as another less well known film about flying. In case you've been off scavenging star cruiser parts on Jakku for the past few weeks, let me warn you now that I'm about to reveal big surprises. Harrison Ford is in the movie. Okay, that's not much of a secret, and it's also absolutely no surprise that in it Ford reprises the role of Han Solo, skilled pilot of the Millennium Falcon. Ford, as you probably also know, is a real pilot in the real world in real airplanes.
I saw the film for the first time just last night, and while I haven't had the chance yet to ask Ford what role he played in the technical aviation side of the film, something tells me, it was an important one.
Without giving away actual spoilers, I will say that the flying and the politics of the cockpits in the Millennium Falcon (big shocker, it's back) and a number of other starcraft ring true. One thing they got right was who gets the left seat as opposed to the right (even in a galaxy far, far away and a long time ago, the captain got the left seat. . . nice to know where that tradition came from…and if the captain needs a relief pilot, well then that's a bit more complicated. The flying part comes off just as credibly. The decisions that the pilots make, how they talk about the ship and even how they manage crises, of which there are many . . . it all just works.