It's the third day at Sun 'n Fun.  Breezy, hottish (high 80s), humid: in other words, classic Florida Spring weather.
The attendance seems steady if not overwhelming.  I've been hanging out a lot in the new Paradise City Light Sport/Ultralight area and grass landing strip in the southeast corner of Lakeland Linder Airport, and enthusiastically report it is vastly improved over previous years.
Biggest news is probably the merging of Dan Johnson's LSA Mall showcase for Light Sport manufacturers right next to the grass demonstration flying strip.  Now industry reps can show their wares, then roll said wares right across the grass to the strip and give their customers a demo flight. How cool is that?  In the past, the Mall was near the main entrance, and Paradise City seemed much more remote than it does now.  Well done, Sun 'n Fun, for making such an improvement!
There have been some kinks in the demo flight information about who can do what, when, such as a rumor that flew around a couple days ago that anyone leaving the 3-mile TFR from Paradise City  (a common practice for potential customer demo flights) would not be able to return until the TFR was lifted at day's end.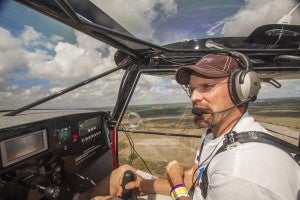 Obviously, a ridiculous damper on the purpose of the entire restructuring of Paradise City if true, but the info was mostly a misunderstanding.  Restrictions were in place only during a couple acts of the main airshow.   The rest of the time, it was ops as usual in Paradise, including allowing demos even during the airshow except as noted, another improvement.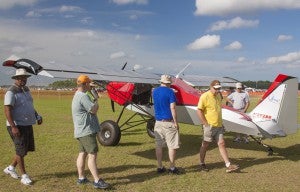 Another welcome change to go along with the extended runway and filled-in runway-end ditches that used to make landing sometimes daunting is the road from the main part of the show  to Paradise Valley.  Now it curves down nice and close to the runway, there are regular trams from the main gate to the area, and all in all the entire operation makes the Mall and Light Sport/Ultralight flying activity dramatically more accessible and appealing: easier for folks to find, get to and enjoy.
So come on out to the show, have fun and support the winged troops, folks!