In the midst of a couple weeks away from home to marry off my firstborn daughter, I remain nonetheless able and willing to mine the LSA infoverse for newsworthy veins.
Also, check out
Aero Friedrichshafen
going on right now in Germany.  It's one of Europe's premier  aviation events, with lots of new aircraft (like the Pipistrel Panthera 4-seat flying Ferrari) and technologies announced every year.

Now, two items of interest: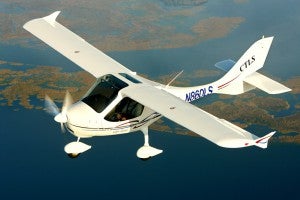 Flight Design Goes EASA
The leading S-LSA producer for the U.S. market, Flight Design, told everyone at Aero that the CTLS has earned  the European Aviation Safety Agency (EASA) restricted type certification ((R) TC) for the two-seater.
John Doman, Flight Design's director of business development of global sales and marketing, said, "For European flight schools the certification will enable additional aircraft utilization leading to more revenue and value for their purchase of a Flight Design (R) TC aircraft."
This type-certificated version of the CTLS will be distributed under the variant name CTLS-ELA and is nearly identical to the S-LSA version already marketed worldwide.
Flight Design presses ahead with development of its four-seat C4 too.  It has an interior mockup at Aero of the roomy aircraft which will be FAA-certified under primary category rules in the U.S.  The pic shows how roomy that cabin will be.
"The EASA certification of the CTLS gives a boost to the C4's certification efforts in the United States," says the official release about the CTLS-EASA, "because the C4 will have many of the same design features and systems of the CTLS," a company official said. The C4, a $250,000, 155-knot airplane powered by a 180-horsepower Continental IO-360 engine, will be certificated in 2013, with first deliveries shortly thereafter.
Don't take that certification date lightly: Flight Design has a habit of meeting its goals.
Pipistrel Around-The-World-Flight Successful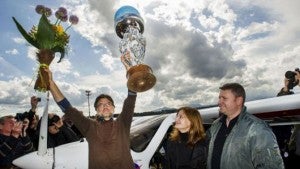 Congratulations to Matevž Lenarčič and the Pipistrel Team for his amazing journey in the Virus SW 914 Turbo, "in the most demanding possible way!" as the official Pipistrel release notes.
Noteworthy stats: part of that "demanding way" included 62,000 miles total, and making the entire journey west to east.
Matevž flew the Rotax 914 Turbo-powered two-seater across both the Atlantic and the Pacific Oceans, the Indian Ocean and over Mt. Everest just for grins.  The entire flight went through all climate zones between Antarctica and the equatorial latitudes.
The only major setback was an encounter with severe turbulence, the worst the seasoned pilot had ever encountered, he said, that required a team from Pipistrel to fly to the Outback and make an in-the-field composite repair of an airframe crack before the journey could continue.  Even then, the repair only took four days.
Toasting glasses held high for Matevž, company founder and leader Ivo Boscarol and all of Team Pipistrel for the impressive achievement.