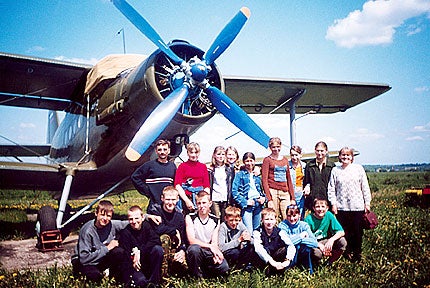 Recently, Plane & Pilot asked pilots if they'd be interested in a project that we named Build A Plane. The question we put to our readership was simple: What if there was a program that offered young adults the opportunity to roll up their sleeves and get involved in general aviation? Guided by mentoring adults, what if teenagers were given the opportunity to restore or build a real airplane? Wouldn't it make sense that some of these kids begin a lifelong love of aviation? I'm elated to report that, in just the few weeks since our December 2003 issue arrived at newsstands and subscribers' mailboxes, the responses have been absolutely overwhelming.
Conversations with adults and kids around the country have reiterated that the basics of the Build A Plane idea are viable and remain the same:
• There is an overwhelming number of teenage kids in America who would be excited to join a Build A Plane project.
• There is an overwhelming number of adults who are willing and capable of mentoring Build A Plane programs.
• There is a huge supply of aircraft that are no longer flown or are not airworthy and would make great project planes.
• There are hundreds of kit aircraft that are purchased, but never completed.
• Owners who donate aircraft not only give a wonderful gift, but also may qualify for tax benefits from Uncle Sam.
Readers who called, wrote and emailed about Build A Plane possibilities came from everywhere. A military academy in Florida wants to start immediately. A Nazarene minister in Idaho wants a Build A Plane project for the kids in his youth group. A high school teacher in South Bend, Indiana is interested in a project. A Civil Air Patrol squadron in Pennsylvania spoke up. A doctor in Dallas, Texas, intends to join with a mechanic friend and recruit a group of underprivileged teenagers to build a Thorpe and, by press time, a man in Illinois is working out the final details to donate an incomplete kit plane to an EAA chapter in Chicago. And the list goes on from there.
By far, the most surprising and, in some ways, the most moving response came from a man named Andrey A. Gaman who wrote from a small town in Russia. After the fall of the Soviet Union and the accompanying economic decline, he tells us he has watched the youth in his town lose their optimism about the future. Drugs, alcohol and unemployment are big problems. Gaman is an aviation engineer and immediately saw the Build A Plane project as something that he wanted to give to the teenagers in his town. When he first wrote to us, Gaman already had signed up 12 to 15 kids, and he expects his numbers to swell to better than 30 once he has had time to get the word around. A local school has donated space to teach formal classroom sessions for Build A Plane (subjects like aerodynamics, avionics, engines, etc.) and an official at the local aerodrome has offered space to restore or construct an aircraft. Two other adults, a Russian equivalent of an A&P mechanic and a professional pilot, have also signed up for the program. The only thing Andrey Gaman and his team lack is a kit plane or restoration project to see their dream start to come true.
We've had a wonderful time hearing from you, and many of the people who responded have been put together with key players in their area. The following is a list of interested people you may find close to you.
• EAA Chapter 322 in Johannesburg, South Africa, is looking for a project aircraft.
• A 16-year-old boy in Tucson, Ariz., wants to join the Build A Plane project.
• A 16-year-old boy in Citrus Heights, Calif., is looking for a program.
• A volunteer in Michigan is looking for a Build A Plane project anywhere in her state.
Pilots are a great group. There's something all of us can do to make Build A Plane soar.
If you'd like to become a sponsor, participant or donor, contact Lyn Freeman, Plane & Pilot Magazine, 12121 Wilshire Blvd., Suite 1200, Los Angeles, CA 90025, (310) 820-1508, ext. 757, email: [email protected].