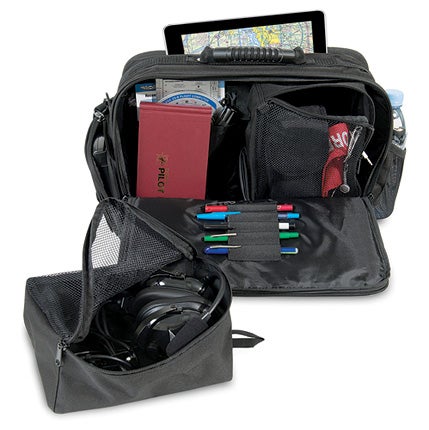 Air Classics Tech
I love flight bags. They're one of the few things we use as pilots that lend us some flair of individuality. Cyclists have their faux sponsor gear with so many logos they look like they just stepped off the Tour de France. Horse people have their saddles and jodhpurs; dancers have their shoes; chefs have their knives and secret spices. However, between our "Wilco-this" and "Niner-that," we're just disembodied voices in the firmament, little specks flying above people's heads with nothing more than an annoying engine to mark our place. Aside from headsets that nobody sees, what distinguishes each of our aviating "styles?" Only our flight bag accomplishes that.
Flight bags say who we are as pilots. A woman who steps off the wing of her Cirrus with a ballistic-nylon flight bag sporting 73 color-coded pockets and a 600-lumen LED flashlight shows she's organized, into technology and probably runs a business or two. The pilot hurriedly feeding quarters into the vending machine with a frayed trade show-giveaway backpack sprouting a tangle of headset cords, lots of pens and wrinkled charts conveys something, too. Each bag says a lot about its carrier.
Flight bags are also essential in the cockpit. Anyone who has flown single-pilot IFR in the clag, or any VFR pilot who has tried to locate a pen or chart in turbulence, knows the value of organization. Aviation requires quite a bit of gear, and the flight bag is our tool for organizing it all. Accessibility of items reaches into the area of safety, since being able to reach things like a flashlight or chart can be crucial. Even the ability to carry certain gear (like a backup radio) could one day save our bacon.
Whereas flight bags of old carried a complete set of approach plates, charts and books, an E6B flight computer, a plotter and maybe a POH, today's flight bag carries all that in electronic form. While the iPad and headset are the main occupants of the modern flight bag, they now free up space for other essential gear we couldn't carry before. It's this extra equipment we carry that gives each of us a flying personality.
Today, flight bags are in demand more than ever, and companies have sprung up and have had great success offering nothing more than high-end specialty flight bags. In aviation's golden era, ex-military pilot bags were the Holy Grail to carry gear in, while airline pilots sported their unmistakable square, legal-style map cases. General aviation pilots made do with one of those basic bags that were available from every pilot shop and mail order catalog on the planet. Ironically, most were too short for a sectional chart, and none had the organizational engineering required to create a really useful carrying tool. They were just big bags with a center space, a side pocket and maybe a pencil loop or two.
With time and experience has come the realization that each of us needs a different type of flight bag to fit our unique cockpit needs. The right flight bag makes such a difference in piloting that it should be treated like finding the right pair of underwear.
We took this idea to heart and set out on a search for what's available in the flight bag world today. From that vast sea of bags, we selected the most unique and useful for our review. Here (alphabetically) we present the best flight bags of 2015.
---
ASA
www.asa2fly.com
ASA has been around a long time, and they know what pilots like. Their no-nonsense
Air Classics Tech flight bag
is a functional 600D polyester bag that's made to be useful. The rectangular bag features padded interior pockets to protect your electronic gear. You can throw just about anything into it with its 10-inch-deep pockets and full-width outside zipper. Perfect for students or corporate fliers, the ASA Tech bag has just enough pockets to store your gear without being obtrusive.
A large interior pocket provides protection for a laptop, while a smaller padded sleeve makes room for an iPad or other tablet. Detachable cube pockets can store a headset, GPS or several chargers that need to be contained. You can remove one of the cubes and adjust the included Velcro® dividers to further customize the compartment. Inside pockets offer chart and document storage, as well as sleeves for pencils, pens or flashlights. Three zippered pockets on the outside give easy access to keys, wallets, portable drives, PLB or other small gear. A molded carry handle and rubberized, detachable shoulder strap allow for easy conversion from office to cockpit.
Silver embroidered "ASA" wings are a nice touch on this bag. Price: $99.95.
Brightline Bags
www.brightlinebags.com
Brightline started in 2007 with the idea of making a better pilot flight bag. They succeeded wildly with their unique modular line of bags. They created a component design that starts with a "core" and adds pieces to it based on the needs of the user. They call this their Flex System. Think of it as a "Lego-block" approach consisting of endcaps and center sections. By mating different sections, the buyer ends up with a bag that can be configured several different ways depending on their needs.
Brightline's flagship is the B7 Flight bag. It consists of two center sections and two endcaps, thus allowing four different configurations. What makes Brightline bags different is their design. The result is a bag that has lots of "aha!" features, like color-coded zippers on a vast (and useful) array of pockets, purpose-designed compartments (for flashlights, radios, etc.), attachable "modules," universally compatible zippers and industrial-strength materials.
With 28 compartments and over 1,500 cubic inches of storage, the B7 lets you carry a full set of gear for cross-country and IFR flight, then lets you downsize to a smaller bag for a quick VFR flight. It will hold one or two full-sized headsets, a full suite of charts, your iPad, a handheld radio, plus all the small stuff you'll want along for the ride. It also serves as an unbeatable carry-on personal bag when traveling on commercial flights. Price: $199.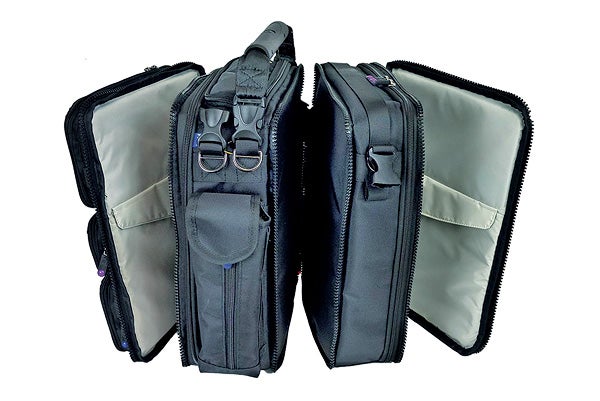 Brightline B7
---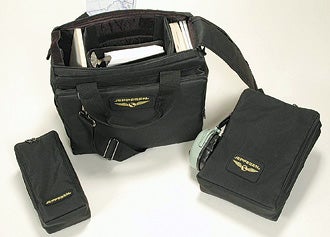 Jeppesen Flight Bag
Jeppesen
jeppdirect.jeppesen.com
Jeppesen's Aviator Flight Bag remains one of the industry's enduring successes. This bag doesn't pretend to be anything but what it is: a good cockpit flight bag with aviation in mind. With an overall rectangular shape, the Aviator fits neatly into airliner flight decks.
The bag fea­tures one detachable headset bag and one detachable radio/GPS bag. It has a large exterior zippered pocket (91⁄2x14x2 inches) that can hold quite a bit of gear. The Aviator is padded and made from heavy-duty DuPont-brand 1680 Denier ballistic nylon, making it water resistant, abrasion resistant and durable. Size-wise, it fits into the "medium" category, which means it can carry all your flight gear, but may be tight for overnight travel.
Jeppesen sells a lot of these, and the only complaints seem to center on the hardware and seam quality, though buyer reviews are consistently good. It's an ideal-size bag for carrying all your flying gear. The Aviator looks professional with its gold sewn-on Jeppesen logos and black color. Overall size is 11x12x15 inches. Price: $82.
Lightspeed Aviation
www.lightspeedaviation.com
The headset maker has launched one of the most innovative marketing efforts since Coca-Cola reintroduced "Classic" Coke back in 1985. While competitors trip over themselves trying to out-engineer each other with the most modern hi-tech bag out there, Lightspeed reached backward and launched a collection of antique-inspired, all-leather flight bags with a decidedly retro feel.
If the Gann, the Antoine and the Markham don't make you drool in your cockpit seat, nothing will. Each of these bags (named for aviation authors Ernest K. Gann, Antoine de Saint-Exupéry and Beryl Markham) is a throwback to the classic flight bags these pioneer aviators likely carried. Each is handmade from full-grain, oiled South American cow-
hide in espresso brown with contrasting black leather pocket flaps. The uncoated leather will become more supple with age and use while taking on a rich patina. Each hide has its own distinctive grain and markings, making each bag as unique as the pilot who owns it. Those of us who have been around aviation—or life—long enough know a simple truth: nothing feels or wears like real leather.
Lightspeed has updated these bags with wing-friendly PVC bottoms, purpose-made pockets, rollaboard slots, pencil holders and more. Price: $179-$249.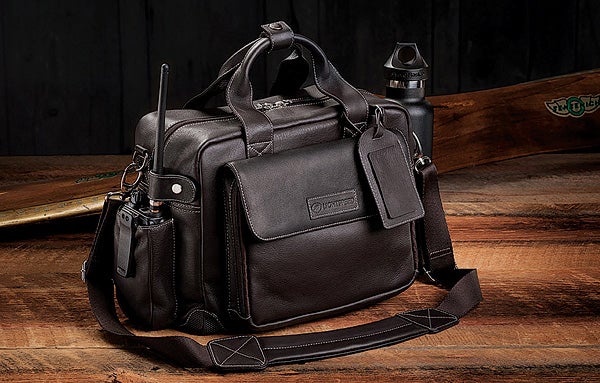 Lightspeed Markham
---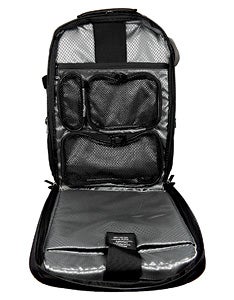 MyGoFlight PLC Pro
MyGoFlight
www.mygoflight.com
The PLC Pro flight bag is an exercise in brilliant design and ergonomic engineering. High-tech from the top down, the PLC Pro bag is loaded with features that appeal to a modern go-anywhere aesthetic. Its teardrop shape and ample size make it just right for transitioning from cockpit to carry-on. This bag can work for pilots that range from carry-all cross-country IFR pros to VFR hamburger-run aficionados. It accomplishes this through the use of roomy, dedicated pockets and compartments designed in a way that makes items accessible only if they're needed.
The PLC Pro sports an airplane motif on its front and focuses on the iPad, featuring an airport checkpoint-friendly iPad compartment that allows access without hassle. The front compartment holds pens, document pouch, cell phone/iPod/PDA, keys and more in an open and easy-to-access section with a place for everything. Brilliant details like a dedicated water bottle pocket, handheld radio and antenna holder, plated metal hardware, mesh pockets and phosphorescent side fabric that makes the bag highly visible at night all show a highly engineered bag that has to be experienced and touched to learn all its many features.
One of the PLC Pro's best features is its ability to convert from a regular bag to a backpack to a shoulder bag, all with included padded straps. It can be done in seconds, making this bag the high-tech flight bag of choice for design-minded pilots. Price: $159.
Noral
www.noralenterprises.com
Noral is a U.S. company that quietly manufactures some amazing bags out of their Imperial Beach, Calif., facility. They spend almost nothing on marketing and rely on word-of-mouth advertising. While many manufacturers outsource their bags to nameless Asian factories, Noral still makes their bags right here. Their Advance Plus bag is but one of many bags in their extensive line.
Like all their pilot bags, the Advance Plus is made from 1680 Denier ballistic nylon—one of the heaviest available. Padded throughout, the bags are made to take a beating while looking good. This bag has two side pouches that hold any size headset. One compartment features a zippered flap pocket to store pens, flashlight, etc. A large main compartment with adjustable dividers has a removable pouch for GPS/handheld radio, while a front zippered pocket can hold large items and a large back zipper allows access to everything.
Noral's bag features a plastic board on the floor of the bag to reinforce it and to keep it from sagging when fully loaded. A seven-year warranty proves the bag's durability. Price: $115.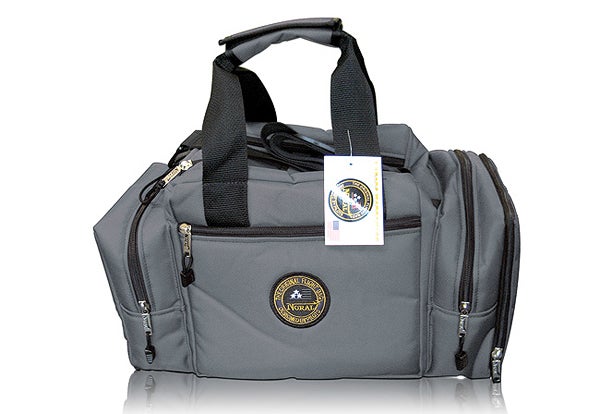 Noral Advance Plus
---
Pilot Mall
www.pilotmall.com/category/pilotmall-bags
Pilot Mall's new
Soft Leather Pilot Bag
line follows the trend toward classier quality flight bags. Made from genuine top-grain leather, these sumptuous bags double as classy carry-ons for commercial flights. Pilot Mall has introduced a whole collection of these bags including a large and medium size, along with four bags made from bison hide that include a soft-sided briefcase or day bag.
Most popular is the large-size bag, which offers a rare combination of design, function and quality. It has abundant storage space (2,400 cubic inches) for all your must-have aeronautical items. Each end features a padded headset pocket, and the zippered back compartment has a cushioned storage area that's optimized for a tablet computer. The front offers several padded sections designed to hold a handheld transceiver/GPS, an E6B/calculator, pencils/pens/stylus, spare batteries and a lot more. A large central section provides plenty of room for a change of clothes, charts and books or other larger items.
Pilot Mall's bags come in black, café brown or a lighter natural tan. The Pilot Mall logo is embossed onto the leather, recalling a fine legal satchel from days gone by. The medium-size bags are about right for a headset and a few extra items for pilots who pack light. Price: $119-$499.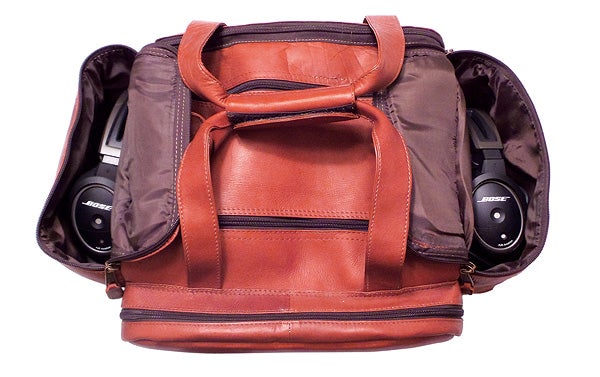 Pilot Mall Soft Leather Pilot Bag
Sporty's
www.sportys.com
Sporty's Flight Gear Navigator Bag shows that the aviation retail giant knows its pilots well. Truly a "next generation" flight bag, Sporty's knew its customers wanted a slimmer bag with lots of space for electronic gear and charging cords, not big books and chart binders. The Navigator is void of gimmicky extras and concentrates on key items.
The Navigator's exterior pockets include a padded headset pocket, padded iPad pocket, iPad accessory organizer for ADS-B receivers and GPS, quick-access file folder pocket and a front cord storage pocket. Sporty's exclusive "HideAway Headset Pockets" can be opened to store multiple headsets, RAM Mounts or a video camera system. When not in use, they zip closed and stay out of the way. The main compartment can hold larger items like kneeboards, hats, cameras or a change of clothes.
I've witnessed firsthand Sporty's testing of their gear in real-world scenarios by active, everyday pilots, and this bag is no exception. Aside from looking good in two-tone black and blue, it includes lots of pilot-friendly features, and feels tough and durable. You also get the bonus of a six-year warranty and the option of free embroidery to truly make the bag your own. Price: $99.
---
What's In Your Flight Bag?
Talking with pilots and scouring countless online pilot forums looking for an answer to, "What's in your flight bag?," we made some interesting discoveries. It seems the gear pilots carry is closely related to the type of flying they do, and there's no real consensus as to what "essential gear" is. Pilots fall into two general groups: those who have had some kind of emergency and now carry gear to prepare for the next one or minimalists who often walk out to their airplane with nothing more than an iPad and a headset. Still, there's commonality in certain elements of the "perfect" flight bag.

Headsets far outweigh all other equipment as the most popular flight bag item. In fact, many pilots carry two of them—either as a backup or for an unexpected passenger. David Clark (www.davidclark.com) remains a top contender, particularly because of their long-standing reputation for rugged reliability, and because they offer a broad line of both ANR (active noise reduction) and passive headsets. The PRO-X is a popular choice, offering superb ANR and ultralight weight at an affordable price.

Bose (www.bose.com) is also an industry standard, proudly carried in an impressive number of flight bags. The A20 leads the pack as Bose's flagship headset for pilots. Most cite its extreme comfort and impressive sound as the reason they foot the price. The headset is especially popular in technologically advanced aircraft, probably due to its meticulous German engineering.

Meanwhile, Lightspeed (www.lightspeed.com) gives Bose a run for most popular flight bag item. Lightspeed's new Zulu PFX is everywhere thanks to its light weight and exceptional sound. Adding to the popularity of ANR overall, the Zulu PFX is lighter than the competition and adapts to the changing sounds of the typical GA cockpit. The PFX and Zulu.2 both come with the nifty iPad app that turns the headsets into cockpit recording devices—perfect for mating with the slew of GoPro and Garmin VIRB cameras that have invaded aviation like locusts.

Headsets are followed closely by tablet computers as the most popular item in the flight bag. And within this category, Apple's iPad is the most ubiquitous. Whether using the full-size iPad for legibility or the iPad mini for its compact footprint, tablets are everywhere. The most-used aviation apps remain ForeFlight, Garmin Pilot and WingX Pro, alongside a slew of popular "helper" apps like Sporty's E6B, LogTen Pro, AeroWeather Pro, MyRadar, CloudAhoy and FltPlan Go. And to boost the iPad even more, thousands of flight bags are stuffed with the little Bad Elf GPS and the ever popular Stratus ADS-B receiver.

Emergency preparedness is on the minds of lots of pilots who carry what used to be called "survival" gear, but today is just "necessary" gear. On top of that list is the DeLorme inReach satellite tracker (www.delorme.com) and messaging device. There's not much the compact device won't do in a pinch, with built-in tracking, navigation, text communication and SOS capability. Pilots love its size, and it's carried in more and more flight bags as pilots discover its usefulness. For emergency communication, Icom (www.icomamerica.com) remains a popular handheld radio. Both affordable and compact, you can see their little black antennas sticking out of a lot of flight bags these days. Yaesu carries their own line of airband transceivers—each one loaded with features and useful options. All models in Yaesu's "FTA" line (www.yaesu.com) offer NOAA weather monitoring and programmable channels. And they fit nicely into just about any flight bag.