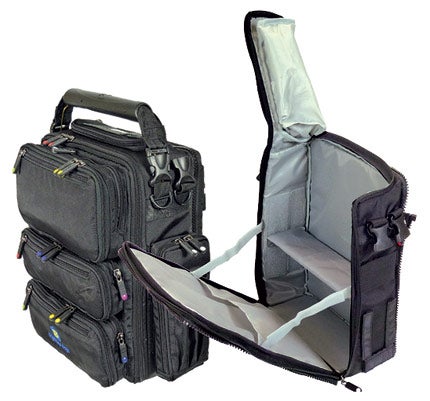 Brightline Flex Pilot Bag
I must own seven or eight different flight bags. While it may seem that I have something of a flight-bag obsession, the truth is that I just have changing needs. Flying many different aircraft, one day, I might need a bag with just essentials because nothing else will fit in my biplane, while another day, I might be shooting photographs for the magazine while travelling somewhere in a bigger airplane. In each instance, I have to select a different flight bag because each is configured differently.
It turns out that I'm not the only flight- bag switcher, since many pilots tell me they do the same thing. Even when flying the same aircraft, missions change, and so do the contents of your bag. Brightline Bags—a company based in San Rafael, Calif., and founded by product engineer Ross Bishop—recognized the problem inherent with pilots' changing needs, and created a bag system that's unique to aviation. The company had great success with their first bag called, simply enough, the Pilot Flight Bag. It had features like color-coded zippers and pockets galore to allow just about anything to be carried in it while maintaining a compact footprint that would fit in most cockpits. It was a hit because the pockets and their contents were carefully thought out, and access to those pockets was easy.
Pilots could carry the bag flat or standing straight up, and things remained accessible. The hardware was tough and reliable. The handles were functional but felt good in your hand, and the bag was well balanced. It could hold a lot of gear and adapt to many situations. Bishop's engineering background and his interest in aviation came together to design the initial bag, and pilots bought it in droves.
The problem is that bag remained a one-trick pony. If, for example, a pilot suddenly needed to do an overnighter, or needed to carry camera gear, he or she was out of luck. Pilots still needed multiple bags. The dance was monotonously predictable: empty the contents of the first bag and re-group with additional gear, clothes or whatever, then transfer it all to a different bag. It was a time sucker and, if pilots were anything like me, they'd lose gear in the transfer process. I used to buy expensive, bright LED flashlights because they were so useful in and out of the cockpit. But after losing three or four to the same black hole where socks go, I gave up and just carry the $3 ones. I always lost flashlights when transferring them to another bag. The original Brightline bag could do a lot, but it couldn't transform itself.
Now, Brightline introduces their Flex bag system, which is a radical re-think of the flight bag itself. The system keeps what made Brightline famous in the first place: pockets that are just the right size, heavy-duty ballistic nylon, resin zippers, color-coded zipper tabs and compartments to spare. Two years of engineering and paying close attention to customers yielded an integrated system that does what the original bag couldn't: It transforms into bags of various sizes, capabilities and configurations.
The system is made of 11 different modules and pocket components. Each one is made for a different purpose. For example, Brightline's original Pilot Bag remains the starting point for most configurations, while additional bags can carry 13-inch laptops, iPads, handheld radios, clothing, paperwork and folders, or emergency gear. The biggest component is the 11-inch center bag, which has a large main compartment, and could hold enough clothing or large items for a multi-day trip. In contrast, the Side Pocket Alpha is designed to hold a water bottle or single radio. Each component adds more storage.
---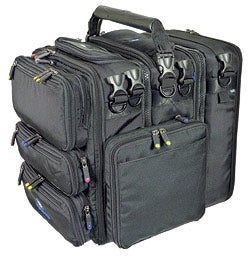 The real genius of the Flex system is that all components mate together using a simple-but-innovative zipper system. By connecting the different components much as you would use building blocks, different configurations are possible without buying a new bag. If a pilot suddenly needs to spend the night somewhere, he can zip on the five-inch center section and add an end-cap to the core bag. Alternatively, he can skip the core bag altogether and connect a rear bag to an end cap and get an ultra-light bag for a VFR flight and business meeting. Pilots can choose which components to buy based on their needs.
For those who don't want to mess with picking "modules," Brightline offers preconfigured bags that integrate the Flex components. For $220, you can purchase the Contain bag that, when connected, makes for a bag that could comfortably serve a multi-day IFR mission with business tasks thrown in. When a lesser bag is required, just unzip what you don't need, and you have a bag that adapts to just about any situation. The complete system with all 11 components combines to form a very large bag that seems like it could accommodate an expedition to the Titanic.
The whole Brightline "component" idea has caught the attention of law enforcement, EMT and other emergency organizations, since the Flex system is essentially a tactical bag.
Its patent-pending collection of interchangeable modules and pockets makes particular sense for pilots. I used the bag system on various flights and found it to be fascinating the way an erector set or Lego creation is. I found myself using the core bag (Brightline calls it the "front bag") quite a bit, and adding just an end cap and side pockets when I needed extra gear.
I did a photo mission and added the rear bag, which has no dividers. Vice President Bryan Smith tells me there are plans to add a camera insert to one of the bags, and that would be most welcome for photographers, since I didn't like the idea of either making my own dividers or carrying my gear jumbled into a single large compartment.
The bag system is nice, and it's priced reasonably, with the least expensive component (the side pockets) listing for just $12, and the largest center-section component running $94. Preconfigured bags range from $109 to $265 for the largest—the Carryall. Contact www.brightlinebags.com.