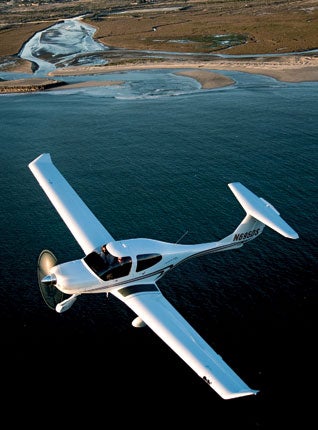 There were more than a few cheers at this year's U.S. Sport Aviation Expo in Sebring, Fla., which drew a record crowd of up to 11,500 attendees and held its own in spite of the current economic woes. With more than 165 exhibitors and sales of at least 20 airplanes, it's evident that the LSA industry has come a long way since the sport pilot rule was created four years ago.
In this issue, LSA Editor At Large Jim Lawrence explains the rules and regulations of the light-sport world, clarifying what one can do with a sport pilot license and what it takes to earn one. In the first installment of a three-part series that recounts the challenges and delights of earning his sport pilot ticket, Jim takes us back to his first training flight in a Flight Design CTLS, when he quickly realized that his expectations of achieving perfect pilot skills in the skies might not match reality. But in spite of some unexpected hurdles, from taxiing straight to getting used to the in-flight sight picture, Jim learned that if you give the CTLS respect, it's a great plane that will reward you. In future articles, Jim will take us from his solo flight to the checkride and beyond.
At Sebring, Jim flew several light-sport aircraft, and this month he reports on the Tecnam P92 Eaglet, an all-metal trainer in which he immediately felt at home. To get the latest scoop on the LSA industry and tell us what you think, log on to Jim's new blog, Light Sport Hangar Flyin'.
We also fly Diamond Aircraft's newest model of the DA40, the XLS. Marc Lee and demo pilot Robert Stewart depart the hectic Los Angeles airspace from Long Beach to Santa Paula, a small airport 55 nm to the northwest known for its taildragger population. I wasn't sure how Marc, a classic aircraft addict who loves to putter around in a 65 hp fabric Cub and an open-cockpit Stearman biplane, would react to the modern composite four-seater and its hi-tech glass panel. (Marc wasn't so sure either.) But when I received his post-flight e-mail report, there was no doubt. "The airplane is phenomenal," his words glowed on my screen. "The G1000 is amazing. I'm hooked." While the innovative and futuristic aircraft design was impressive, what really won Marc over was the way the DA40 handles: It has the stick-and-rudder element reminiscent of Cubs and Stearmans mixed with safety and situational awareness, thanks to the glass panel and Synthetic Vision Technology. (In fact, Marc was so impressed that the following day, he signed up for a DA40 transition course and complete G1000 checkout.)
On the way back home, they flew low over the Pacific Ocean to the tunes of XM radio and peered down at Malibu mansions. "One of the many reasons I love biplanes is their openness, and the Diamond's visibility makes it as close to flying a biplane as you can get," Marc told me. "It's a modern-day pilot's plane."
Bill Stein, who has logged 4,500 hours in taildraggers and flew the Diamond for the formation photo shoot, agrees: "I like the feel of the XLS. The panel and controls are well laid out, and the fact that Diamond uses pushrod-actuated controls instead of cables for elevator and aileron makes the airplane feel responsive and solid, even at very low airspeeds." Check out air-to-air video footage from the DA40 photo flight over the Malibu shore and Santa Monica Mountains at our online home. —Jessica Ambats