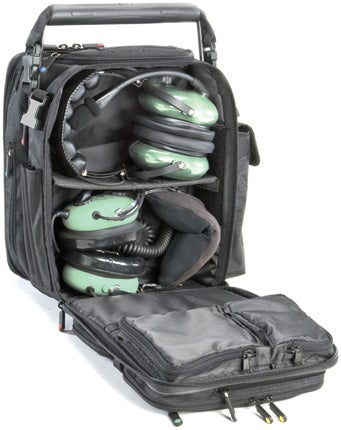 If you took one look at my airport car, you'd probably conclude that I'm not the most organized person in the world. While I'm much better at managing my airplanes, it has always been a time-consuming task to keep everything in its proper place, especially when I'm switching my plane from fun-flying mode to traveling or sightseeing mode. But there might be hope for me now! The Pilot Flight Bag from BrightLine Bags is an ingenious and useful collection of pockets, compartments and specialized holders that makes it easy to manage anything you use regularly in your flying endeavors.
The old saying that "necessity is the mother of invention" applies to the creation of BrightLine Bags' flight bag. As a student pilot and then an instructor, CEO Ross Bishop couldn't find the perfect flight bag to keep himself organized at the airport. He knew there were a ton of options with all the bags on the market, but it seemed to him that none worked well. Cords got tangled, charts didn't fit well, goggles got scratched and the bags themselves became fuel-stained. Worst of all, everything got jumbled up in the bottom of the bag. With his background in CAD systems, Bishop started 3-D modeling all the items that pilots need and access throughout a flight. He then cleverly created an initial version of the bag and improved the design until it became small and efficient, with lots of specialized pockets. After that, he shared the bag with his pilot friends and incorporated their way of using it into an innovative and convenient piece of flight gear.
The result is a well-thought-out system that helps you manage a long list of stuff: two headsets, fuel tester, navigation charts, kneeboard, flashlights, checklists, sunglasses, logbook, extra batteries, flight computer, extra charts, handheld radio, Leatherman-type multitool, pens, markers, my Spot tracker, plus a place for small items like coins, business cards and other miscellaneous stuff. Personal items, such as a cell phone, wallet, car keys and pocket stuff, have their own places. The zippers are all color-coded, and the frequently used compartments are in the front and on the top of the bag. There's a separate compartment for carrying messy items like the fuel strainer/tester. It was nice to see that the item I access most in the air, navigation charts, has an external pocket that I can easily get to.
---
The black 12x10x9-inch bag is constructed of durable, heavy-duty 1000D nylon. It has 25 specialized pockets and can zip apart into two separate bags. The small bag holds two headsets, and it's the perfect height for holding navigation charts. Because it's so efficient, the bag holds as much as far larger bags. When Bishop first showed me the BrightLine bag, it immediately felt like my own because he had a pair of Lightspeed Zulu headsets and VedaloHD sunglasses stored in it. The ability to unzip the bag into two halves is an interesting feature; it leaves you with an even smaller profile bag inside the cockpit if you like. The bag even has a movable "SwitchSnap" handle to keep the proper balance when it's configured either way.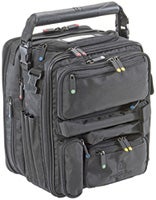 The Pilot Flight Bag from BrightLine Bags features 25 specialized pockets and can zip apart into two separate bags, the smaller of which can hold two headsets.
Bryan Smith, vice president of sales, started out as a BrightLine Bags customer. He bought his bag from Bishop at an air show booth and instantly became convinced that everybody needed to have a bag like this. He left a successful position in Silicon Valley and signed up with Bishop to set up distribution and sales avenues. It's Smith's mission to get a BrightLine bag into every pilot's hands because he truly believes that it'll be a helpful tool and will improve the flying experience. If you take a few minutes to watch the demo video at www.brightlinebags.com, you can see for yourself that these guys are passionate about their product. (Bishop highly recommends the video as a great way to see what the bag is all about.)
What's the downside with the $129 BrightLine flight bag? There really isn't one that I've found yet. When you first get the bag home, it does take some dedicated time to figure out the best way to put all of your gear in, but after watching the demo video and using the product brochure as a quick guide, you'll find a place that feels natural for everything.
I might be a bit disorganized outside of the airplane, but that's never the case in my aerobatic airplanes. Even my Globe Swift, in which I fly a lot of light aerobatics, needs to have a completely controlled and sterile environment so that loose things like coins, cell phones and tools don't get back into the bell cranks for the elevator and lock up the flight controls. If I have everything in my BrightLine bag and do a quick zipper-check, I can rest a little easier knowing that everything is in its place and properly stowed away.
Each of my teammates on the Collaborators formation aerobatic team has a BrightLine bag, and they're also fans. Eric Tucker, left-wing pilot, loves his bag: "It's great! Every miscellaneous item I take on the road has a home—no more lost ChapStick! I can even fit my travel laptop into the big compartment, and since it zips apart into two pieces, it fits easily anywhere, even in the luggage compartment of my Extra."
I recently purchased two BrightLine bags to give as gifts to each of my brothers, who are pilots, and I'm sure that they're going to love using them. To learn more, visit www.brightlinebags.com or call (415) 721-7825.