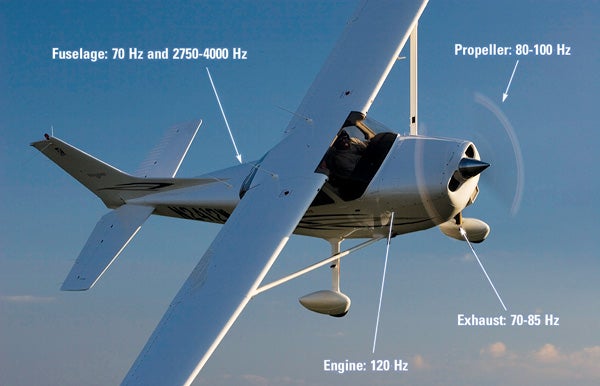 A 2008 study by hearing expert Sergei Kochkin found that 35 million Americans have permanent hearing impairment. Based on current trends, that number is expected to grow to 40 million by 2025, representing nearly 12% of the U.S. population. While statistics on hearing loss among pilots aren't easy to compile (because most pilots try to hide their hearing problems), both the FAA and the U.S. Military have launched their own studies, and the results are both surprising and disturbing: Permanent hearing loss occurs in about 30% of aviators. As a professional musician for many years, hearing is a keen interest of mine, and the effects of long-term exposure to harmful sound is something I've examined carefully, especially because I also fly.
Some form of hearing impairment is almost universal among pilots, and is especially evident in those who began flying before the advent of headsets. The subject is serious enough that even NASA has embarked on studies that examine hearing damage among pilots and ways to prevent it. And the issue of pilots flying with impaired hearing is something the Flight Safety Foundation—an independent international group—has focused on in terms of the risk of aviation accidents.
It's true that some hearing loss is a by-product of aging. But several formal studies—including one conducted by the British Defense Research Agency and another by the U.S. Army—found that aging doesn't account solely for the increased hearing loss among aviators. In comparison to nonaviators, pilots were found to have a greater decrease in hearing ability in the high-frequency range of 2-6 kHz. While the entire spectrum of the human voice covers from 250 Hz to 3 kHz, sounds like warning announcements and subtle changes in engine sounds or airflow can be missed due to high-frequency hearing loss, and ATC communications become difficult to discern.
How Loud Can Aviation Be?
Our sense of hearing is quite complex, while the mechanics of sound are relatively simple. In essence, sound starts out as a wave of pressure that emanates from the center of a source and radiates outward, like the waves formed when a pebble is tossed into a still pond. The "pressure" is made of air molecules; the louder the sound, the more sound pressure is generated. This pressure—in the form of air—acts upon our eardrum. We perceive a shout as being louder than a whisper because more air molecules strike our eardrum from a shout than a whisper. This pressure is measured in units called "decibels," noted by the abbreviation "dB."
Sounds (pressure waves) are "collected" and directed by the outer ear toward the ear canal and cochlea (named for its resemblance to a snail shell). The waves of air pressure move tiny hair-like cells inside the cochlea—much the same way as a gentle breeze blows across a field full of long grass. Those hairs transmit signals to the brain via the auditory nerve. Hearing damage occurs when the sound is loud enough to break the fragile hair-like cells in the cochlea. The length of time we're exposed to sound and the frequency of the sound determine the extent of damage. Once those tiny cells are broken, there's no repair.
To give some sense to all this, it's helpful to know that a human whisper measures about 30 dB, while a normal conversation happens at around 60 dB. A jackhammer pounds the concrete at some 120 dB, and you tool along in your car on the highway at 70 dB. Physical pain begins at about 125 dB, and your eardrum will burst with exposure to 140 dB.
---
The Occupational Safety and Health Organization (OSHA) has established that the maximum level of "safe" exposure to loud sounds is 90 dB for up to eight hours, or 100 dB for up to two hours. Meanwhile, the Environmental Protection Agency (EPA) has established their own exposure-level standards that are more conservative, with a maximum of 85 dB for up to eight hours and 92 dB for one hour. How does general aviation measure in comparison?
NASA conducted experiments by placing microphones inside a Cessna 182 to measure sound during different phases of flight (run-up, cruise, climb, etc.). NASA found maximum sound levels of between 105 and 109 dB. Another more recent study by OSHA measured noise levels in a Cessna 172S and found an average maximum sound level of just over 101 dB. The main thing to remember here is that any noise over 90 dB means hearing loss unless you wear ear protection. In both studies, the only factor that reduced noise consistently was wearing a headset.
ANR Versus PNR
By now, most pilots understand the difference between passive headsets (PNR—Passive Noise Reduction) and active headsets (ANR—Active Noise Reduction). Aside from the price (active is more expensive), both types offer good hearing protection, though they go about it differently and are for different environments. It's important to understand the differences.
ANR headsets work by sampling the damaging noise coming into the ear cup with a miniature microphone and then "canceling" that noise by generating a counter-noise through a tiny speaker, also inside the ear cup. The effect is like hitting a pool of water with your hand. The left hand can be the "bad" noise. When you strike your fist onto the water, waves radiate from it. Then, thinking of your right fist as the "good" noise, pounding it on the water with the same force creates another set of waves. As the two waves meet they cancel each other out and dissipate, just like sound. ANR proponents say it's the best solution for protecting your hearing.
Mostly, ANR attenuates frequencies in the lower spectrum, from about 20 Hz to around 300 Hz, with peak reduction at 70-150 Hz. Studies have shown that peak noise levels generated by the propeller, engine and exhaust all combine around the 100 Hz point—precisely the area that ANR attenuates best. Higher-frequency noise is caused mostly by air flowing over the cockpit and fuselage. Most ANR headsets don't attenuate high frequencies. Because each airplane's noise signature is different, a headset that's right for one aircraft owner isn't necessarily right for another.
Headset manufacturers aren't keen on showing you their frequency response charts. They figure most consumers don't understand them, so they just give an overall attenuation rating of, say, 40 dB. The key is finding out which harmful sound frequency the headset attacks at that rating. For example, the "40 dB" claim may reduce only 100 Hz by that much, while 2000 Hz (in the human voice spectrum) isn't attenuated at all and is more harmful. Consumers should examine the breadth of the attenuation (span of frequencies reduced) and the depth (by how much). It's also important to see charts of what the passive attenuation is like if the batteries fail.
---
Passive headsets block noise by physically stopping it. PNR sets clamp tightly to your head, preventing sound-pressure waves from reaching your ears. Insulation and different materials block sound waves or dissipate them. There's no magic to PNR; using the fist-in-the-water analogy again, the waves you made with your left hand would simply be blocked by a dam—the PNR headset being that dam. One advantage of PNR sets is they're great at blocking frequencies in the 1000-Hz-and-up range. They do it using clamping pressure and ear-cup design. That makes them less comfortable than ANR sets, but more effective in scenarios where your enemy is high frequency (like in an open-cockpit aircraft).
Ear Cups
Believe it or not, ear cups—the round things on headsets that go over your ears—make a big difference. In recent years, different materials have been found to be especially effective at blocking unwanted cockpit noise. Some manufacturers are using materials like magnesium, or modifying the ear-cup shape to enhance attenuation and performance. Related to the ear cup is the clamping pressure. While ANR headsets clamp lightly (they rely on the circuitry to reduce noise), PNR sets depend on clamping for noise reduction. So try on a headset for an extended period of time so you can detect any clamping pressure hotspots on your ears or head. Any headset worn in the store for 20 seconds feels good.
Ear Seals
Ear seals (the soft rings that attach to the headset's ear cups) have been getting a lot of attention lately. Oregon Aero has been offering retrofit kits for various headsets for some time now, and pilots are beginning to appreciate the comfort and noise reduction available from good ear seals. The best ones are breathable to reduce sweat. That means organic materials like cotton and leather work best. Also, thick ear seals that elevate the ear cup away from your ear have been found to increase comfort on long flights.
Microphones
Headset microphones come in two basic flavors: dynamic and electret condenser. In recent years, more manufacturers have switched to electret-condenser microphones for general aviation headsets. An electret-condenser mic generates a powered signal that sounds louder and clearer and with less background noise. Dynamic microphones are nonpowered and still used on older—and especially military—aircraft. They cost less and handle abuse better, but are becoming nonstandard in today's GA environment. As a general rule, use the same type of headset microphones in all your intercom outlets.
The Latest Thing
Just recently, pilots in noisy environments have discovered what musicians have known for some time: Doubling up on hearing protection is great insurance against hearing loss. That means using multiple forms of noise attenuation that won't color the sound you're accustomed to hearing. Several companies make special ear plugs that have a tiny removable sound filter that reduces noise in certain frequencies. Next time, instead of shoving those cheap foam plugs into your ears that block everything and make you feel like you have a monster head cold, use custom plugs. Since they only block harmful frequencies, normal sounds come through loud and clear. Using these custom plugs in addition to your regular headset adds 15 to 20 dB of additional noise reduction. Ask your audiologist for frequency-specific ear plugs or "musician's ear plugs." They normally run under $100, including the molds.
The most important fact from all of this is that headsets are a vital part of any pilot's equipment. Among aviators, hearing loss seems to be a given. Caused by early neglect, improper headsets or infrequent use of them, it's a loss that doesn't have to exist. Hearing is a valuable sense considered second only to sight, and especially so for pilots. It makes sense to protect it at any cost. Don't take hearing loss lightly and don't think, "It won't happen to me," because if you fly long enough, it will.
---
Headset Highlights
New models, thoughtful enhancements and greater comfort are the hallmarks of this year's newest headset products.
We take the era we live in for granted. When it comes to headsets, the industry has made advances in recent years that surpass the developments of the previous 100 years combined. For example, ANR was only brought to GA in the mid-1980s. Bluetooth wireless technology didn't come into its own until the last few years. Advanced materials like composites have only been popular in the recent decade, and the tiny, efficient speaker drivers that make your iPod sound great and allow your home sound system to fit into a shoebox have only been around a short time.
With aviation headsets, we fully expect that whatever model we bought last year will probably be surpassed by a new model this year, with more and better features. While veteran pilots trudged along with their "Realistic-" brand microphone for three decades, we expect to upgrade our headsets every few years. It's an exciting time in aviation, and the most recent announcements in the headset world are worth taking a look at. What follows is the latest and greatest in aviation headsets.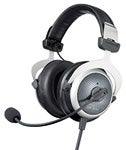 BeyerDynamic HS600 DANR
BeyerDynamic HS600 DANR
Long a force in the music and broadcast world, German company Beyerdynamic continues to offer their outstanding "Digital Adaptive" Noise Reduction (DANR) system in aviation headsets. Their innovative approach tailors the active noise reduction to specific frequencies based on the frequencies sensed by the ear-cup sensor. The result is excellent attenuation that's adaptable to different environments. Add connections to MP3 players and cell phones, automatic shut-off, light weight (11.4 ounces) and the generous Beyerdynamic five-year warranty, and you have a professional-level headset. Contact:www.beyerdynamic.com.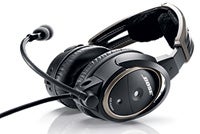 Bose A20
Bose A20
Bose has been a leader in ANR aviation headsets for some time. With their new A20 headset, Bose raises the bar once again. The A20 features microphones both inside and outside the ear cup to sense frequencies for attenuation. Bose redesigned the ear cups with more room to prevent hotspots, and they implemented new materials in the ear seals for comfort.
The A20 boasts less clamping as a result of a better torsion spring on the magnesium headband. Bose's TriPort audio and their active sound equalization give great sound for a lightweight headset. The A20's auxiliary audio input connects to a variety of devices, including GPS units. Contact: www.bose.com.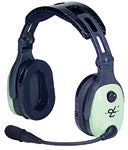 David Clark X11
David Clark X11
The newest X11 features new "comfort gel" ear seals with a unique undercut for fit. The nine-volt battery-powered headset will go 25 hours on the battery and features a pilot-selectable automatic shutoff.
The X11 is stereo compatible for use with intercom entertainment systems. At 18 ounces, it's not the lightest of the bunch, but it carries the David Clark name and is FAA TSO-approved. Contact: www.davidclark.com.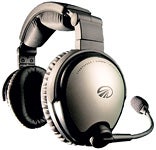 Lightspeed Sierra
Lightspeed Sierra
Lightspeed's Sierra fits into the "cool-looking and great-performing" category. The headset's unique bronze look makes it stand out from the fray. It's a bit heavier than other headsets, weighing in at 16 ounces, but the plastic housing is solid and well-designed. The Sierra is an ANR model with typical attenuation specifications.
The headset's best features include Bluetooth connectivity to eliminate cables in the cockpit, an integrated music control input, auto music mute to decrease music volume by 80% during radio calls and Lightspeed's outstanding, innovative design, comfort and fit. Contact: www.lightspeedaviation.com.
---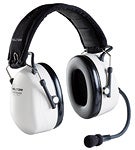 Peltor ANR 9500
Peltor ANR 9500
Peltor's distinctive white ear cups make this model instantly recognizable. The ANR 9500 is a sturdy unit with features typical in the $550 price range, where this headset is positioned. ANR technology and an in-line control unit give the user control over several sound parameters. Pilots can even choose from single-engine, twin or helicopter profiles to fine-tune the noise attenuation to a particular environment. The ANR includes excellent-quality audio cables that feel substantial. Jacks for MP3 players and a cell phone are included in the control unit. The adaptive ANR provides good attenuation at various frequencies typical to the ANR spectrum (namely the lower end). Contact: www.peltor.com.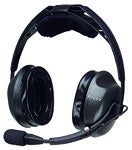 Pilot USA 1779 Blu
Pilot USA 1779 Blu
Pilot USA quietly puts out some great headsets from their Irvine, Calif., location. Their innovative BluLink device brings Bluetooth wireless capability to any cockpit. BluLink does away with adapter cords and having to tuck your cell phone under your headset to use it. With Pilot USA's new Bluetooth "dongle" for MP3 players, you can wirelessly adapt any music player to your headset. New this year, Pilot USA takes their popular PA1779 ANR headset and integrates a built-in BluLink unit. Featuring auto on/off circuitry, a 220v battery charger, and Pilot USA's proprietary twin-layer gel ear seals, the addition of BluLink puts the 1779 in a new league. Contact: www.pilot-usa.com.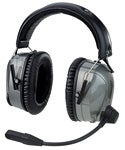 Sennheiser HMEC 4660
Sennheiser HMEC 460
Sennheiser is recognized in the most famous music recording studios around the world. Known for world-class sound quality, Sennheiser introduces the HMEC 460 aviation headset. With 16 dB of active noise reduction and 25 dB of passive attenuation, the HMEC 460 has loads of features. An in-line control unit allows you to switch between mono/stereo, and it has dual volume controls, audio in, cell phone in, ANR switch on/off and a boom left/right switch. The unit can be powered off of two AA batteries or an XLR-3 connector. The headset's unheard-of 10-year warranty puts Sennheiser's considerable reputation behind the unit. Contact: www.sennheiser-aviation.com.

Telex Ascend
Telex Ascend
If there's a cool-looking headset, it's the Telex Ascend. Designed from the ground up, the headset features a bold design and some innovative goodies. For starters, you can change the unit's connector in minutes with a simple procedure. Select standard aviation connectors, a five-pin XLR (Airbus style) connector, or a 1/8-inch jack (like an MP3 player). The headset is designed to go from the cockpit to the cabin, making it ideal for airline travel. It's modular so that upgrades can be done in the field. The ear cups pivot 180 degrees, creating a fold-flat design. ANR technology and cutting-edge design highlight this headset. Contact: www.telex.com.
DRE-205 ES Stereo Intercom System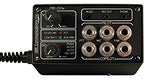 Based on user reviews, DRE seems to be a favorite with many pilots. The U.S. company just announced their new 205 ES portable intercom unit to replace their 201 model. With a ground-up redesign, the new unit has enough features to satisfy most pilots. Designed to fit nicely into the LSA/ultralight market, the 205 ES intercom includes a music-input jack, cell phone interface, an accessory input for cockpit announcements from several sources and the ability to run off aircraft power from 11 to 30 volts. The 205 has individual microphone and squelch circuits and a cool visual and audio "stuck mic" warning. A three-year warranty and a 30-day "try and buy" guarantee allows you to try the unit in your own environment. The unit will be available in November 2010. Contact: www.drecommunications.com.
---
SOUND FREQUENCIES
| | |
| --- | --- |
| SOUND | TYPICAL FREQUENCY |
| 40 Hz and below | Sound effects in movies for earthquakes, real thunder |
| 70 Hz-120 Hz | Loudest cabin noise in typical GA aircraft |
| 250 Hz | Average voice. "Middle C" on a piano is 261 Hz. |
| 430 Hz | A newborn baby's cry |
| 700 Hz | Upper end of "oohzone"—the frequency your chest resonates at when you make the sound "ooh" in a low voice |
| 1,000 Hz | The television "test signal" used when it'soff the air or during an emergency |
| 3,000 Hz | Human scream. Most alarms are designed around 3,000 Hz. Human peak sensitivity at this frequency. |
| 4,000 Hz | Chainsaw. Highest note on a piano is 4,096 Hz. |
| 17,500 Hz | Highest frequency heard by an average human at around 30 years of age (decreases with age) |
| 200,000 Hz | The upper limit of a dolphin's hearing range |
SOUND INTENSITIES
| | |
| --- | --- |
| SOUND | INTENSITY |
| Soft whisper | 40 dB |
| Normal conversation | 50-65 dB |
| City traffic | 80 dB |
| GA cabin noise (depends on aircraft) | 75-100 dB |
| Power saw | 110 dB* |
| Nearby thunderclap, typical nightclub | 120 dB* |
| Jet takeoff, shotgun firing | 130 dB* |
| Jet engine (nearby) | 140 dB* |
* Remember that exposure to sounds over 100 dB of more than one minute risks permanent hearing loss.