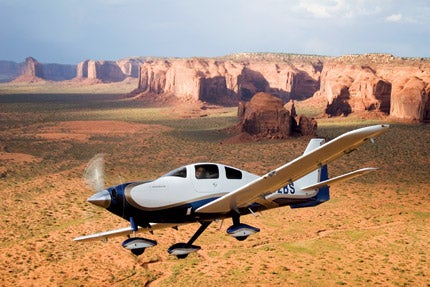 Cessna Makes Winning Bid For Columbia
In late November 2007, Cessna's bid for Bend, Oregon–based Columbia Aircraft Manufacturing Company was accepted, bringing the speedy Columbia 350 and 400 under the Cessna banner. As with all current Cessna products, Cessna Parts Distribution and the Cessna network of authorized dealers and service centers will take care of sales and support of the rebadged Cessna 350 and Cessna 400 aircraft.
Both new four-place, fixed-gear, low-wing Cessnas feature all-composite airframes, the Garmin G1000 flight deck and GFC 700 flight control system, and a six-cylinder Teledyne Continental TSIO-550 engine. The Cessna 400 also features twin turbochargers, and is one of two realistic contestants in the "fastest piston airplane" competition, with a top speed of more than 235 knots.
Columbia, which was originally set up as a branch of the Lancair line to design and produce FAA Part 23–certified aircraft, became a separate company 10 years ago. Columbia produced more than 600 airplanes, including the now-discontinued model 300 and the popular 350 and 400. Cessna plans to keep manufacturing in Bend indefinitely, investing in the existing facility and many of the same personnel. There are no plans to move facility or personnel.
The customer experience should be "seamless," according to Cessna Chairman, President and CEO Jack. J. Pelton. He said, "Current Columbia aircraft owners should feel very secure knowing their investment will now be supported through our vast global customer sales and service network," as he welcomed some 400 former Columbia employees to the new parent. For more information, log on to www.cessna.com.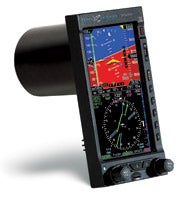 Affordable Modern Glass: Aspen Avionics To Deliver EFD 1000
Introduced at Oshkosh 2007, the Aspen Avionics retrofit glass was a hit. It fit right in the old panel holes, provided brilliant and useful information, and had all the right features to convert older aircraft to glass-cockpit wonders. With their "Why spend $50K to upgrade a $100K aircraft?" philosophy, Aspen offered solutions for less than a quarter of that price.
Certification and testing always take longer than anticipated, so Aspen has had to delay shipment until April 2008, but at this writing, they say they're on track to keep those promises.
The Aspen EFD 1000 is an EFIS system with integral solid-state AHRS, air data computer and backup battery. Depending on installed software, it can serve as a PFD or an MFD, and the MFD can—in an emergency—revert to a PFD should the main PFD fail. The PFD can include an electronic HSI, an air data computer, a flight director and an altitude alerter, depending on the model.
Because it fits in standard holes, multiple installations are encouraged, both for copilot benefit and redundancy. At prices starting under $6,000, Aspen plans to bring glass into a lot of airplanes. "There are 350,000 prospects out there," said company CEO John Uczekaj. For more information, log on to www.aspenavionics.com.
---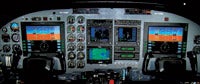 Avidyne Alliant Flight Deck Now For Conquest
A new STC brings Avidyne's Envision series of retrofit integrated flight-deck products and S-TEC's IntelliFlight 2100 Digital Flight Control System to the twin turboprop Cessna Conquest II (441), increasing the market for the upgrade, which was previously STC'd for use on the King Air 200 and C90.
The comprehensive flight deck delivers satellite datalink weather, electronic charts and an all-digital autopilot through dual-redundant Avidyne EXP5000 10.4-inch primary flight displays (PFDs), an Avidyne EX500 multi-function display (MFD), the S-TEC IntelliFlight 2100 digital autopilot and Mid-Continent two-inch standby instruments. It interfaces with most popular traffic, terrain, lightning, radar and radar altimeter systems. Standard are Jeppesen's approach charts and airport diagrams through Avidyne's CMax electronic charts on the EX500 MFD, and the ability to interface with the optional MLB700 Broadcast Datalink Receiver, for high-speed datalink WSI InFlight weather service via the SIRIUS Satellite Radio network. An additional option are Avidyne's TAS600 Traffic Advisory Systems. Both the MLB700 and TAS600 options are offered at a discounted price with the purchase of the Alliant Integrated Flight Deck. For more information, log on to www.avidyne.com.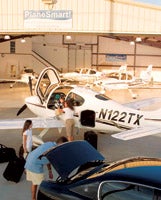 PlaneSmart! Expands Into Training And Rental
To bolster and complement the company's "simplified ownership" program for Cirrus SR22-G3 aircraft, PlaneSmart! has added a full line of support and progressions services based on the Cirrus SR20.
Now PlaneSmart! clients will be able to learn to fly in an SR20, or they can take a single-fee transition course to the SR20 and then rent one, all under the mantle of PlaneSmart!
A lot of private pilots still haven't transitioned to glass. They're thus trapped behind their older panels, even as they long to fly with more-modern avionics. PlaneSmart! wants to transition these pilots to glass and entice them with the modern Cirrus SR20. Since the ultimate goal could be full participation in a PlaneSmart! SR22-G3 ownership program, renting the SR20 for proficiency and training also makes sense, as prospects can build time, become familiar with the cockpit and the basic aircraft, and then be ready—and hungry—for an SR22.
With bases already established in Dallas and Austin, Texas, PlaneSmart! is in the advanced planning stage for several more locations in the West and Southwest. For more information, log on to www.planesmart.com.
---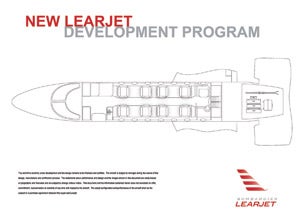 New Bombardier Learjet 85 To Roar In October
Bombardier Aerospace plans to unveil its newest jet in October 2008. It's designed for fast cruise (.82 Mach.) and transcontinental range (3,000 nm).
A clean-sheet design, the 85, will be a big midsize machine, slotting between Bombardier's Learjet 60 and Challenger 300: two pilots and eight passengers in a tall tube that Bombardier says is "a larger, more comfortable cabin than any existing midsize aircraft." With a stand-up height an inch short of six feet, width of 73 inches and an interior length of 302 inches, the 675 cubic feet of cargo space make this either a big midsize or a smallish super-midsize; the important idea is that it represents a big step for Bombardier Learjet. With its nearly SJ30-2 speed and transcontinental range, the new machine had 85 Letters of Intent at press time.
Bombardier won't say yet, but the world expects conventional materials and construction; the avionics suite will be an integrated advanced glass cockpit of as-yet- undisclosed origin.
Propulsion and fuel locations are still guarded secrets, but expect automatic fuel management as part of the integrated avionics suite. With the 2+8/9, 23,500-pound (MTOW) 60XR priced at $13.1 million and the 2+8/9 (and up to 13), 38,850-pound Challenger 300 at $21 million, it's a given that weight and pricing for this newest Learjet will be between these figures. For more, log on to www.bombardier.com.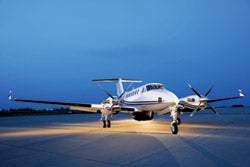 King Air B200GT Has More Power; 350ER Flies Farther
Hawker Beechcraft Corporation has improved the venerable Beechcraft King Airs, mating the 350 engine to the 200 gearbox to give the new B200GT a 305-knot max cruise speed, better climb, higher altitude and shorter takeoff than the B200, which it replaces. The 350ER is a melding of requirements from the Special Mission and the standard King Air, and has a number of improvements that added up to longer range and a more-versatile airplane.
Pratt & Whitney worked over the 350's 1,050 shp–capable PT6A-60A engines and mated them to the B200's (PT6A-42) gearbox, resulting in a continuous-rated 850 shp PT6A-52, powerplants unique to the new $5.3 million B200GT. Advantages of all this engine work include a 20-knot increase in max cruise, a 3,600-hour engine TBO and elimination of the 10,000-foot TOFA (takeoff field altitude) limitation of the legacy King Air B200.
The new 350ER holds its additional fuel in the engine nacelles and sports a gross weight increase from 15,000 to 16,500 pounds. A significant redesign of the landing gear also permits heavier landings, making tankering a practical option and increasing the potential mission repertoire of this King Air. With a 2,750 nm range (plus reserves), the $6.8 million 350ER has transcontinental capability and better than a 7.33-hour loiter capability, 100 miles from base. For more, log on to www.hawkerbeechcraft.com.
---

TBM 850 Gets Garmin G1000 And Other Improvements
When EADS Socata introduced the more-powerful TBM 850 to replace the popular, competent and fast TBM 700C in late 2005, even Socata didn't anticipate the huge sales increases the new model would tally (some 150 had been sold by year-end 2007, and 2008 production was sold out by the first of the year) in the primary U.S. market and especially in the rest of the world.
Enjoying recent record backlogs, one would think Socata would be happy to just rake in orders, but the company announced an upgrade to the machine's only vestige of 20th-century tech and presented us with a full Garmin G1000 panel, where two 10-inch PFDs flank a huge 15-inch MFD, providing acres of information, including datalink Wx, online POH and checklists, and other material customized for the TBM. The large old annunciator panel is gone; the glass display warns in yellow of things that need attention, and in red of anything that poses danger.
The newest TBM 850 gets additional improvements: weight savings in avionics and detail modifications allow a usable fuel increase from 281.6 to 292 gallons (301 U.S. gallons total); range is now 1,466 nm (NBAA reserves) or 1,580 nm (standard IFR reserves). TBM has added two storage compartments, including the reintroduction of its forward luggage compartment, some 50 inches wide; air-conditioning is now a quieter, more-efficient, engine-driven Liebherr unit, common on airliners but a first in this class of airplane. Better cabin air routing, luxury leather appointments, a new paint scheme, an entertainment system and new cosmetics round out the newest TBM 850's equipment list. Pulselite anticollision lighting is also an option.
Price is for delivery in 2009, as 2008 production is all sold out: $2,919,850 with standard equipment; the "average" price (including popular options) will be $3,082,710 in today's dollars. For more, log on to www.tbm850.com.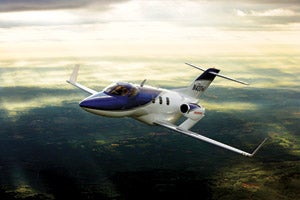 GE Honda Breaks Ground In North Carolina
The all-new GE Honda HF120 turbofan will be produced in Burlington, N.C., for certification in 2009. The 102,400-square-foot Honda Aero facility will consist of 36,000 square feet of office space, a 58,400-square-foot production plant and an 8,000-square-foot engine test cell. It will be manned by some 70 associates when it reaches its design capacity of 200 GE Honda engines, which are initially promised to the HondaJet and the Spectrum S-40 Freedom VLJs.
Honda Aero is yet another company under Honda Motor Company, set up as a joint venture with General Electric. The impetus for the new engine came initially from the development of the HondaJet, to be produced in nearby Greensboro, N.C., by another wholly owned subsidiary, Honda Aircraft Company.
The HondaJet prototype has been flying with the HF120's predecessor, a pair of HF118s, and those engines have accumulated some 4,000 hours of test cell and flight operation.
The 1,880-pound thrust HF120 (as planned for the HondaJet), with a bypass ratio of 2.9:1, is designed to set new standards in specific fuel consumption and quiet operation, and is expected to be only the first production engine from the 50/50 GE/Honda collaboration, which plans to produce a series of engines in the 1,000- to 3,500-pound thrust class. For more information, log on to www.gehonda.com.