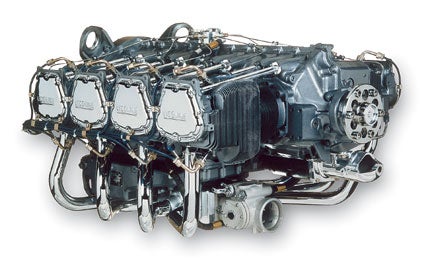 One of Lycoming's most powerful engines, the IO-720 series has eight cylinders capable of 375 hp to 400 hp of pure aircraft power and a maximum recommended TBO of 1,800 hours. Lycoming also has given it direct-drive abilities and fuel-injection to make it one of the most powerful and efficient in its class.
In a long-awaited move, Lycoming general manager Ian Walsh said that his company will be introducing a new diesel engine. While the company hasn't released details of the new engine, Walsh did say that it would be dramatically more efficient than today's gasoline-powered engines and would solve other problems, including the use of lead in aviation fuel. The diesel, when introduced, would run on standard jet fuel.
In addition, Walsh indicated that the company is starting to look at products that go beyond just designing and manufacturing engines. While he declined to elaborate, Walsh took pains to point out that his vision for the company didn't include being limited just to making piston engines. Walsh said such products might include fuel systems, "behind the firewall" systems and systems integration. Walsh also said that Lycoming has identified new markets and, therefore, new areas for growth in the piston-engine market. The company also has pinpointed new areas of efficiency that will increase cost-competitiveness and reliability. He predicted strong growth in general aviation, especially when it comes to UAVs and new types of VTOL technology.
Walsh, who made his statements to a small press gathering in January at the Lycoming headquarters in Williamsport, Pa., joined the company in September 2004. A former Marine helicopter pilot and now a licensed commercial helicopter and fixed-wing pilot, Walsh has a long track record with parent company Textron and is a recent graduate (or "Black Belt" as they're called) of the company's highly regarded Six Sigma management program. Six Sigma is best known for its success at the hands of former General Electric CEO Jack Welsh and has since been adopted by other companies, including Textron.
While the new engine announcements were the biggest news from Lycoming, perhaps more important is the restructuring and modernization now under way at Lycoming's engine factory. Walsh said that the company is continuing to refurbish the plant, which has been in use for nearly 80 years. Lycoming already has installed automated test cells so that vastly improved metrics are developed when every engine is tested. The automated testing can dramatically reduce errors in the field and they're an important step when it comes to the overall quality-control process.
In addition, Walsh said that the company has begun working on integrating and automating its supply chain. This means that Lycoming will work to a production and quality model similar to what's being used by Toyota and other automobile manufacturers. This consists of adopting "just in time" delivery of parts and components, and will place much higher quality demands on suppliers. The result to customers will be improved quality as well as lower prices and more predictable delivery.
The new efficiencies and greater control over the supply chain also will increase Lycoming's capacity, which Walsh said is necessary to meet what will be a growing demand for new general-aviation engines. He sees two areas for growth in UAVs—one for greatly increased demands for security-surveillance platforms, and the other for automated news gathering. Walsh's experience in the Marines leads to his conviction that tilt-rotor and similar vertical takeoff and landing aircraft are poised for dramatic growth as soon as their use becomes common in other areas, particularly the military. "You're going to see a broad reopening of regional airports," says Walsh.
While he didn't specify when these developments might take place, he said that it's necessary to fuel the coming growth for Lycoming to increase its market share.
New Products From Lycoming
Ian Walsh had a lot to say about the future and new products the company already has developed or is in the final stages of developing. Currently on the market, for example, are new roller tappets, developed in partnership with Delphi Corporation, that will improve the performance of new and existing engines.
The roller tappets reduce friction in the operation of valves in the engine. They can be retrofitted to existing engines as a part of a complete rebuild. They can't be used during routine overhauls, however, because there are some changes that must be made to the engine to accommodate the new tappet design. They will be available in some new engines in a phased implementation.
The roller tappets are an outgrowth of the company's work with experimental and racing aircraft. Other products developed from high-performance research include new cylinder designs and electronic fuel controls. Lycoming has announced that the company's fuel control will become vital once unleaded fuel becomes mandatory.
In fact, Walsh said that all current production Lycoming engines already are able to use unleaded fuel. He said that they're also available with electronic engine and fuel controls that will be necessary for the broad use of unleaded gas.
Also newly available from Lycoming is an electronic ignition system from Light Speed Engineering. The Santa Paula, Calif., company developed the system initially for Lycoming's racing program and has since brought it to the certified market.