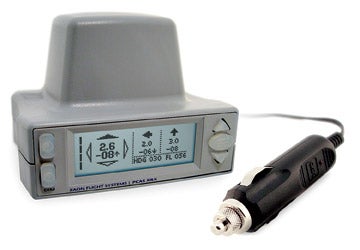 The XRX measures just 3.9×3.6×2.7 inches and has an integrated antenna on top and a display screen on the front. A cigarette lighter adapter provides power; other options are available for airplanes without a cigarette lighter.
Zaon's PCAS (portable collision-avoidance system) XRX is "the first ever portable, passive, stand-alone collision-avoidance system for general aviation to offer direction from within the cockpit." After flight-testing one at four busy airports one recent Sunday afternoon, I can confirm that it does exactly what Zaon claims.
Physically, the XRX is a small (3.9×3.6×2.7 inches) device that will fit on top of the glare shield. It features an integrated antenna on top and a display on the front that's small but contrasty (I had no trouble seeing it, even in direct daylight). Audio jacks on the XRX allow you to plug in your headset, with which you'll hear audible alerts. A cable runs from the back of the device to the cigarette lighter in your airplane (there are other options available for late-model airplanes that lack a cigarette lighter). Plug the unit in, turn it on and you're ready to go.
The XRX operates passively, receiving signals from transponder-equipped aircraft in the vicinity and estimating range based on the strength of the transponder signal, just like other portable collision-avoidance devices. Where the XRX breaks new ground is that it can indicate direction as well as distance. It does this based on a sophisticated antenna array housed in a large, vaguely pyramidal shape on top of the unit. The array includes multiple antenna elements. By comparing the strength of the signal received by each element, the XRX can estimate from which quadrant a transponder is transmitting. This gives it one huge advantage over any other portable collision-avoidance device: It tells you where to look.
The XRX displays a maximum of three targets, prioritizing them based on its estimate of which ones present the greatest risk of collision—a very close target that's moving away is considered less of a threat than a more distant target headed right in your direction. The unit also knows relative altitude for targets equipped with Mode C, altitude-encoding transponders. By default, the XRX unit ignores all targets that are more than three miles away and/or separated by more than 1,500 feet in altitude.
---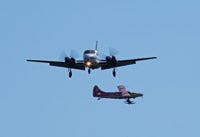 Particularly in congested airspace, traffic-avoidance technology adds an extra layer of safety to any flight. However, it shouldn't be a substitute for looking out the window.
I tested the XRX during a "poker run"—in this event, sponsored by the Modesto Airport Pilots Association, a half-dozen airplanes each flew a route from Modesto, Calif., (MOD) to Gustine (3O1) to Merced (MCE) to Turlock (O15) and back to Modesto (a total of 1.8 hours' flying time) in a Piper Warrior with the unit on the right side of the glare shield. The XRX manual mentions silicone feet, which help to prevent the unit from slipping. These were missing from the test unit provided by Zaon, so I improvised using some of the foam packing material from the shipping box to wedge the unit in the corner of the windshield, as nearly level as possible. The unit powered on with no trouble, and audible signals were heard in both headsets once I plugged in the proper cables.
By default, the XRX shows what Zaon calls a "Mode A" display, with the display divided into three sections. The largest (on the left) shows the most threatening target, giving distance and relative altitude, and using a four-segment compass rose to indicate direction. Smaller displays to the right show the next two most threatening targets, in this case indicating direction by an arrow. I personally prefer the optional "Mode B" display, which replaces the two small secondary displays with a Stormscope-style display that shows relative position of targets with respect to the aircraft (though this sacrifices altitude information on the secondary targets). Both display modes are available in regular and 45-degree variations. The latter is used if you choose to mount the unit at an angle so that it can easily be seen from the opposite seat.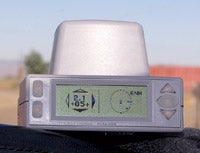 With the default three-mile-range limit, I found the XRX useful, but a little disconcerting because it indicated no traffic until we were ready to enter the pattern at each airport and then would quickly indicate multiple targets. It did pick up most of the traffic I could see, and in at least two cases alerted me to traffic before I picked it up visually. In one spectacular case, it caught a Bonanza that turned out to be passing me less than a mile to my left. In several cases, it indicated traffic behind me that would have been all but impossible to detect visually. The XRX manual warns you that not all traffic will be detected, and I found that to be true: An ex-Army Air Force L19 flying in the poker run wasn't equipped with a transponder, and was thus invisible to the XRX.
When entering the pattern at busy airports, I found the audible alerts obnoxious, at which point the mute switch came in handy. Fortunately, once you land and cycle the power, the unit enters a standby mode and doesn't issue alerts until you reach 200 feet AGL.
A cable connection on the back of the XRX allows it to supply traffic information to a wide range of portable GPS and electronic flight bag (EFB) devices. Visit Zaon's Website to see if your device is included. The site also allows you to download the nicely designed, fully indexed, 68-page XRX manual. The Zaon PCAS XRX retails for $1,795. For more information, browse www.zaon.aero or call (800) 496-9430.