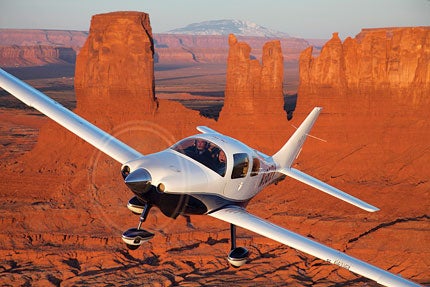 Patrick Carter of Nflightcam and his Columbia 350 partner, Scott Lumbert, tour Monument Valley from the air.
There it stood before me: a wall-sized aeronautical chart that measured nearly 10 feet tall and 16 feet wide. My friend had adorned his hangar with this custom-made oddity, and its imposing nature fascinated everyone who saw it; I was no exception. In full color, it was a giant version of the standard World Aeronautical Chart (WAC) with all the aviation details intact and perfectly accurate. As I stood gaping at it with my head sideways like a dog listening to an odd noise, I realized why I had become a pilot. There before me was ultimate freedom: 19,600-some public and private-use airports that I could travel to any time I wished.
Every single person who has ever run their finger over their freshly printed pilot certificate has uttered the word "freedom" somewhere in the conversation explaining why they learned to fly. We probably struggled to explain it right, but the true meaning of why we fly was depicted in each of those tiny airport dots on that enormous chart. In this great country of ours, any of us who are certified to fly—solo or otherwise—can point our aerial craft in any direction we want and explore the thousands of destinations our nation has to offer.
With 19,600 places to land, how do you know where to start? We at Plane & Pilot thought it would be fun to give you a head start and share some of our favorite vacation fly-in destinations.
Monument Valley, Utah (UT25)
If you've seen any of the legendary Western films with John Wayne, chances are you've seen the grandeur that is Monument Valley. This is the West as imagined around the world, with a scale so huge it needs to be seen in person. The gateway to this isolated gem is Goulding's—a private airstrip and resort just a few miles from the scenic heart of this valley. You'll need to call (435) 727-3231 with your aircraft information and arrival time to get permission to land. They'll usually send a courtesy van to take you to the 62-room Goulding's Lodge, also within walking distance. Note that these rooms get booked months in advance, so call well before your trip, and the airport doesn't offer aviation fuel or rental cars, so plan ahead.
The airstrip sits at the base of a 700-foot mesa at an elevation of 5,192 feet MSL, and the runway is 4,000 feet long, so it can be a challenging landing or takeoff. You'll land uphill on runway 16 and takeoff on 34. Be sure to bring chocks since the paved parking area is sloped. If the stunning views aren't enough to inspire you, Goulding's has excellent food, a myriad of nature programs, a trading post museum, wonderful campgrounds and several tours into the valley. Visit www.gouldings.com.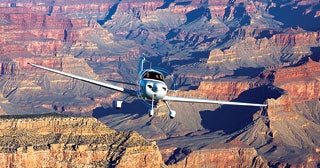 Grand Canyon
Grand Canyon National Park, Ariz. (KGCN)
You can't go wrong with visiting one of the Seven Wonders of the World, and flying there in a GA aircraft is spectacular. Grand Canyon National Park Airport sits just seven miles from the south rim of the canyon and two miles from the park entrance. The towered airport boasts a single, 9,000-foot runway. There's no landing fee, though there's an overnight parking fee, and fuel is available 24 hours.
Pilots will need a specific chart: the Grand Canyon VFR Aeronautical Cart (available from most chart sources). This is used to fly within the Grand Canyon Special Flight Rules Area (GCN SFRA). Traffic flows in certain patterns and through specific corridors when overflying the canyon, and you need to be familiar with the procedure. KGCN's altitude at 6,609 feet means you need to use high-density altitude procedures, and be aware of up- and downdrafts above the canyon.
---
After taking in breathtaking views of the turquoise Colorado River below, you can retire to one of four major hotels less than three miles away, including the Grand Hotel and Crown Plaza Resort. Pilots also have the option of flying into Grand Canyon West airport (1G4), at the west rim of the canyon and close to the "Skywalk" outcrop.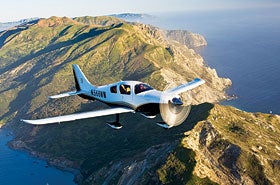 Catalina Island
Catalina Island, Calif. (KAVX)
Few fly-in destinations have hosted as many movie stars and celebrities as Catalina Island. Just 28 nm from the urban jungle of Los Angeles, Catalina is about as un-California as you can get (except for the cobalt-blue skies and near-perfect weather). The island's "Airport in the Sky" is surrounded by mystique owing to its unique setting on the blasted-away flat top of a mountain, its relatively short 3,000-foot runway with cliffs at both ends, and notorious up- and downdrafts. In truth, a simple checkout with a qualified CFI will assuage any worries.
After landing, you can take the 30-minute shuttle to Avalon Harbor to partake of world-class accommodations at 19 hotels, including the Hotel Vista Del Mar and Avalon Hotel. Since no cars are allowed on the island, you'll enjoy quiet ocean breezes, excellent fishing and boating, and over 200 miles of hiking trails with unmatched views. Or fly 20 minutes to John Wayne, Long Beach or Santa Monica airports, and take a day trip to Disneyland, Hollywood or any of SoCal's abundant attractions.
Gaston's White River Resort, Ark. (3M0)
If you love to land on perfectly manicured Bermuda grass, eat great food, ogle classic airplanes and get in some excellent fishing, it doesn't get any better than Gaston's Resort in Lakeview, Ark. Snuggled into the Ozark Mountains, Gaston's 79 guest cottages and 400 acres of pristine beauty have been considered the best fly-in resort in the area for over 50 years. Gaston's has grown through the years to include world-class fly-fishing (and a fishing school), 70 guest boats, a renowned restaurant with a famous Sunday brunch and more.
Gaston's 3,200-foot turf airstrip is also famous with pilots who love to land on grass (if you haven't tried it, you'll fall in love with it, too). The resort has 100LL fuel available, and lots of open parking. The resort also welcomes day trippers and $100-hamburger pilots who are free to use the grass strip. Pilots beware of power lines on the west end of the field. Visit www.gastons.com.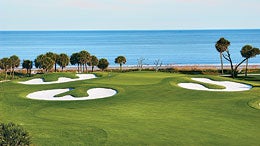 Hilton Head
Hilton Head, S.C. (KHXD)
Visitors to the sugar-sand beaches of Hilton Head Island in South Carolina are always struck by the lush vistas and diversity of the quintessential East Coast resort. It has long been a destination resort for golfers—with the PGA tour stopping at Harbour Town Golf Links at Sea Pines resort—and is consistently in the "Best Of" lists in respected travel publications. Hilton Head now has some 250 hotels at every level of luxury, and with the addition of the Disney Resort, should be included as a prime fly-in destination for pilots, whether with families or as a quiet couple's getaway.
Hilton Head Airport is open to the public, with its 43,00-foot single paved runway. The towered airport offers several instrument approaches, Jet A and 100LL through the FBO there—Signature Flight Support. The airport is just three miles from town and within six miles of just about every resort on the Island, including Disney. Come for the golfing, and stay for the relaxation.
---
Kiwassa Lake, Adirondacks, N.Y./Lake Placid (KLKP)
Maybe fall leaves and the pastoral beauty of the Adirondack Mountains is calling to you? If so, Lake Placid airport is your gateway to this idyllic area. There are several resorts in the Lake Placid area, but if a quiet weekend escape is in your plans, Kiwassa Lake is one of the most beautiful. Just 10 miles from Lake Placid, Kiwassa Lake B&B sits on the shore of Saranac Lake, nestled against Adirondack State Park. Kiwassa Lake Lodge is also on the lake, and gives access to 23 miles of Adirondack waterways.
Lake Placid airport is non-towered and has a 4,300-foot paved runway, including fuel and maintenance through Adirondack Flying Service. The real treat here is you can land a seaplane on many Adirondack lakes. In fact, you can land your seaplane right at Kiwassa Lake B&B and stay for a few days.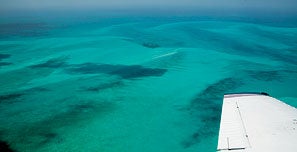 Bahamas
Great Exuma Island, The Bahamas (MYEF)
The Bahamas were seemingly put on this earth to be seen from a GA airplane. From no other perch, can you take in all that these islands have to offer. You can't help but feel changed once you visit the islands of the Bahamas, and there are pilots who have spent 20 years flying The Bahamas and have only scratched their surface.
It's extraordinarily difficult to name just one vacation spot in this vast paradise, but the long and narrow chain of 365 islands known as the Exumas is a great place to start. The international airport on Great Exuma Island (Georgetown) is one of only three designated international points of entry, so you can fly there direct from the U.S. Its paved 7,000-foot runway accommodates jets. Once there, a slew of amazing resorts awaits, including February Point, Grand Isle and the ultra-luxurious and private Musha Cay Resort. True to the Islands' motto, it really is better in The Bahamas. Visit www.bahamas.com.
Roche Harbor Resort, San Juan Island, Wash. (WA09)
There's a reason why so many artists, authors and adventurers have come to call these islands home: their rugged, unsurpassed beauty. Great vacation fly-in destinations always contain five key ingredients: amazing scenery, a good airstrip, great accommodations, excellent food and enough (or as few) activities to satisfy anybody. Roche Harbor Resort has it all. Though the grass airstrip is tiny (only 3,500 feet long and 30 feet wide), the scenery once you get there is amazing. Pilots can also land floatplanes at Roche Harbor.
Roche Harbor has the best selection of hotels and resorts in all the San Juan Islands. Several waterfront restaurants—such as the Lime Kiln Café and Madrona restaurant—are renowned favorites. There's plenty to do here, and if you've been to the San Juans, you know kayaking is unsurpassed. The San Juan Islands are considered one of the best places on earth to see orcas, and watching them from a kayak is awe inspiring. If the Roche Harbor airstrip is too short, you can also land at Orcas Island airport (KORS) or Friday Harbor (KFHR) just seven miles away.
---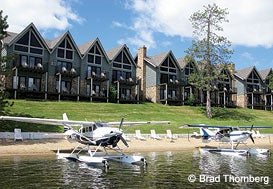 Madden's On Gull Lake
Madden's On Gull Lake, Brainerd, Minn. (9Y2)
Any resort that's owned by pilots has got to be a great fly-in destination. Madden's Resort on Gull Lake near Brainerd, Minn., doesn't disappoint. The resort is surrounded by water on three sides for a perfect secluded getaway and a haven for seaplane pilots. The resort's four world-class golf courses are a big draw, as is Madden's spa. Whether you prefer to do nothing or everything, there's something here for you. The resort has five restaurants, five swimming pools (two outdoor, three indoor), USCA-sanctioned croquet lawns, tennis, whirlpools, saunas and even a waterpark with trampolines and water toys in Gulf Lake. If you have kids, you can drop them off at the "Adventure Cove" program, where they'll be busy with crafts, field trips, watersports and much more.
The East Gull Lake airstrip is just a mile from the resort and features a 2,618×160-foot turf runway in good condition. The non-towered strip's CTAF is 122.9, and plenty of tie-downs are available (there's no tie-down fee). If you've ever wanted to earn a seaplane rating, an on-site instructor and examiner are available, and the rating can be accomplished in a long weekend. This May 4-6, Madden's will be hosting its annual safety seminar. Visit www.maddens.com and www.wingsoverwaterseaplanes.com.
Jackson Hole
Jackson Hole, Wyo. (KJAC)
While Jackson Hole airport itself isn't your destination, it's the gateway to some of the most unsurpassed, breathtaking scenery anywhere in the world. Besides the obvious lure of Yellowstone National Park, the Grand Tetons in this part of Wyoming cradle some of aviation's most idyllic spots. Jackson Hole is perfect for families, especially if you're a fan of the countless dude ranches and cowboy-esque resorts that dot the region, or if you want to see the grandeur of Yellowstone itself.
For pilots, several airparks are within flying distance of Jackson Hole, including Alpine with its newly paved runway and groomed grass strip. It's home to several Aviat Husky aircraft and makes a great launching point for white-water rafting, hiking, horseback riding or just exploring the area. And don't let the ruggedness of this area fool you. Some incredible eating is to be had at places like The Nordic Inn just outside Alpine.
So grab that toothbrush and duffle bag, and fuel up that aircraft. As a pilot, you hold the key to some of the most amazing vacation spots and resorts in the nation. Adventure is a lifetime pursuit, and we hope we've ignited the spark to begin today.
For readers who would like to plan big, the giant, wall-sized WAC chart is available from Higher Plane, Inc., at www.hplane.com.