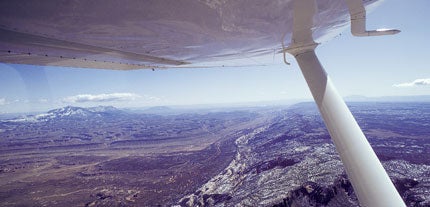 Almost every pilot searches for the right tools to make any flight a safe and enjoyable one. Whether it's a gizmo that enables us to enjoy that short $100 hamburger flight or a portable piece of equipment that can save us baggage space during long cross-country treks to the backcountry, we're always in need of that extra-special something that will make our trips a whole lot easier and the ride a whole lot more fun. So to help narrow down the search, here's a list of the latest pilot gear essentials that you not only will find helpful, but also fun to play with—both in and out of the cockpit. Ranging from pocket-portable must-haves to all-in-one toys, these gadgets offer unique features that will enhance your flying experience, making your trips a breeze. With these nifty, time-saving and hassle-free gadgets in your cockpit, all that's left for you to do is to just sit back, relax and fly.

1 WARM WEAR Stay warm in the cockpit with the Micro Puff Jacket. This windproof and waterproof cover-up isn't too bulky to wear in tight cockpits and can be rolled up to save room in your luggage. It even has a hood that can accommodate headsets, as well as two interior pockets and a separate stuff sack.
Price: $169
Contact: Patagonia, (800) 638-6464, www.patagonia.com
2 UNDER LOCK AND KEY The Pacsafe 140 keeps all your bags and miscellaneous items secure in one place. Its high-tensile, stainless-steel eXomesh netting technology keeps your valuables from rolling around unwittingly in the cabin. Plus, it comes with a polycarbonate locking device, a hardened shackle padlock and a draw cord that attaches to a secure fixture—perfect for fly-ins.
Price: $74.95
Contact: Pacsafe, (800) 873-9415, www.pac-safe.com
---
3
THE WRITE STUFF
There's nothing more convenient for a pilot than having an all-weather pen like the Inka pen. It's a compact, precision-crafted pen with a pressurized ink cartridge that can write at any angle, temperature and altitude. In addition, its stainless-steel cylindrical design is made to last a lifetime.
Price
: $30
Contact
: Inka Corporation, (877) 446-5226,
www.inkacorp.com
4 POWER UP Whether you're in the air or out in the boondocks, you no longer have to rely on batteries or an electrical power source to run any of your high-tech toys. The SolarRoll is the first flexible, waterproof solar panel that powers all kinds of devices, from digital cameras to satellite phones to notebook PCs. Plus, this UV-transparent power source rolls and stores in a convenient storage tube, so all you have to do is literally pack and go.
Price: $169 to $399
Contact: Brunton, (800) 443-4871, www.brunton.com
5 BRIGHT LIGHT Light up your whole cabin with the Lamplight. It serves as a flashlight, or just pull and voilà, it's a lantern. But what makes this particular flashlight-cum-lantern unique is its 360-degree lighting system that can reach every nook and cranny of even the darkest of cockpits.
Price: $20
Contact: Brunton, (307) 856-6559, www.brunton.com

6 SEA AND HEAR The H20 Audio DV Series MP3 player can be called ambidextrous: You can take it with you in the air and underwater. In the air, the durable design protects it from accidental spills and its speakers can fit under headsets. Underwater, its locking closure protects it from leaks and its simplified controls make it easy to play those tunes under the sea.
Price: $199 to $478.95
Contact: Oceanic Worldwide, (510) 562-0500, www.oceanicww.com
---
7
PC ON THE GO GO
The Suunto X9 wristop computer allows you to instantly access GPS functions, weather temperatures and altitude readings—all from a watch-sized unit. It also shows the direction and remaining distance to your next waypoint and calculates your ETA. Plus, it has current speed numbers, distance-traveled calculations as well as a Find Home function, just like a desktop computer.
Price
: $699
Contact
: Suunto, (800) 543-9124,
www.suunto.com
8 LIGHT UP Here's a good tool to have in your survival kit—the Helios storm-proof lighter. Its high-temperature internal flame withstands up to 80 mph winds and is waterproof when the lid is closed. Plus, the piezo ignition allows for 30,000 light-ups and includes a detachable wrist lanyard so you can never lose it.
Price: $60
Contact: Brunton, (800) 443-4871, www.brunton.com
9 TIME TRAVELER For frequent fliers, the Oakley GMT wrist-watch may just help you keep track of time when you fly in and out of different time zones. It automatically displays local time in any of the 24 time zones all over the world while keeping your home time continuously displayed on the main dial face. A smaller dial face adjusts to local time when you select a world city via a dedicated watch hand.
Price: $575 to $650
Contact: Oakley Inc., (800) 431-1439, www.oakley.com

10 RUGGED HANDHELD Need to have a city-slicker toy with you while flying in the backcountry? The TDS Recon handheld computer may just be the right high-tech tool for you. It's both rugged, with a waterproof body that meets military-standard specs for drops, vibration, and high- and low-temperature operation, and technologically advanced, with Windows Mobile 2003 capability, a 200 or 400 MHz XScale processor and a color display, that will satisfy both the bush pilot and inner geek in all of us.
Price: $1,500
Contact: TDS, (541) 753-9322, www.tdsway.com
---
11
ALL-PURPOSE SUNSHADE
Never lose your sunglasses again with ProShade. This all-in-one visor, sunglass case and adjustable lanyard keeps sunglasses or any other small valuables safe with its fleece interior lining. It also functions as a visor that minimizes sun and glare as well as a multi-functioning lanyard that you can hang around your neck.
Price
: $19.95
Contact
: AnyWhere Chair Co., (828) 262-9880,
www.anywherechair.com
12 COME ON BABY LIGHT MY FIRE Now you can get two lights in one. The Firelight windproof lighter and LED flashlight features a butane lighter on one end and an LED flashlight on the other end, making it perfect for emergency situations. Just click for fire and twist for light.
Price: $40
Contact: Brunton, (800) 443-4871, www.brunton.com
13 SEAT MATE Have a comfy seat wherever you go with the HowdaSeat. It rolls up like a blanket so you can just stow it in the back of the plane—or use it while flying! Measuring only 15×15 inches, this portable chair is the ideal item to bring with you anywhere—especially during air shows.
Price: $52
Contact: The Comfort Store, (888) 867-2225, www.sitincomfort.com