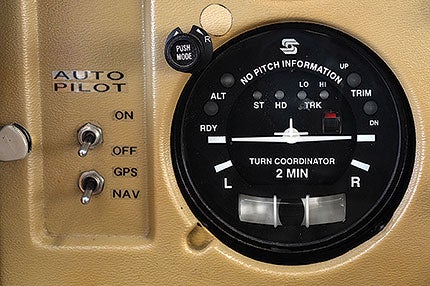 Low-cost upgrades can bring new features to simple wing levelers.
Modern autopilots are a huge boon to the general aviation pilot. They make long legs less tiring and greatly ease the workload when flying on instruments. Many instructors consider a working autopilot practically mandatory for single-pilot instrument work, especially in technically advanced aircraft with glass-panel displays. And, as with other avionics, autopilots have gotten more sophisticated over the years. The latest digital models are more reliable than old analog units, and they offer sophisticated features like flight level change and automatic glideslope capture.
Unfortunately, installing and/or upgrading autopilots is among the most complex, time-consuming and expensive avionics work. Why? Because unlike other components, autopilots interface with multiple systems; depending on the installation, this may include the electrical system, flight controls, air data and even engine controls. For older piston singles, it's quite possible for an autopilot installation or major upgrade to cost more than the airplane itself!
If it's that expensive, why upgrade? Let's consider three cases: An airplane without an autopilot, one with a simple wing-leveler and finally an airplane with an old autopilot that's no longer supported by the manufacturer.
Many older light aircraft—especially those used only VFR—were delivered without an autopilot. As noted earlier, you really want to think about whether it's worth spending tens of thousands of dollars to put one in. But, if it's your dream airplane and you have the money, adding an autopilot can make that old bird a much better platform for both long cross-country trips and instrument work. You'll want to carefully consider just what kind of autopilot you want to put in, given that the airframe will have to be opened up from cockpit to tail in order to install the control head, servos and cabling. It may be almost as expensive to put in a simple wing-leveler as a full three-axis control system.
Before getting too excited about any particular autopilot, though, check to see if it's compatible with your airplane. Retrofit autopilot installations are always governed by a supplemental type certificate (STC), which may refer not only to aircraft make and model, but even to specific serial numbers. There's no use falling in love with a particular autopilot only to discover it's not compatible with your airplane!

Before getting too excited about any particular
autopilot, though, check to see if it's compatible with
your airplane.

The situation may be a bit easier if you have an airplane with a simple single-axis wing leveler, which is probably the most common autopilot in older light airplanes. If the unit is working and supported by its manufacturer, your best move may be to keep it, but consider adding additional components to upgrade functionality. Two worth considering are altitude hold and GPS steering (GPSS). Altitude hold is the more expensive of the two; it involves adding an additional servo to control the elevator trim. GPSS, which automatically adjusts the aircraft heading to match the desired GPS track, is among the most cost-effective autopilot upgrades. If you already have a panel-mounted GPS that can be used to drive it, GPSS can be added for just a few hundred dollars.
However, you won't get the latest features from a wing leveler, even with altitude hold and GPSS. For features like flight level change and glideslope capture, you'll have to replace the autopilot, though it may be possible to use the existing servos, which can simplify the installation, and save both time and money.
The worst-case scenario is an airplane with an old autopilot that's no longer supported by the manufacturer. As parts inevitably wear out, the unit will become unreliable, and in an autopilot, that can be life threatening, especially at low altitude! Eventually, your only choice will be to fly without the autopilot until you can replace it. That may actually be even more expensive than installing an autopilot in an airplane that never had one as you'll have to pay for removing the old servos and cabling before the new ones can be installed.
Some tips that apply to any autopilot upgrade (or new installation):
• Do your homework; look at the available options and check to see what autopilots may be compatible with your airplane.
• If you have an existing autopilot, find out what upgrades are available or whether any new autopilot systems are compatible with your existing servos.
• Get more than one quote, and ask about flight control rigging. Shops with autopilot experience will know that's extremely important, so if one says it's no problem, take your business elsewhere!
• Make sure that a complete ground test is run before the first flight; if a servo runs backwards, you want to find out about it on the ground.
• Do a flight with the installer before taking off on your own and have all features demonstrated. If the system is complex, consider spending an hour or two practicing with an instructor. And if simulator software is available, either from the manufacturer or through a plug-in to desktop PC simulator software like Microsoft Flight Simulator or X-Plane, consider that, as well. It takes practice to get the most from any autopilot.
Spending a little time researching the options will assure that you get the best autopilot possible for your hard-earned upgrade dollar.