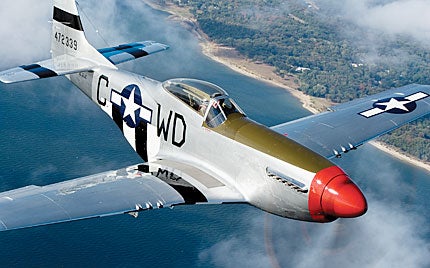 Jim Cavanaugh has a habit of starting small and building big. An integral part of his formula is his desire to share his passions with others so that, in the end, everyone wins.
Whether dealing with business or airplanes, he has a flair for doing things right. Indeed, Jim's business, Jani-King, has been ranked number one in its industry for 15 of the past 17 years. Then, of course, there's the Cavanaugh Flight Museum—which he founded—featuring historic aircraft, including a peerless collection of warbirds.
A little background is in order. Jim's father was an Air Force mechanic who worked on Fairchild PT-19s during World War II; following the war, he worked on DC-3s for the FAA in Oklahoma City. Growing up with an aviating father, Jim was predisposed to become involved in airplanes himself. In fact, father and son constructed both a Pitts S-1S biplane and a Christen Eagle together. Like so many of us, however, Jim was diverted from the path to aviation by more "normal" pursuits, such as college, work and family.
In 1968, when most college students were protesting their hearts and minds out, Jim was working nights as a hotel accountant. Realizing that janitorial service was a sector that would be required regardless of economic upswings or downswings, Jim began making contracts for janitorial service by day. At night, he'd provide service for his clients with the help of fellow students. Within a year, Jim had established Jani-King and, thus, entered into commercial cleaning services in a big way.
Large companies, such as McDonald's, were just starting to franchise as a means of rapidly expanding their businesses, and Jim Cavanaugh jumped on the bandwagon. But, true to form, Jim did it in a slightly different way. Instead of just selling the name, training the franchisee and then leaving him or her to carry on the work, Jim developed the franchise unit and offered the franchisee an initial customer base. The technique jumpstarted business owners, getting them off to a profitable start.
---
Jim's technique of partnering with franchised business owners worked beyond his expectations. Jani-King is the world's leading commercial cleaning service. Worldwide, the company has more than 11,000 franchises in a $78 billion industry. Furthermore, Jim has pioneered specialty-cleaning services by adapting to exacting standards, industry by industry (for example, automotive dealerships, manufacturing, biotechnology and healthcare).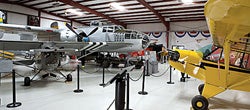 In each case, the corporate office develops the process, contracts the business and then allows the franchisee to service the contract. Jim's business model solves problems for his "partners" and improves their share rather than market share. It's a "share the wealth" concept for everyone involved in the Jani-King enterprise.
This win-win attitude has given Jim a measure of success that has allowed him to finally pursue his love of flying. Though he began as most pilots do (with Cessnas and Pipers), Jim eventually embarked in a totally different direction. He uses a corporate jet for business travel, but he has always had an eye for warbirds. Recently, he branched out and began flying helicopters, particularly the Korean War-era "Mash" Bell 47.
When Jim started flying, he began enlisting others into his passion without really making an effort. Take, for example, Kevin Raulie. Unenthusiastic about his sales job in Dallas, Kevin decided to jump tracks and get into aviation. He worked as a serviceman at an Addison Airport FBO in Addison, Texas, where he took notice of two pilots who regularly flew a T-6. "I would refuel the plane when they were done flying and talk with them about how things were going," he recalls. "I'd always loved warbirds. I grew up in Mercedes, Texas, where the Commemorative Air Force started—I loved to watch those airplanes flying. I sort of adopted Jim and his partner in the T-6. I started cleaning the airplane, putting it away. I guess I became an unofficial crew chief."
After mastering the T-6, Jim purchased a P-51 Mustang, and of course, he needed a place to keep it. He placed the Mustang in a hangar (that's still used by the museum) along with a J-3 Cub, a PT-19 and a Piper Arrow. Kevin continues, "When Jim bought the Mustang, he offered me a job taking care of the hangar and the airplane. I was excited in the short term, but was worried about the long term. I asked myself, 'What if Jim changes his mind about flying?' I spoke with him about the job and he told me that I'd always have something to do—he hasn't let me down yet."
Cavanaugh's collection of airplanes grew with the addition of a T-6 and an F-86. What started out as a private hobby soon grew into a serious collection (almost an addiction). In the meantime, Kevin kept himself busy caring for the growing collection and dealing with the nonstop stream of visitors who wanted a peek at the airplanes. "Jim noticed all the visitors and decided to open a museum to share the collection with the public," he says. "He's a very dedicated patriot. He wanted to honor the veterans and share the airplanes and their heritage with the public."
---
The Addison-based Cavanaugh Flight Museum, which opened in October 1993, is more diverse than most aviation museums. The collection includes aircraft from World War I, World War II, the Korean War and the Vietnam War. The assemblage of airplanes, most of which are flyable, includes polar opposites, such as a 1930s vintage J-3 Cub and a Mach 2 F-4C Phantom. Twice a year, the museum holds a fly-by show. "We usually have flying events on Memorial Day and just before July 4th," reports Kevin. "The fly-bys aren't just events to showcase airplanes. We try to invite veterans so that people can meet them and learn about their experiences. Of course, we do send out a lot of our airplanes to other air shows throughout the year. We want to share the heritage with the public. To do that, we have to fly most of these airplanes."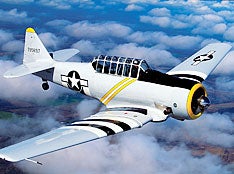 By working at the museum, Kevin has been able to pursue his desire to fly. "I wanted to learn how to fly in a tailwheel airplane and went to a local Cub school here at Addison," he says. "I worked on my private in a Cub, though, of course, I had to do some maneuvers in a Cessna 172 for my test, but I was mostly interested in tailwheel airplanes.
"The day after I got my private license, Jim let me take the PT-19 to a show in Oklahoma City. I began flying the PT-22 and the Stearman, and when I got 500 hours, I began flying the T-6. Eventually, I moved into the Avenger and just this year, I checked out in the P-51. It's been a dream come true!"
The Cavanaugh Flight Museum has an extensive maintenance facility, but the organization didn't pursue its own restoration work until recently. Kevin observes, "The PT-19 was our first restoration in 2003; we recently restored a Bell 47. Now we have the manpower and the resources to refurbish these airplanes, so we'll probably do more in the future. Our Corsair is waiting for the engine to be returned from overhaul, and we expect to do another Bell 47."
The WWII collection includes some very rare combat veteran airplanes. Few of the warbirds in existence today were combat veterans because very few made it back home after the war. The museum's B-25 (dubbed "How Boot That!?"), an 80-mission veteran of the Italian front, sits proudly in hangar number one. It survived as a multi-engine trainer, and when the museum restored it, the original artist repainted the nose art. The Spitfire, a veteran of the Far East conflict with Japan, is resplendent in its wartime colors. The Commemorative Air Force P-47N, painted in the colors of Oscar Perdomo, who shot down five Japanese fighters on the last day of WWII, will arrive soon to begin final assembly.
---
Jim's passion for warbirds and the heroes who flew them extends to the general public. Due to insurance and liability restrictions, few museums will allow the public to fly in their airplanes. The Cavanaugh Flight Museum puts a priority on sharing the experience—they routinely schedule rides in the T-6 Texan and the PT-17 Stearman. Anytime the weather is good, you'll find the trainers out flying, spreading the dream. Kevin, the chief pilot, says, "Nobody gets the same flight. I enjoy introducing folks to flying so much—it's a treat for me every day.
"We also rent space for parties and other events. It's partly a source of revenue for the museum. As you can imagine, maintaining airplanes can be quite expensive. We do about 15 events a year—folks just like to dine and entertain amongst the airplanes. It's a unique environment." Cavanaugh has hosted events like the reunion of the 4th Fighter Group, where Commander Don Blakeslee was reunited with "his" airplane, the P-51D.
Since it opened its doors 13 years ago, the museum has expanded its facilities, but it remains in the same place. As there's not much room to grow, Jim and his associates have been researching whether to construct new facilities to streamline the museum and align it with other in-town events. For now, however, Jim maintains his focus on delivering a quality experience to each and every museum visitor.
If you want to be a part of history, visit the Cavanaugh Flight Museum at Addison Airport just north of Dallas, Texas. But be prepared to get up close and personal. For more information, log on to www.cavanaughflightmuseum.com or call (972) 380-8800.