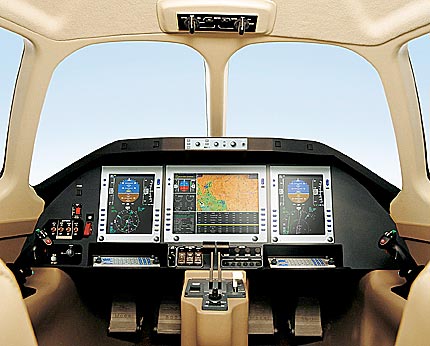 No one has the luxury of peering into a crystal ball, especially when it comes to predicting the future of the aviation industry. Technological developments continue to change the face of aviation, and the result of this progress is anyone's guess. There are, however, certain factors that help foretell what may happen to this ever evolving industry.
According to statistics published by airline career specialists AIR, Inc., pilot hiring in the airlines have always been cyclic, ebbing and flowing in approximately 10-year intervals. Historically, the best years for airline pilot hiring were 1965, 1978, 1988 and 2000. So, assuming that history repeats itself, the next hiring boom should hit around the year 2010.
And during that span of time, several industry experts predict a change in the way we travel with the airlines, which will affect pilot careers in the following years. Recent travelers' concerns about the inconvenience of spending the entire day in transit due to the increased security inspections resulting from the September 11th attacks and the constant layovers have made many people rethink the way the airlines operate and find alternatives for passenger travel.
One answer to their cries may lie in the new air-taxi concept. The idea is to reroute passenger traffic from the airlines' traditional hub-and-spoke system—with passengers usually traveling to at least one major city to change airplanes before flying to their final destination—to the air taxi's more efficient point-to-point system, which allows passengers to from smaller local airports with less air traffic and shorter lines to fly directly to their destination. In fact, this concept has made such an impression on the industry that several companies, including Eclipse Aviation, Cessna Aircraft Company and Honda, are knee-deep in the development of their new six- to eight-seat micro-jets designed specifically for this type of service.
"Air taxi is an alternative to airline travel. The airlines will eventually become the equivalent of the subway, and the air taxi will be the equivalent of a taxi," explains Michael McConnell, vice president of sales and product support at Eclipse Aviation.
---
Several experts also anticipate low operating costs with this air-taxi concept, which will make them compete with full-fare airline tickets. Eclipse, for example, projects a low 69-cents-per-sm operating cost for its Eclipse 500 micro-jet. And its initial price tag of about $1 million makes it more cost-effective.
Plus, technological advances included in these micro-jets will provide future air-taxi companies with lower overheads. Avio, the total aircraft integration system that will be used exclusively in the Eclipse 500, will provide its pilots with easier engine management and avionics operation and automation. It will be much easier to handle, in fact, that the micro-jet will be certified for single-pilot operation, which means that air-taxi companies need only pay for one pilot, instead of two.
So what does this mean for future pilot hiring? There will be fewer passengers for each flight, which means more flights, translating to an increased demand for professional pilots.
"We've sold 2,100 aircraft so far. So from a pilot standpoint, Eclipse thinks that the future couldn't be brighter," explains McConnell. Groundbreaking training programs are also finding their way to the future. Eclipse, for instance, will include a digital prep course on disc and on the Internet of its pre-type-rating training to allow pilots to gain a basic understanding of its light jet.
The airlines, too, are jumping in on the bandwagon with computerized groundschools. "It's not being used that much by the airlines yet, but I think it's coming. New hires have to put their entire lives on hold and go to school for several weeks in a different city, so it would be nice if a portion can be done at home on their own schedule," says Kit Darby, president of AIR, Inc.
Perhaps one of the most immediate and far-reaching change in the future of pilot training lies in the full-glass panels that will soon adorn Cessna 172s and Piper Warriors alike. Future student pilots can learn on MFDs and PFDs from the get-go, a preamble to the instruments seen on the big leagues. These new screens will mean a change not only in student training, but also instructor training of these glass panels. Both students and instructors will have to interpret numbers rolling up and down a screen, rather than read needles on a dial.
Even though this technology will look quite new and different, students will still learn the same old concepts of flight. Ted Beneigh, professor of aeronautical science at Embry-Riddle Aeronautical University, says, "The students will still have to learn the relationship between pitch, throttle and airspeed." They just won't be taught to read and learn the old steam gauges.
Pioneering career opportunities also are being developed for those who prefer to operate aircraft remotely from the ground. The technology for unmanned aerial vehicles (UAVs) is already here.
---
According to Professor Beneigh, "They're already using them in the Army. They'll soon put cameras on UAVs and use them for traffic reports, pipeline control, power-line control and police activities. They're just so inexpensive. FedEx has already approached the FAA [Federal Aviation Administration] about the possibility of flying UAVs."
Another factor that could affect the future of pilot careers is the possibility that the FAA will increase airline pilots' mandatory retirement age of 60 years old. Ever since its promulgation in 1959, pilots, politicians and many organizations, such as the Professional Pilots Federation and Pilots Against Age Discrimination, have opposed the age-60 rule, arguing that there was no medical justification behind its origin and that the airline pilots' stringent FAA medical exam, which occurs every six months, is sufficient enough to ensure passenger safety.
If the FAA does increase the mandatory retirement age, it won't have a significant effect on pilot hiring. According to Darby, "When it does happen, it's going to be an extra two or three years, and it's going to be optional. There will also be additional medical monitoring, and some pilots won't be able to do it. We're probably looking at about 25%, which is about 500 pilots who will continue to work anywhere from one to three years. So it's just going to be a short-term blip."
Regardless of what happens in the future, there will always be a need for pilots. As aviation technology continues to advance, there will be greater diversity in pilot careers. Some will fly hundreds of passengers. Others, four or five. And a number of operators will fly airplanes remotely from the ground. But amidst all these changes, pilots will keep doing what they love doing—fly airplanes.
Part 1: Is Now The Time To Prepare For An Airline Job?

Part 2: Changes In Pilot Careers

Part 3: The Future Of Pilot Careers