No one could possibly have guessed what would happen to the lightplane industry in 1965 when Plane & Pilot magazine coincidentally published its first issue.  
For that matter, few could have imagined that Plane & Pilot would be one of only three national aviation publications to survive the economic upheaval that would infect the magazine business and the aviation industry over the next 50 years.   
Titles such as Air Progress, Private Pilot, Airways, and a half-dozen other magazines have come and gone, but Plane & Pilot has continued to soldier on, never missing an issue for some 550 months. 
During that time, we've watched the industry improve and adjust, and we've monitored the changes to Plane & Pilot, as well.  
We probably don't need to tell you (even if we just did) that it's a very different world from December 1965 when the first issue of P&P hit the newsstands. The people on staff have changed progressively, even as the mission of the magazine has remained constant—to keep pilots of piston and turboprop aircraft apprised of the latest happenings in the world of aviation.  
More recently, Plane & Pilot has expanded its coverage to include light jets such as the Cessna Mustang and M2, Eclipse 550 and the Phenom 100. We've even done stories slightly farther afield, covering such exotic subjects as the Apollo Moon missions, Space Shuttle and the Mars Rover missions.  
Plane & Pilot magazine was the brainchild of Don Werner, a publishing executive who was already active in other motorsport magazines—four-wheel drive vehicles, motorcycles, pickups, off-road ATVs and hot rods. Werner felt P&P would be an excellent fit to his already burgeoning publishing empire.  
Don had the good fortune to grow up in Winona, Minnesota, where he befriended a local pilot who was to become famous. "In our early years, we acquired a love of flight and of aircraft," Werner wrote. "And the airport that we began to visit was in the custody of a fixed-base operator, then rather new in the business, by the name of Max Conrad… Max was phasing out his pair of large biplane Spartan trainers for the new and unique Taylorcrafts of the day. So we got a taste of the old before we were introduced to the new."   
Werner learned to fly with Conrad and went on to become lifelong friends with the personable aviator.  
For his part, Conrad was to gain fame, if not fortune, as a world record-setting ferry pilot. Conrad flew just under 200 international  deliveries, most for Piper Aircraft, delivering everything from Cherokees to Aztecs across both oceans.
Don Werner dedicated the launch of Plane & Pilot magazine to Conrad in the premier issue. Werner's editorial column, "Memo From the Publisher," read, "We are deeply moved that the first news we can carry in this first issue is the award of aviation's greatest honor to the greatest aviator of our time." Werner was referring to the 1965 Harmon Trophy awarded to Conrad. "As the founding publisher, we hereby dedicate Plane & Pilot magazine, this issue and all future issues, to Max Conrad." In Werner's words, "Max holds so many aviation records, they are too numerous to mention. Some of them probably will never be erased." 

Conrad gained fame for making solo endurance flights as long as 60 hours, and he held nine world records, three of which still stood in 2013. Conrad flew some truly impressive nonstop flights, including from Morocco To Los Angeles and south Africa to Miami.

In later years, Conrad became a sporadic columnist for Plane & Pilot, answering questions from readers in his popular column, "Ask Max." Conrad gained fame for making solo endurance flights as long as 60 hours, and he held nine world records, three of which still stood in 2013. Conrad flew some truly impressive nonstop flights, including from Casablanca, Morocco, to Los Angeles and Johannesburg, South Africa, to Miami.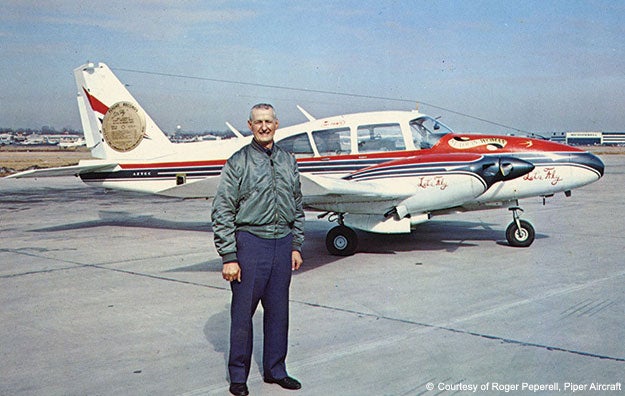 Max Conrad with his Piper Aztec
He also claimed to have logged 50,000 hours flying time. To put that number in perspective, that's roughly three hours a day, 365 days a year for 50 years.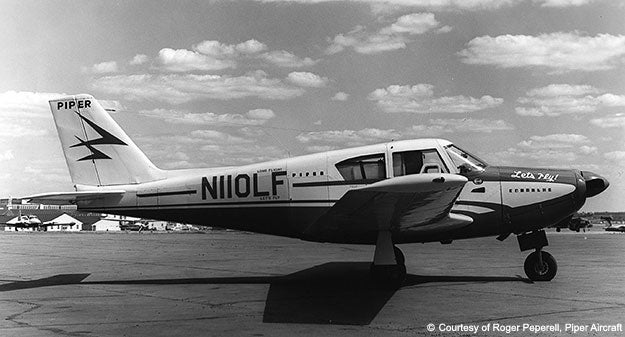 Max Conrad's Piper Comanche
In its first issue, Plane & Pilot published a "Complete Directory of General Aviation Aircraft" that covered everything on the market in 1965. There was also a story on things to come and innovations in the current fleet.  
We covered the then-new, twin-engine Cessna 337 Skymaster, at the time one of the most unusual configurations in the sky. The Skymaster mounted its Continental engines on the front and rear of the fuselage rather than out on the wings. Though this did away with the problem of asymmetric thrust during an engine failure, it introduced a few new challenges. Despite the large, P-51-style air scoop on top of the fuselage, the rear mill consistently ran hot, leading to the requirement to run the aft engine richer than the front to maintain reasonable cylinder head temperatures. Since fuel was stored conventionally in the wings (the mantra was "Right is rear"), this sometimes forced pilots to cross-feed to avoid a fuel imbalance. The rear engine's thrust line was deliberately mounted six inches higher than that of the front engine, but rear prop FOD remained a potential problem if a pilot over rotated on a dirt runway. For better or worse, development of centerline thrust twins has been pretty much abandoned since the Skymaster.
       
The Rockwell Commander 200 was hailed as a breakthrough product for 1966. The airplane was an all-metal design based on the Meyers. In the Rockwell tradition, it was an excellent performer. It was also highly labor intensive. Still, it was a fast, slick, four-seat retractable that could actually meet its 200 mph cruise spec on a good day. Apparently, the timing was wrong. Production was discontinued after only two years. 
 
We reviewed Piper's upcoming semi-cabin class Navajo twin, the worst-kept secret in the industry. The Navajo was finally introduced in 1967 with 310 hp Lycoming engines. Two follow-on products followed on, the Navajo C/R, with counter-rotating propellers and 325 hp, and the stretched cabin, 350 hp Chieftain. Navajos could seat up to eight in comfort, were built through 1983 and were regarded as a highly successful model.  
Through the subsequent years, Plane & Pilot reported on a succession of other new aircraft. The Ted Smith Aerostar 600 premiered in 1969 and shocked everyone with speeds exceeding 200 knots with only 290 normally aspirated horsepower on each wings. The Aerostar was improved with a turbocharged model, the 601, and later, the 602. There also were pressurized versions of the latter airplanes, and the final product, the Aerostar 700P, was offered by Piper in 1984. Only 25 were built, but the airplane was a screamer. It could true at more than 300 mph at FL250, meanwhile burning 44 gph.  
Piper also introduced the six-seat Seneca twin in 1972 and updated it to its present, turbocharged form in 1975. The Seneca was another strong seller for Piper, and production continues into the 2016 model year.  
Cessna introduced a pressurized version of its popular 210 Centurion in 1978, but the airplane was adapted to pressurization rather than designed for it. Plane & Pilot reported it was like trying to pressurize a box rather than a tube. The result was a low differential (3.35 psi) that only allowed a 10,000-foot cabin at an airplane altitude of 20,000 feet. Initial sales were good, but Cessna discontinued production of the pressurized Centurion in 1986 when the company shut down all piston products.
 
The Piper Malibu, another pressurized model, premiered in 1984 and had better luck on the high-performance retractable market. We went to Vero Beach and interviewed Piper engineer Jim Griswold at the introduction party about his world-beater, six-seat retractable. "We designed the airplane from the outset for an inflatable cabin," said Griswold, "and we're pretty happy with the results." Well, he should be. Today, the PA-46 is almost universally regarded as the ultimate piston single. More than 1,000 have been sold, and the airplane continues in production as the Piper Mirage, with an unpressurized version, the Matrix, also available.  
Plane & Pilot covered the introduction of the updated Mooneys in 1976 with the debut of the 201 and the updated, turbocharged and intercooled 231 and 252. A few years later, P&P senior editor Bill Cox set eight world FAI city-to-city speed records flying Mooney's 270-hp TLS. (These records included one from Los Angeles to Jacksonville at 300.4 mph). All those records still stand.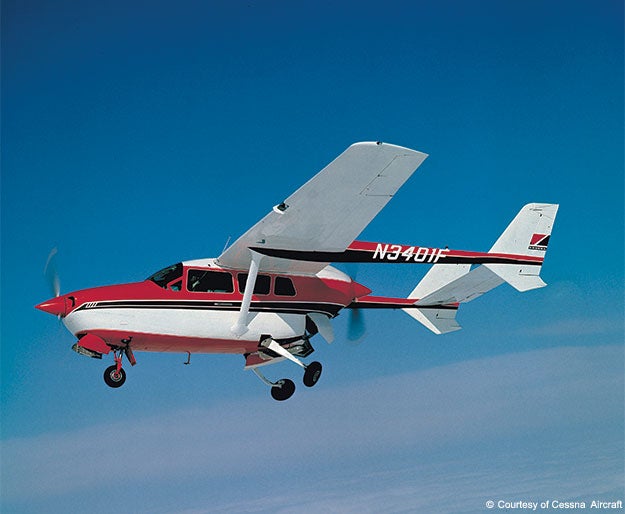 Skymaster
Aircraft manufacturing changed dramatically in the early 1990s. Designers discovered nostalgia wasn't what it used to be and began to rethink the use of all-metal construction. Composite aircraft such as Christian Dries' Austrian Diamond line and the Klapmeier brothers' Cirrus Design series offered full composite fuselages and wings that were lighter and more aerodynamically efficient than metal. The Cirrus SR-20/22 was destined to become the most popular light aircraft in the world. (P&P's Jessica Ambats was the first pilot to earn her private pilot certificate in a Cirrus SR-22.) Composites had always been a stalwart in the homebuilt aircraft industry, but the Klapmeiers were among the first to bring the construction technique to production aircraft.   
 
The light-sport aircraft (LSA) boom began in 2006, reaffirming the composite boom, and Plane & Pilot was one of the strongest boosters of LSA, probably a good thing, since more than 100 kit builders came out with new designs after the FAA laid down their guidelines. LSA present an economical alternative to production airplanes at one-quarter to one-third the price.    
P&P contributing editor Budd Davison may have more to say about the seminal innovations that commanded the editorial attention of this and other magazines in the last half-century in his "Aviation At 50" feature, also in this issue.
  
Plane & Pilot had a sequence of new editors through the '70s and '80s. Robert James was the magazine's first editor in 1965, followed by Bob Said, then a period when Don Werner edited the magazine himself. Bill Cox took over the editor's desk in 1977, and Don Werner's son, Steve, began editing the book in 1980. Today, the magazine continues to flourish under new leadership after being acquired by niche publisher Madavor Media, helmed by Editorial Director Lee Mergner and Publisher Mike McMann.
During the intervening 50 years, we've featured an impressive list of freelance contributors. Writers such as William Kershner, Ernie Gann, Bob Buck, Hugh Downs, Richard Bach and even Ray Bradbury wrote for the magazine at one time or another. 
Though Don Werner retired in the late '80s, he never stopped thinking of new ways to keep the pilot public informed. Accordingly, the elder Werner spun off a number of new magazines targeted for admirers of specific aspects of general aviation.  
These included Air Racing Quarterly, a summary of the latest developments and events in the world's fastest motorsport. Don was also the father of Homebuilt Aircraft magazine (affectionately known around the office as HAM), a monthly publication that concentrated on the homebuilt industry. In the same vein, Werner created Ultralight Aircraft magazine, directed at the folks who wanted to fly a very minimal airplane (under 254 pounds empty weight) without concern for a license or medical.  
As Plane & Pilot closes out 2015 and enters its second half-century of continuous publishing, we can't help but be optimistic about the future. If you're looking for the end of the rainbow, you have to be willing to put up with a little rain, and general aviation has had more than its share. The industry has been fighting an almost continuous market headwind for 35 years. It's about time the industry we love returned to the win column.  
 
And you can bet Plane & Pilot will still be around to cover that story.