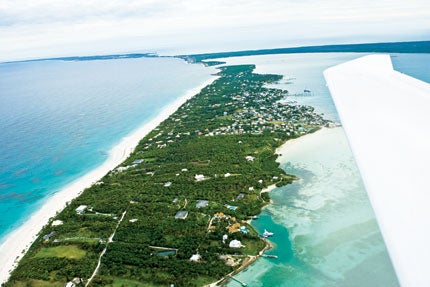 For many pilots, it's a rite of passage; for others, it's their daily work. Some are fearful at the thought of so much water below, and their first flight over an ocean becomes an adrenaline-fueled leap of faith.
Whatever the motivation, for those who've looked down at the Florida shoreline passing beneath their wings, and then looked ahead to see only water, a flight to the Out Islands of the Bahamas is beyond compare.
On the best days, the shadows of small clouds fool the eye as "cloud islands" on the sea below— false harbingers of land floating on water that change color as you head east.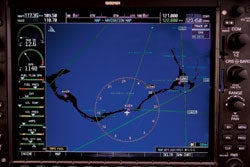 Governor's Harbour Airport (MYEM), one of three airports on the island of Eleuthera, is a popular airport of entry for Americans flying to the Out Islands from southern Florida.
No matter how slow the 'craft, the short distance between the mainland and the first islands is covered quickly. Every pilot who has cruised more than one of the Out Islands has a favorite; for many, that would be Eleuthera, which gets its name from the Greek word for freedom. It's a long and narrow expanse of sand, rocks, lush beaches and history that's 215 nm to the southeast of Fort Lauderdale, Fla. Three airports almost equally divide the island; one of the most popular is Governor's Harbour (MYEM), in the center. With an approach from the west/northwest, the 8,000-foot (and very wide) runway seems perched on the eastern shore, pretty much a necessity for an island that's barely two miles wide and 100 miles long.
Well before the plane's wheels come to rest on the expanse of concrete at Governor's Harbour (and especially for the first-time island flyer), a safe and trouble-free flight to paradise begins with planning and knowledge. The good news is that there are plenty of resources out there, and many are available free online.
---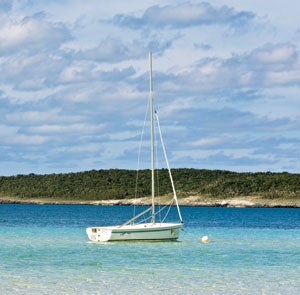 Know Before You Go!The Basics
Once you choose your destination (in this case, Eleuthera), you can determine your departure point. Your first point of landing in the Bahamas must be at an airport of entry (AOE) with Customs and Immigration. Governor's Harbour on Eleuthera is one of the more than 20 island airports classified as an AOE.
Obvious choices for departing for the Bahamas are St. Lucie County International Airport (FPR) in Fort Pierce, Fla., and Fort Lauderdale Executive Airport (FXE). FBOs at both airports have the required forms for entry into and departure from the Bahamas, but your best bet is to use one of the links provided in the "Resources" sidebar to preprint the forms and fill them out in advance. Place everything in a folder, which travels with you, and have a passport for each passenger and crewmember, and you'll be set.
Be aware that the United States is instituting new border-crossing and arrival-notice requirements for private aircraft crew and passengers as of May 19, 2009. Under the new Electronic Advance Passenger Information System (eAPIS), you're required to notify Customs and Border Protection (CBP) no less than 60 minutes prior to crossing the border as you leave and return, and you'll be required to supply information on your passengers to verify that no one is on the "No Fly List." You can comply via telephone or the CBP website, and you can file the information for both departure and return at the same time. A handy tutorial on how to do this is available at the CBP website (see "Resources")
Tips For Making Your Flight To The Bahamas Easier
1. Use online planning resources to download and fill out required forms.
2. Buy a copy of the current Bahamas & Caribbean Pilot's Guide!you'll use it.
3. Use the services of an FBO at Fort Pierce or Fort Lauderdale to take care of your needs for the required over-water equipment and any last-minute paperwork.
4. Plan your departure from south Florida so that you arrive at your destination airport no later than
4 p.m.
5. Relax!if you followed tips 1 through 4, then you can just enjoy the flight and your stay.
---
The Flight
Using an average groundspeed of 120 knots and a heading of 190 degrees, a direct flight from Fort Pierce to Governor's Harbour will take you almost directly over Grand Bahama International (MYGF) at Freeport, and you'll be crossing the island about 53 minutes after takeoff. From there, it'll take you 1:15 to cover the 149 nm to Governor's Harbour (total flight time, 2:08). For flight following, you'll get a handoff from the tower at Fort Pierce to Miami Center and then Freeport, and then self-announce with position reports on CTAF at Governor's Harbour.
On your way into Governor's Harbour, you'll get a good look at the airport at North Eleuthera (MYEH), a stopping point for those on their way to the nearby three-mile-long Harbour Island, a celebrity playground with a pink-sand beach. Land there and tie down next to a Gulfstream, and it's a taxi ride to the water ferry that'll take you to oceanfront resorts.
VFR at night isn't permitted in the Bahamas (many of the airports don't have lights), so arrivals must occur before sundown to avoid a lot of unpleasant paperwork. Also, plan to arrive at least 30 minutes before Customs and Immigration close to avoid hefty fees for keeping the staff beyond normal hours. Once you arrive at your AOE, you'll remove your luggage and proceed directly to Customs and Immigration to check in for your stay. This is where having your paperwork done in advance will pay off.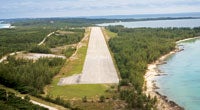 At the Out Islands there are no ramp fees, and no landing fees for singles. Twins are charged a landing fee of $8. If you have everything in order, you can expect to pass through Customs and Immigration in a matter of minutes. Just be sure you declare what you're bringing to the island: If you keep the total value under $100 per person, then there are no duties to be paid as you enter the country.
Rental cars are available at almost all airports of entry. The fleet may not be brand-new, and you easily can pay $75 a day, but unless you plan to spend all of your time at a resort, you'll need a car to explore the island. Lodging near Governor's Harbour can vary from camping to resorts like the recently built Pineapple Fields, where very comfortable accommodations range from $210 to $420 nightly.
A two-minute walk across the road from Pineapple Fields takes you to Tippy's Bar & Restaurant, an open-air beachfront hangout that The New York Times called, "the center of the Island's social whirl." Its wooden veranda is built from the timbers of an old dock and rests right on the water, so it's a great place to kick back and remember why you did all of that planning in the first place.
---
Cruising The Out Islands
Now that you've tasted over-water flight, inter-island flying is far less daunting, and it's a simple matter to pick up a cruising permit (Form C7A) at the Immigration office and head for a day trip to nearby Cat Island, or make the 25-minute flight westbound to have lunch on Norman's Cay, an island that once was a smuggler's transshipment port during the heyday of the Colombian cocaine cartels back in the late 1970s and early 1980s. Norman's boasts two guesthouses with units on one of the most stunning beaches in the Bahamas. It's also the home of the famous McDuff's Bar & Grill. The airport at Norman's is sufficient for singles and most twins, but you'll want to keep it straight upon touchdown. In the years since coke-laden DC-3s landed there, the trees along the edge have grown to such height as to considerably "narrow" the 3,000-foot runway.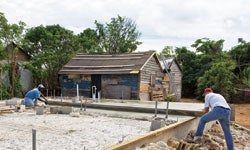 Returning Home
When it's time to head back to the States, you must depart from an AOE, and after a quick review of your paperwork and a departure fee of $15 per passenger, you're almost on your way. Now is the critical time to let the important folks back in the States know that you're coming. Again, be sure to check the new notification rules and remember the basics: You must file an international flight plan and you must contact U.S.
Customs to let them know when you'll be arriving. They advise that you plan your departure to guarantee that you'll be there within 15 minutes of when you're expected. Don't count on Flight Service to notify U.S. Customs—that's your responsibility. Do so by phone up to 24 hours (and no later than 60 minutes) in advance.
When you touch down back at Fort Pierce or Fort Lauderdale, taxi directly to the Customs holding area (right in front of the building and marked with a yellow outline). You're expected to remove all of your belongings and take them inside (there are luggage carts available). You may or may not have an escort, so go directly through the well-marked door, have your passport and paperwork handy, and be sure to declare anything you bought in the Bahamas (make sure you smoke those Cuban cigars before you head home). After you've satisfied Customs that you've filled in all of the pertinent blanks on the arrival documents, they may request to examine your luggage. Then, they'll welcome you home.
With your tanks filled, you'll be on your way home. If you're like most pilots logging flights over the waters between Florida and the Bahamas for the first time, you'll wonder why you didn't make that leap of faith earlier and when you can return.
---
Bahamas Habitat: Doing Good!And Enjoying Paradise
www.bahamashabitat.org
Since 2006, a nonprofit organization run by several U.S.-based pilots has been organizing a most unusual fly out to Governor's Harbour in Eleuthera. Known as Bahamas Habitat, it's the brainchild of John Armstrong of Premier Aircraft Sales (www.flypas.com) and Steve Merritt of the NC Division of Aviation (www.ncdot.org/Transit/ aviation). The four-day trip consists of one day spent flying to the island, one day of service, one day exploring paradise and the last day spent leaving the island.
The experience has proven to be a great way for fledgling over-water pilots to learn the ropes under the tutelage of more experienced aviators; it's comforting to have an "old salt" in the right seat. This is a trouble-free first over-water trip for the new pilots, a number of whom have elected to return on their own.
The organization does all of the planning, and the pilots gather at either Fort Lauderdale or Fort Pierce for a review of paperwork and the judicious loading of the tools and supplies they'll need for their work on distressed homes in Governor's Harbour. They make good use of the useful load of each airplane for the flight. By allocating the cargo amongst the passengers to avoid excessive duties upon arrival, the group has been able to ferry much-needed supplies and equipment to Camp Symonette, the church-based facility where pilots and passengers stay during the trip.
On the evening of their arrival at the camp, pilots' work assignments are handed out after a group dinner, and the following day is spent replacing roofs, pouring foundations or painting the homes of people in need. The result isn't simply that good works are done, but that the people see private pilots in a completely new and positive way.
Day two is just for fun, and a payback for the sore muscles earned on day one. It's a day to explore the incredible beaches and tiny "downtown" of Governor's Harbour or make the short flight to North Eleuthera to visit Harbour Island. It's a testament to the success of Bahamas Habitat that a number of participants return every time the fly out is scheduled, and that lasting friendships have been created, born of shared travel, shared hard work and shared fun.