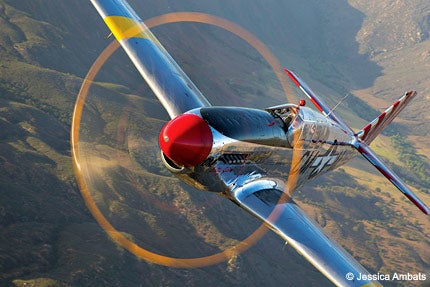 The Collings Foundation aircraft collection includes a North American P-51C Mustang and a Consolidated B-24J Liberator.
You can feel the history in these aircraft just by walking up to them. A B-24 Liberator sits just feet away from me, and already I can smell the heady aroma that all warbirds share. It's a mixture of fuel, oil, hydraulic fluids and the peculiar essence that only seven decades of flying impart on a machine. But, far from being a museum piece, this B-24 is going to fly today. In fact, just beyond the twin tail of the so-ugly-it's-beautiful liberator is the icon of World War II: the majestic B-17 Flying Fortress bomber, itself flanked by a gleaming P-51C Mustang. They all belong to the Collings Foundation (www.collingsfoundation.org).
Each year, in 110 cities across the nation, a caravan of these warbirds starts in Florida and follows the warmth and sun through the rest of the United States, offering rides and teaching regular folk about what it was really like during that granddaddy of all wars. The Collings Foundation is a nonprofit educational foundation that tours these aircraft as part of their "Living History" initiative. They enable Americans to learn more about their heritage through seeing, touching and experiencing these grand machines. We were in Ontario, Calif., hitching a ride to Long Beach for one of the warbirds' stops along their "Wings of Freedom" tour, the focus of the foundation since 1989.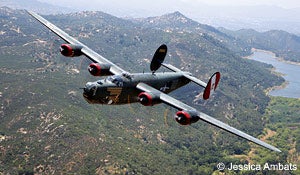 The goal of the foundation, which began in 1979, is to honor the sacrifices made by our veterans and to allow the younger generations to see firsthand how their freedoms today were made possible by the courage and sacrifices of those who came before them. The foundation encourages people to tour the planes, talk to the veterans who come to visit the aircraft and participate by paying for a ride (the Collings Foundation calls it a "flight experience"). The funds collected go right back into the foundation, allowing these beasts to be maintained and flown with an impeccable safety record. In 25 years, the tour has made more than 2,378 visits to airports across the United States and Alaska.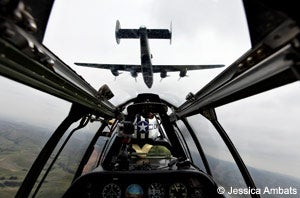 Nothing prepares you for flying in one of these behemoths. While the P-51 is nimble and fast, the bombers are lumbering giants, looking anachronistic in their olive drab paint and wartime appointments (like waist guns). But, these are the real deal, not some Hollywood reproduction. One can't help but think about those legions of fresh-faced 19 year olds from towns across America, saddling up to these machines for war, not knowing if they'd come back. It's chilling to think of those who didn't. And the sounds of these aircraft in all their radial glory is like a time machine, transporting you back to 1942.
The first thing that strikes you is the noise. Those four 1,200 hp round engines create a roar that's hard to forget and shakes you to your core. The aircraft are Spartan; they're pretty much just as they rolled off the assembly line all those years ago. They had little in the way of comfort, and their austere nature is a brutal reminder of what it must have been like to ride them into war. Once airborne—which seems like slow motion—the roar is replaced by cold. Even at 3,000 feet on a California spring day, it was cold. The wind whips into your every pore, leaving you in wonder as to how these crews flew for hours at 10,000 to 15,000 feet. There isn't a jacket made that will keep you from freezing.
---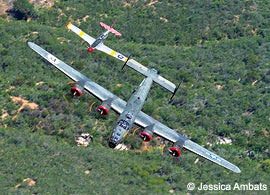 A rare sight: the only dual-control TP-51C Mustang and the only restored flying B-24J Liberator together over California.
Standing in the bomb bay, with its 10-inch-wide catwalk, my thoughts turned to who gets the privilege of flying these aircraft. Mac McCauley is at the helm of the B-17. "Every day I get in it, I think about those kids," he says, "and how they hung onto this thing for 10 or 12 hours in the cold." A pilot since he was a kid, McCauley owns and flies a Stearman biplane and came up through the ranks because of his experience with radial-engined birds. He met the Collings Foundation folks at an air show 16 years ago, and has been flying the B-17 ever since. McCauley is a legend in his own right, having more than 5,000 hours in this bird—the most time of any B-17 pilot in history. Though McCauley is a seasoned pro, he's still too young to have fought during World War II. Most people forget that even an 18-year-old pilot flying at the end of the war would be about 88 today. Most veteran B-17 pilots are well into their 90s and beyond. And, their numbers are dwindling.
"The B-17 is a very stable, nice-flying airplane," McCauley answers when asked about flying this piece of history. "But, it's so big that it's like driving a cement truck on a go-cart track," he laughs. He explains that the bomber is heavy on the controls because all the linkages are mechanical. There are no hydraulics to assist the pilot. "It's all cables, so it's slow on the controls." And, the trickiest part of flying the B-17? "It doesn't like crosswinds. You have this huge mass that wants to swap ends with you all the time." McCauley adds that there are three other pilots that fly the iconic bomber, though he spends some 300 days touring with the airplane as a volunteer pilot. "I realize how lucky I am," says McCauley, "and it is an honor to fly it."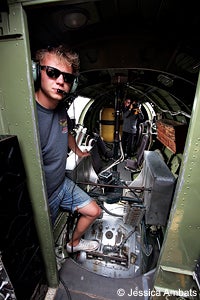 Jim Harley is the Chief Pilot for the Collings Foundation, so he's the only pilot who's in the enviable spot of getting paid to fly these dream airplanes. A self-described "airport bum," Harley started with Collings after answering an ad for a position doing logistics for the group. His grandfather was a pilot, and he grew up around airplanes. "My dream airplane was the Mustang," says Harley. "I saw Bob Hoover perform in it, and I fell in love with the sounds and the looks of it." Harley bought himself a couple of hours in Crazy Horse, the two-seat P-51 owned by Stallion 51 in Florida, then went to work for Warbird Adventures giving rides in T-6s and eventually graduating to Mustangs. Then, he began volunteering for the Collings Foundation and today flies all of their aircraft as Chief Pilot.
"There is not a day that I don't pinch myself," says Harley. "I have people all the time tell me how lucky I am doing what I do, and I know it!" Harley says that pilots with extensive time in round-engine aircraft are chosen mainly from the warbird community. Potential pilots must have significant tailwheel time, undergo background checks and meet insurance requirements. "It's funny, but qualified pilots are few and far between," he adds. "This is old-school flying, and few people are doing that anymore."
Meanwhile, volunteer pilots like Mark Murphy are fulfilling their flying dreams, as well. While his "day job" is running a commercial real estate company, Murphy volunteers as much time as he can spare as a Mustang pilot for the Collings Foundation. "Flying the P-51 is a passion and an honor," explains Murphy. "And just thinking about what I do makes me smile." Last year Murphy amassed about 100 hours a year flying Mustangs for Collings and in air shows. Murphy's favorite part of flying for the foundation is the interaction with veterans. The Collings' P-51C is the only one of its kind with a complete set of dual controls in the back cockpit. "Flying veterans is the best part of all of this," says Murphy. "Every one of them gets out and says, 'This is the best thing I've ever done.'"
Nine O Nine, a Boeing B-17G Flying Fortress, is one of only 10 B-17s still flying in the country.