Manufacturers' displays of new aircraft models are hardly novel at Sebring's U.S. Sport Aviation Expo, but showcasing a new aircraft facility as Tecnam did this year, hosting an open house at its new U.S. headquarters at the airport, is a first. This, even as the Italian OEM celebrated the Expo debut of its fast, flashy and flexible two-place low-wing LSA, the Astore. Shannon Yeager, Tecnam's sales director, briefed me on both developments at the facility during the January gathering, prior to a demo flight in this latest Tecnam.
"This is owned by the Italian factory. It's an investment to say, we're here, we're not depending on someone else," Yeager said, as Expo attendees strolled through the 21,000-sq. ft. Tecnam U.S. hangar and office complex, established in February 2014. A handful of Tecnam models were arrayed in the hangar auto showroom-style. "People want to know when they invest in an aircraft, especially if it's been manufactured outside the U.S., can they get replacement parts?" Yeager continued. "If you were to look underneath that big black tarp up there…," he pointed to a raised storage area at the back of the hangar, "…you'd see a little over $2.5 million in parts. I'll have it for you in 24 hours."
The Astore (rhymes with what happens when the moon hits your eye in the Dean Martin song) was parked just inside the hangar's wide opened roll doors. The aircraft is designed for pilots looking for both a responsive aircraft they can have fun flying, and a capable and comfortable cross-country touring machine—LSA or otherwise. In fact, lots of talk at Expo this year centered on what would happen to LSAs if the third class medical was abolished, removing the threat to many pilots of losing their medical certification, one of the driving factors behind the creation and success of the LSA category.
"From Tecnam's perspective, this fits into our line of airplanes, because we have a family concept," Yeager explains. "We have a four-place certified aircraft, four-place certified twin aircraft, we have LSAs, and we really don't care what happens to the third class medical and the LSA in the U.S. Why? Because this aircraft is a relevant, two-person private aircraft as it sits. Whether it's an LSA, or whether it's certified doesn't matter.
"People are looking at this as a traveling airplane, and they're looking at it as a lifestyle airplane," Yeager said, during the walkaround after we had pulled the Astore out to the apron. "Yes, it is a whole lot of fun to yank it around, but you're going to go beyond your own patch with this. You're going to see the Caribbean, you're going to go to Alaska, you're going to fly this airplane. That's what it's all about."
Lots of emphasis has gone into making the aircraft stylish and inviting, Yeager said. "We're trying to get the folks to feel very comfortable as they come to the aircraft, especially non-pilot friends. If we want to fly more, who do we have to convince? Our non-flying friends to come with us. It's a whole lot much more fun to go flying with people."
---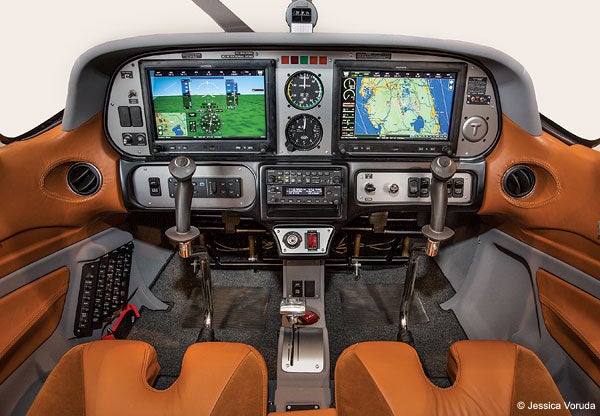 Several avionics options are available, including the dual Garmin G3X Touch displays. The premium interior package features leather seats with suede accents, and a 12-volt power outlet and USB charger built into the console.
N837TA is outfitted with the premium interior package, which includes supple leather seats and suede wrap accents. Thoughtful standard touches include the 12-volt power outlet and USB charger built into the console.
The Astore offers three Rotax engine options: the 100 hp carbureted 912ULS2 and injected 912iS2, and the 115 hp, turbocharged 914UL2 (which will be standard in the U.S.), but this is the first turbo in the U.S. The 100 hp engines are matched to wood core, two-blade, fixed pitch prop, with a ground-adjustable two-blade prop is available as an option. The turbo 914UL2 is matched with a composite three-blade, ground-adjustable Sensenich propeller.

Lots of emphasis has gone into making the aircraft stylish and inviting, Yeager said.

The butterfly cowl bonnets provide good visual access to the engine for inspecting exhaust connections and, on the starboard side, the turbocharger, and checking the water level in the coolant reservoir. The Rotax 914 is both water and air cooled, the cylinder top heads cooled by water, and as their finned exterior indicates, the cylinders by air. Two independent engine control units, responsible for timing and sparking the ignition, are on the starboard side of the engine compartment. Sensors atop the engine feed the controllers data on ambient conditions ,and the controllers advance and retreat timing accordingly. An auxiliary 30 amp alternator is available as an option. The standard 20 amp alternator is more than adequate to handle the draw a fully tricked out aircraft uses—about 12 amps. The aux alt is strictly for redundancy.
A number of avionics packages are available. N837TA is equipped with dual Garmin G3X Touch displays, a popular choice. Whatever glass suite you choose, you can use the external power receptacle on the starboard side not only for a boosted engine start if needed, but to practice operating your avionics, Yeager notes, hooked to an external power source.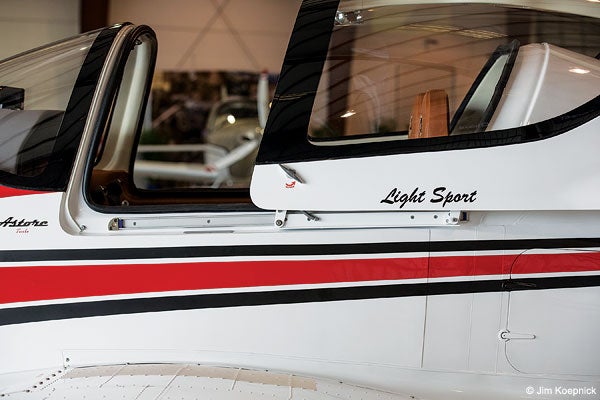 Pilots can keep the sliding canopy open when taxiing, but must close it for takeoff and in flight.
The voluminous (11.6-cu. ft.) baggage area will fit just about anything you'd want to take along (77-pound max load), whether camping or simply traveling cross country. A baggage door on the port side provides direct access, and the seats have about two feet of forward and aft travel, so they can be moved up and bent forward to ease loading from the front. An optional seat folding system enables the seats to lie flat, providing unimpeded access to the stowage area.
For cabin entry, step onto the front of the wing—there's a step for assistance— and pivot abeam the seat. With the seats in their full aft position, you can step onto flat flooring, providing a steadier platform and keeping the seats clean.
---
The Astore has a
POH
, of course, but also comes equipped with an iPad Mini with a ePOH specific to the aircraft, enabling instant weight and balance calculations and fuel tracking, and via an additional app, display of a six-pack analog gauge panel suitable for back-up instrumentation.

The voluminous baggage area will fit just about anything… whether camping or simply traveling cross-country.

To turn on the airplane, engage the master and wait for the Garmin to come up, then it's standard Rotax: fuel pump on and turn the key. Be prepared to use choke on the first flight of the day. With avionics master and strobes on, and headset donned, you're ready to taxi. The sliding canopy can be kept open on the ground, but closed for takeoff and in flight. The castering nosewheel turns 90 degrees in either direction, controlled by differential braking.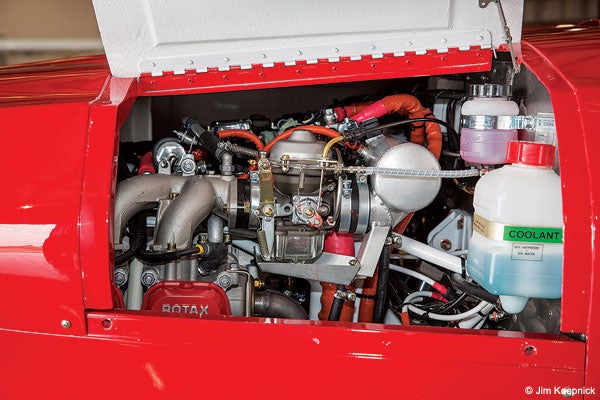 Three Rotax engine options are offered: 100 hp carbureted 912ULS2, 100 hp injected 912iS2 and the 155 hp turbocharged 914UL2 (depicted here).
Advancing the throttle to full power, you can hear and feel the surge of the turbocharger kicking in. Takeoffs and landings can be performed with any flap setting, and we used none to prove the point, and still got in the air smartly with tanks three-quarters full. (With flaps, ground roll is just over 700 feet.) Our initial climb rate registered about 1,200 fpm. That performance begs the question: How does the 115 hp Astore manage to stay within the LSA's 120-knot speed limit? Yeager notes that the ground adjustable fixed pitch prop—which can be set for either best climb or cruise performance—provides some of the answer.
"When it leaves the factory, I will tell you we are a 120-knot airplane at maximum continuous power," Yeager says. "We set the prop specifically for that. Whatever the customer does from there!" Yeager lets his words trail off.
The ground adjustment requires removing the nose cone, loosening the bolts attaching the blades to the hub, resetting the pitch stop and re-torqueing the bolts. Some pilots may adjust the propeller once or twice a year as seasonal conditions change—the climb setting in the summer months when density altitudes challenge takeoff and climb, and a cruise setting in the winter months. Others may adjust never or once for their personal performance preference or operating environment. "We're set up a little more for climb; with the 914 engine, you could go a little faster," Yeager admits. "I have to deliver an ASTM-compliant airplane."
Indeed, in Europe, this same airplane, equipped with a constant speed propeller and not bound by ASTM rules, "does close to 140 knots," Yeager said.
---
Our plan was to fly to Wauchula, 29 nm west, for some touch-and-goes, putting the Astore through maneuvers and stalls en route, but once at altitude, we saw gathering low ceilings would keep us in the Sebring area. So after doing airwork that demonstrated the Astore's responsive maneuverability and docile handing, we just tooled around comfortably in that big sucker hole as if on one of those relaxed cross-country missions the plane was designed to fly. (One maneuver, a wingover, showcased the effectiveness of the ailerons at even the slowest of airspeeds.)
"If you want to live the aviation lifestyle, this is the way to do it," Yeager said. "You have the fantastic view of the bubble canopy, great maneuverability, and the Rotax engine means you're going to fly out of Flagstaff the same way you fly it out of Florida. You've got the ability to go everywhere with it." He brings up the fact that the Tecnam factory is based on a grass strip—actually "a field of big potholes with green patches—and every one of these aircraft lands and takes off from there several times before leaving factory," noting that," in most places in the world, they are not operated on pavement. That's why we have oleo struts [on the nosewheel], and why we have metal landing gear with metal brake lines. My wife and I have done five days of dry camping with this aircraft," he adds.

If you want to live the aviation lifestyle, this is the way to do it!.You've got the ability to go everywhere with it.

Yeager, who has a Ph.D. in biochemistry, came to aviation by way of work in computer hardware and software engineering. He learned to fly to service clients of his network support services company, which he grew and eventually sold, having accumulated some 9,000 Part 91 flying hours along the way, operating a fleet of piston singles and twins. But it's clear he has found a favorite in the Astore.
"I'm not going to say this airplane is the Swiss Army knife, but I really think it pleases a lot of private owners," he said, adding, "And do you think your significant other would mind getting in this thing?" Three dozen Astore have been bought so far. Meanwhile, Tecnam's growth continues.
"We'll be focusing this year on both increasing our sales network and our dedicated Tecnam service centers," Yeager said. "So you'll be able to go to people with airframe-specific training that we will offer right here in Sebring, free of charge, as long as the mechanics come to us."
But he's also eager to have potential Astore customers visit Sebring. "If you think you're interested, I will pay for you to get on a commercial airliner to come fly the airplane—especially if you're considering another aircraft," he said. "Ten percent down is all you need," he said. "Don't pay another dime until I bring it here." Prices, based on the avionics package selected and equipped with the 912ULS, range from $147,000 to $176,000. The 914 adds about $25,000 to the price. Delivery time is four months. Yeager adds, "I will be calling you up and saying, come on down and take a look."