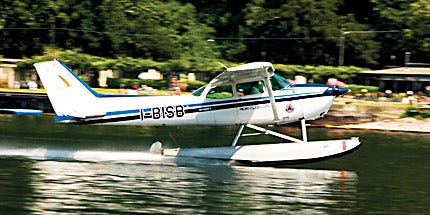 For many pilots, attaining a seaplane rating is near the top of their must-do list. Runways are rendered obsolete when you've got a seaplane; just head for the nearest lake or river. Fortunately, there are an abundance of schools worldwide that offer courses in water flying, but few are quite as unique as Italy's Aero Club Como."
Pilots come from all over the world to learn here," says the club's president, Cesare Baj. Lake Como is among the most beautiful places on earth, and seaplanes have been operating there continuously since 1913. "Courses in the United States and courses here at Lake Como all have the same goal," Baj says. "We will all teach you how to fly seaplanes safely." Aero Club Como not only teaches you how to fly floats (where a normal-category aircraft, like a Cessna or a Cub, is fitted with floating pontoons on each side), but also offers training for flying boats (where the aircraft fuselage also functions as the boat's hull—no floats required). There's one major difference between the nonprofit club and other flight schools: historic Aero Club Como is the only place in the world where you can rent a flying boat and fly it solo.
Students come to Como with all levels of experience—there are zero timers and 20,000-hour airline captains. Most come with at least a private-pilot license, but the club trains a fair number of students who have never flown an airplane and want to begin their experiences on the water.
Typically, rated pilots can expect their float training to begin in a Cessna 172, although the club is happy to upgrade to its 180 hp Super Cub. The actual flying part of training begins immediately. Students start by learning different ways to taxi the airplane and how to use the water rudders on the end of the floats to provide directional control on the water's surface. The Skyhawk you've been used to flying suddenly becomes part plane, part power boat and, with the engine off, part sailboat. Of course, there aren't any brakes when you're flying on floats, which makes docking or landing on the beach something of a new frontier.
A good deal of time in float training is devoted to the relatively new experiences of landing and taking off on water.
"Learning to read the water conditions is a very important part of learning to fly seaplanes," explains Baj. Some days the water can be choppy from the wind or crisscrossed with wakes from boats that share the lake. Contrary to what you might think, the most challenging conditions can occur when the water is mirror flat. Glassy water can make it difficult for a pilot to judge when to start the landing flare. Several accidents have occurred because pilots think that there's plenty of room between the water and the bottom of the airplane—and there isn't. Consequently, glassy water landings are an integral part of the curriculum. "We teach pilots that if they even think the situation may require a glassy water landing technique, do it," Baj says.
Learning to fly floats also comes with a requisite dose of groundschool. Students are expected to know the float parts (see illustration), differences in cross-country planning, mooring techniques, how to plunge water from the floats (they all leak) and more. Aero Club Como's seaplane class includes a good amount of one-on-one time with an instructor. Additionally, the club maintains one of the world's greatest repositories of seaplane books and information.
---
"We like to have students come to us with a week set aside for their seaplane rating," Baj says. While the required training time is unique for every individual, the typical course calls for about seven hours flying time. But most pilots enjoy a leisurely pace with an extra day or two thrown in to allow for weather or extra training. Non-flying spouses or family members can take advantage of Lake Como's myriad historical villas, castles, museums and nearby destinations like Milan and Venice. The club has dorm-style accommodations for more budget-conscious students.
Baj and his team also offer an advanced course using the Lake Renegade flying boat. You should plan on two to three weeks to work through the program, and expect to see a good amount of Italy. Students and instructors often take the airplane cross-country.
If you haven't yet tackled flight instruction, Aero Club Como will accept you as a zero-time student and get you a pilot's license plus a seaplane rating simultaneously. The exact amount of training time required is difficult to gauge, but plan on at least eight weeks.
Of course, seasoned seaplane pilots are welcome as well. Depending on your experience, pilots can do as little as a standard seaplane checkout before they're good to go. The club's fleet consists of Cessna 172s, a Super Cub, a Maule and the 250 hp Lake Renegade. Aero Club Como will even offer a free "safety pilot,"someone with plenty of float experience as well as local knowledge to make exploring the region pain-free.
Last but not least, there's the solo floatplane flight. "At first we'll check you out to visit other locations up and down the lake. There are a lot of great places to see," says Baj. Lake Como is 30 miles long and features the original Bellagio, dozens of small villages (some of which date back to the time of Julius Caesar) and a variety of architectural masterpieces (including actor George Clooney's villa). Eventually pilots can earn the ability to fly the airplane away from the lake to other destinations, including pristine lakes in the Alps (Lake Como is at the base of the Alps in northern Italy) or to nearby Milan and eventually the Mediterranean and Europe. No other seaplane training schools can offer all that.
For additional information on Aero Club Como, visit their Website at www.aeroclubcomo.com, or call +39-031-574495. E-mail any questions to [email protected].