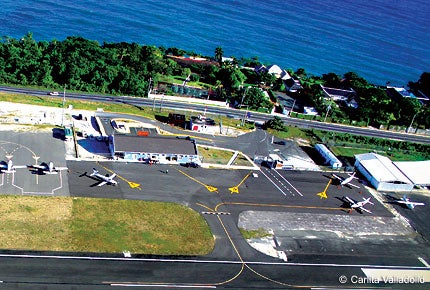 Eight TBMs sit on the ramp at Ian Fleming International, named after the James Bond author who called Jamaica home. The airport was officially opened for international arrivals in 2010. The first pilot to land there was none other than songster Jimmy Buffet.
When more than 500 of the same type of airplane are sold, it stands to reason that some of these aircraft owners are going to meet and get to know one another. There's even an excellent chance these people will eventually have meals together, share drinks together, maybe a round of golf, and ultimately even fly places for no other reason than to have fun together. Such was the case with the Socata TBM Owners and Pilots Association (TBMOPA) on their recent trip to Jamaica.
"We have 10 aircraft over Cuba right now," said Air Journey president Thierry Pouille, who was tracking the gaggle of aircraft on his iPad. His company arranges trips allowing pilots to fly their own airplanes on aviation adventures all over the world. "They should start arriving in about 15 minutes." The approach into runway 9 requires some skimming over a hilltop, and then full flaps and nose down for a slam-dunk arrival to hit the numbers.
And, like clockwork, the flight of $3 million+ French-made, single-engine turboprops entered an extended base leg before turning final on runway 9 at Jamaica's shiny new Ian Fleming International Airport, named after the British writer who created the James Bond series. The airport had recently undergone a massive makeover in transition from a simple local Jamaican aerodrome to an international destination airport.
"Pilots enjoy coming here as opposed to the busier airports like Kingston and Montego Bay," said airport manager Claude Service. The airport is designed to make Jamaica arrivals a cinch. "Fuel, customs—it's all right here. When people find out about Ian Fleming, they want to try us out," Service continued. Songster and tropical troubadour Jimmy Buffet landed on the new runway before the paint was dry.
Former Cessna sovereign Jack Pelton and his wife Rose stepped down the air stairs after their very first TBM experience. "This is an amazing airplane," he said with a big smile.
The TBMOPA group, flying both original TBM 700s and the newer 850, departed southeast Florida and spent slightly more than two hours en route, turning in typical groundspeeds right at 300 KTAS. If that seems like a whole lot of knots, it should; the Pratt & Whitney-powered TBM is the fastest of all the single-engine turboprops.
"The TBM is all about speed," says owner and pilot Butch Stevens. He migrated from a career in NASCAR to flying the big turbine more than a dozen years ago. As he had done in his previous life, Stevens immediately set out to get more speed out of his airplane. He removed the radar pod (gained nine knots), and had his engine race-car-tuned on a dynamometer. His TBM 700 is now as fast, if not faster, than a new TBM 850, despite the latter having a 150 horsepower advantage.
---
Businessman John Springthorpe takes advantage of the TBM's speed in his business. "I can go to our office in Mobile and be home for dinner—I beat the airlines," Springthorpe said with a smile. "Before I bought my TBM, I flew the Meridian and I flew the PC-12, but the TBM just felt right. For me, this is the perfect plane."
"It's the only airplane I'll ever buy from now on," said Steve Walenz, TBMOPA president. "I had a Baron first, but then I sold my business in 2007. Within 30 days, I had my first TBM. Later, I sold that one and even made money on the deal," a testament to the French's airplane's strong aftermarket values.
"When you look at the Blue Book values, you'll see that the very first TBM sold is reselling for about what it sold for new in 1990," Walenz said. "You don't get that kind of market staying power with every airplane."
"These are the consummate TBM owners," Mike Sarsafield, a TBM sales representative who accompanied the group on their Jamaica adventure, said. "This airplane is very heavily owner flown. Our owners transition from planes like the Cirrus SR22, or they are repeat customers."
The upgrade from a piston-engine general aviation aircraft to the TBM isn't a bridge too far. Sarsafield says that new TBM owners who are slight on turbine experience will likely get to spend some time flying with a mentor pilot in the right seat. As part of the package when you buy a new TBM, Socata includes the complete transition training.
"That plus the experience with the mentor pilot works out real well for most guys," Butch Stevens nods.
Other than speed, pilots also are attracted to the TBM's range (the 850 has a range of just over 1,500 nm with reserves) and how well the aircraft is built. "It's not unusual to have zero squawks in between 100-hour inspections," added Sarsafield.
---
"Yeah, I love how well the TBM is made," said TBMOPA pilot Barry O'Neill. He owned 14 different airplanes before he ended up in a new 850 with Garmin glass. "Folks hear what a new TBM costs, and right away, they think, 'Hey, I can buy a used jet for that amount of money.' They are right, of course, but they're not considering the difference in operating expenses. I may get there 15 minutes after the jet, but for half the cost in my turboprop."
But the airplane talk soon faded as the group transferred to the Sandals Royal Plantation Resort in nearby Ocho Rios, Jamaica. Now it was time to choose between the various activities available, like scuba diving, sailing, tennis, kayaking, windsurfing, and on and on. There are several fun attractions within a short cab ride from the hotel, like Dolphin Cove, where you can swim and perform along with 16 trained dolphins, or the iconic Jamaican attraction—the majestic Dunns River Falls.
While the others found some fun to fill their hours, Jack Pelton explored the island from the left seat of a Cessna 206. Captain Errol Stewart, who runs the Caribbean Aviation Training Center in Kingston, Jamaica, sent over a G1000-equipped Stationair to pick up Pelton and give him a bird's-eye tour of the lush island. The flight school is surprisingly busy, flying 70-80 hours of dual a month on the comparatively tiny island nation, where avgas is already $8 gallon. A solid number of CATC graduates are now flying for airlines around the world.
Cuban Overflight
For any number of reasons, American pilots are skittish about entering Cuban airspace. Perhaps it's because Cuba is a communist country. Perhaps it's because of the incident where Cuban MiG-29s shot down two Cessna Skymasters belonging to Brothers to the Rescue. Regardless, the truth is that dozens of American aircraft, including most U.S. airlines, cross back and forth over Cuba every day. In effect, all you have to do ask permission first.
A Cuban Overflight Permit is all that's required, and it's surprisingly easy to get. All requests, made at least 48 hours in advance, must include the following information:

• Name, nationality and address of aircraft operator
• Aircraft type and registration
• Place of origin
• Routes through established Cuban airspace corridors, Maya, Giron and Nuevas
• Date of flight
• Purpose of flight
• Number of passengers
• Proof of insurance

Permission for a Cuban overflight will include a number that's entered into your international flight plan. You'll be expected to contact the Havana flight information region (FIR)/control area 10 minutes prior to airspace entry. You'll also need to be operating with a flight plan filed at least one hour prior to entering Cuban airspace, and your overflight will also require:

• An aircraft registration certificate
• Airworthiness certificate
• Licenses for all crew members
• Aircraft log books
• Onboard radio station licenses
• List of passengers showing place of embarkation and destination

Cuban Overflight Permits are requested through the Ministerio Del Transporte Area Aeronautica, Calle 23-No.64 Vedado, Plaza de la Revolución, Cuidad de La Havana 4, Cuba, or by calling +011 537 838 1126.
---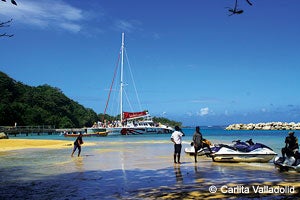 Stewart is holistic in the way that he shares aviation on Jamaica. In addition to the formal flight training, he sets up mentoring programs for kids aged eight through 18, and many of the kids become regulars around the flight school until they're old enough to get a pilot license themselves.
Pelton also got the chance to meet the first man who trained pilots on the island, Mr. Frederick Carl Barnett, a flight instructor who sat with his first student in a Piper Cub in January of 1952. Burnett and his wife Maureen (the first woman pilot to get a commercial ticket in Jamaica) still fly the family Citabria.
But for the TBMOPA type, a club is far more than just an excuse to go to Jamaica for a long weekend. The 500+ members, scattered around the world, thrive on all things TBM. For example the group has a very active online forum (www.tbmowners.org) where members discuss recent icing encounters, equipment overhauls and you name it. The site serves the TBM community well.
TBMOPA also has an annual convention. This last year saw more than 80 airplanes and 400 people converge on The Broadmoor hotel in Colorado Springs. There are numerous safety presentations and seminars from OEMs like Pratt & Whitney. Spouses enjoy a "companion course" that teaches them the basics of the aircraft, like how to use the radios and even land the airplane in an emergency.
"TBM people are generally a pretty good group of people," Walenz said. "Down to earth. My wife and I met another couple and got along so well that we meet every year and fly to Costa Rica together."
But the most important role that any type club can play is in providing streamlined communications with the manufacturer. When a problem arises, the club communicates to the manufacturer, who typically is very interested in learning about the disposition of the fleet.
"We go talk to Socata and get things resolved in a timely manner," Walenz says. "An owner by himself has a lot less pull."
Walenz remembers a time when an unusual number of dead-battery problems were reported by TBMOPA members. Socata immediately went to the California-based battery manufacturer to see if there had been any changes in the manufacturing practices. In fact, there had not. The problem turned out to be that the batteries were just going dead when the aircraft weren't flown for a period of time. Socata suggested the problem could be fixed by merely disconnecting the battery when the aircraft was going to sit for a while.
---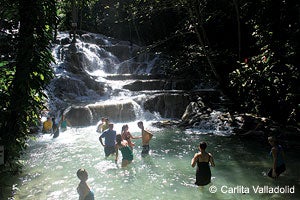 Dunns River Falls is Jamaica's most iconic waterfall. Each day, hundreds of people climb the falls, stopping to wade and swim in the deeper water.
"Turned out that wasn't all that easy to do," Walenz said, "so we, a group of more than 500 people, continued the conversation with Socata." The airframe manufacturer ultimately designed a whole new heated battery box that allowed for a quick disconnect. Problem solved.
Another time, the members of TBMOPA asked Socata to revisit a landing-gear overhaul concern. The factory called for a complete gear overhaul after seven years, which costs a juicy five-digit number to complete. TBMOPA worked with Socata to devise an interim maintenance schedule that has the effect of letting owners pay for an overhaul amortized over a handful of years as opposed to once in a very nasty annual. The factory also agreed to extend the gear-overhaul requirement to 10 years from seven, all benefits derived out of the Socata/TBMOPA relationship.
As time can do, it flew for the group of TBMOPA members and seemingly almost sooner than it began, the four-day getaway to Jamaica was coming to a close. Members exchanged their good-byes on the tarmac and talked about seeing each other soon. As part of its service, Air Journey had already filed all the group's flight plans and eAPIS for their return to the United States. One by one, the big turbine Pratts came to life.
As Jack Pelton prepared to board, one of the members yelled, "Hey Jack, so what do you think of the TBM now?" Pelton, now an honorary member of TBMOPA, and who already owns four airplanes—all made in America—looked almost sheepish as he answered, "I wish I had one!"
AIR JOURNEY
www.airjourney.com
Air Journey offers pilots of all skill levels the opportunity to fly their own airplanes to destinations around the world. All adventures have a professional journey director who handles customs, fueling, foreign flight rules and a multitude of other factors that can make anyone hesitant to fly by themselves.

"I think what made the real difference is providing a professional journey director for every trip," says Air Journey's Thierry Pouille. "Pilots tell me they're sometimes uncomfortable flying internationally because of language barriers, differences in aviation rules, customs procedures, etc. It really makes a huge difference to have someone with you who can handle all these things.
All that's left for you to do is fly your airplane and enjoy the trip."

Pouille's own wanderlust has inspired a continuing kaleidoscope of new destinations on Air Journey's manifest. For example, smaller general aviation aircraft can't fly to the Galápagos because there's no 100LL available there. Air Journey air-freighted drums of avgas to the local airport in the Galápagos, and Pouille's customers have been visiting those islands for three years in a row now. Air Journey wanted to bring its customers to visit Machu Picchu. The gateway airport in Peru, Cusco, is 10,855 feet in elevation. One of Pouille's customers was flying a TBM, the performance numbers in the manual stopped short of listing takeoff data for that elevation, and the Peruvians didn't want to let the airplane land. Pouille contacted Daher-Socata, which manufactures the TBM, and got them to calculate special information for his customer, and the Air Journey group went on to visit Machu Picchu without incident.

Air Journey also offers a concierge service for pilots who want to go by themselves as opposed to traveling with a group of other airplanes. All the required paperwork for international travel is supplied by Pouille's organization.

Trips with Air Journey range from simple long weekends in the Bahamas to 60+ day trips that circumnavigate the continent of Africa and South America. There's even an Air Journey trip that goes around the world. Yes, the entire world.