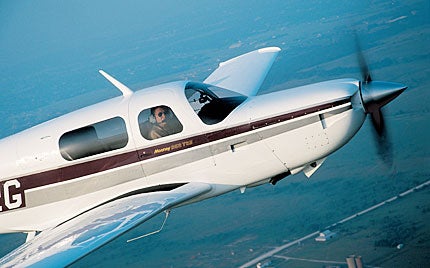 Speed is a mission in itself; in fact, speed is the essence of flying. The faster you go, the faster you go faster, or at least most of us want to. Terry Williams of Fort Worth, Texas, goes faster than the majority of us in his Mooney 252. The amazing thing is that the 252 TSE does it so frugally on 210 hp. A few other turbocharged airplanes can beat the Mooney's 201-knot cruise, but they do it with 300-plus hp and considerably more than 12.7 gph.
This Mooney is known by several names: the M-20K, the Encore and the 252 TSE. Its reputation is one of a speed demon. By the same token, Williams runs with the big dogs, and he outruns more than his fair share.
You could modestly say that Williams has a thing for the 252. "I searched for over two years for a 252 in great shape. I found this 1988 model in pristine condition. There was no question, I had to have it," recalls Williams.
Williams knows his airplanes. One of his businesses was buying and selling nearly every general aviation airplane built. He has bought and sold everything from a Cessna 150 and 172 to Piper Warriors, Senecas, Navajos and even the odd Beechcraft B36TC. When he found this Mooney, he liked it so much that he began selling off his inventory, leaving the fastest airplane he has ever flown.
Like a lot of us, Williams came to flying from something less than a straight line. He was exposed to flying as a child. His dad had a Cessna 310 that he used for business until the late '50s, and his brother got his private license through a USAF flying club. But Williams' dream didn't include piloting until much later in life. Before he got interested in flying the airplanes himself, he went to work on them. His first job out of high school was as an aircraft mechanic in the Air Force, working as a crew chief in the strict good ol' days of Strategic Air Command and the Cold War. He obtained his A&P license while working on B-52s and decided that the grass was greener on the civilian side of the fence.
---
Along the way, he went to work for Lockheed no less than three separate times. The second time, he got laid off, so he went back home to Tennessee and got a gig assembling .50-caliber M-2 machine guns for a military contract. He found that he had an affinity for unusual weapons, and sensing a business opportunity, he went to work for himself, building and specializing in automatic guns.
One day, deep inside the guts of a big machine gun, Williams became frustrated with the day-to-day drudgery of running a business. So a friend said, "The best thing you can do right now is to go fly!"
Williams decided to take his friend's suggestion to heart that very day. Within two weeks, he bought a Cessna 172 in which to get his license, and before he finished training, his hobby had grown into a business wherein he bought and sold more than 30 airplanes.
He didn't stop with a private license; he obtained an instrument ticket and a commercial single-engine land. Buying and selling airplanes like the Twin Comanche required him to get a multi-engine rating as well.
Williams' airplane business often required him to be in several different places at once, so he decided that he needed something fast. Without a second thought, the Mooney dominated his thinking. Some people are Beechcraft folks, some are Piper aficionados, and some even like the reliable Cessna. But as far as Williams is concerned, if you like speed, there's only one airplane to consider—that is the Mooney. Williams says, "It's the best airplane that was ever built."
When he was flying his Mooney 252 TSE as part of his business, his usual leg length was 600 miles or less, and for a long cross-country like that, he always flew IFR. Today, most of his flying is for fun, and he likes to do that VFR.
---
Williams says, "I usually fly it around 180 knots down low and between 200 and 210 knots at 17,500 feet. I never fly it wide open. Mostly, I like 65%—that gives me a fuel burn of 12.4 to 12.7 gph. Pretty close to book. See what I mean? Show me another airplane that can do that."
Williams adds, "The Mooney has an automatic wastegate, so you don't really have to fiddle with the engine on takeoff. Just advance the throttle smoothly, and off you go. This engine always runs cool; I never worry about it."
The Mooney 252 TSE's engine has an intercooler and is limited to 36 inches of boost. N5252G is a well-equipped airplane with a backup, always-on 70-ampere alternator and rear seats that fold flat for convenience and storage.
Williams' 252 TSE is loaded with about every bit of avionics you can imagine, from the HSI and KNS-80 RNAV system to the KFC-150 autopilot with altitude pre-select and electric trim. He explains, "It has dual alternators, a standby vacuum, a fuel totalizer and a Stormscope. I haven't put in a GPS yet; the Loran does a great job, and when I fly IFR, I still use the VORs.
"What I really like, though, is the speed brakes. The other day, I ended up over the field about 4,000 feet high. All I had to do was put out the speed brakes and make one big circle. By the time I hit downwind, I was at pattern altitude," says Williams smugly.
Maintenance problems are virtually unknown to Williams. "I fix anything that comes up. That way, I'm ahead of the game. Once I put 1,000 hours on it, I did a top overhaul; the compressions were fine, but I just wanted to be safe. The only modification I've done is put a three-bladed hot prop on it—I really like the way the three-blade looks," he justifies.
---
Williams rarely flies the Mooney over 20,000 feet. "I've got four-place oxygen, but mostly, I like the lower altitudes. Like I said, most of the flying I do these days is for fun."
Restless, Williams has started another venture. "I retired from my business enterprises and built a house and hangar at Bourland Field Airpark southwest of Fort Worth. I had a great time puttering around, but my wife still worked. After a while, I got bored and went back to work at Lockheed for the third time. Right now, I'm building foreign F-16s. It's fun and gives me something to do. I'm thinking about getting back into an aviation business as well."
Why does he keep coming back to work in aviation? He says, "You meet the greatest people. It's the best thing I've ever done. And I've always liked to go fast. In fact, my wife and I almost bought a Corsair. We had a trailer and were getting ready to pick it up when the deal fell apart. So if I can't have a Corsair, then the 252 is the next best thing!"
SPECS: 1988 Mooney 252 TSE