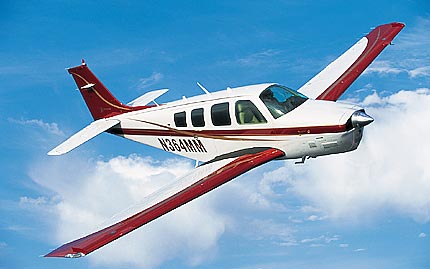 Here at Plane & Pilot, we wanted an airplane that had performance for weekday business missions and economy for fun on the weekends. The missions radiate out to a typical 200 to 700 miles from our Los Angeles-area base to Portland, Seattle, Denver or Texas. Such flights demand speed—but not so much as to destroy a budget—and the ability to carry fuel for up to four hours with a load of three or four people and baggage. For business trips, we were looking at two engines or a high-performance single-engine airplane. For "dispatch reliability" (the expectation that the airplane won't often be down for maintenance) and weekend economy, we also wanted a plane that wouldn't require a lot of fuel or repair.
The next thing to consider was insurance. For many pilots, the insurance industry will dictate which airplanes you can consider; you'll need insurance-mandated experience to fly particular types of airplanes. You'll also pay more (sometimes much more) to insure an airplane in which you don't have significant piloting time. Policies on a twin-engine business plane usually require the additional insurance expense of annual simulator training.
Our search quickly narrowed to the big, high-performance singles—Cessna's 210 Centurion, Piper's Saratoga SP and the Beech Bonanza. The hefty Cessna met our requirements and was typically the lowest asking price of the three types. The 210 felt comfortable—after all, almost everyone has time in high-wing Cessnas. An extensive search in FBO papers like The Controller and Websites like www.aso.com, however, revealed that the 210s with the features we wanted seemed to have significant damage history. Maybe pilots are too comfortable with the 210 and don't approach it with the respect it deserves.
That left the Piper Saratoga and the Beech Bonanza. Mostly "just because," we found one that met the requirements of our mission and our ownership goals: The "right" airplane turned out to be a 1982 Beech B36TC turbocharged Bonanza.
Every Plane Is A Project Plane
If you have the funds to order an airplane brand-new from the factory, you'll be faced with lots of choices. Which avionics do you want installed? What colors do you like for the exterior? What fabrics do you want for the interior?
A used airplane is the result of somebody else's choices. In fact, most used airplanes are a conglomerate of several owners' decisions. The average high-performance airplane in the U.S. follows a three- to five-year ownership cycle. A 10-year-old airplane is usually the sum total of two or three owners' choices. The more typical 20- to 40-year-old airplane may be, in some ways, almost unrecognizable to the factory that built it.
So, finding the airplane that's perfect for you is practically impossible. You'll want to fix it up. The trick is to find an airplane that's a good candidate, and then map out a long-term strategy to make the changes and additions you want on a budget that won't force you into the downward ownership cycle.
---
Finding A Candidate
The first step is to gather information. Devotees of most airplane designs participate in so-called "type clubs" (for the type of airplane owned) that are a wealth of ownership information. What are the common mechanical problems in a specific type of airplane? Are parts readily available at a decent price? Are there any "gotchas" about a particular design? Type clubs exist to gather and provide this kind of information.
We joined the American Bonanza Society and learned a lot about turbocharged Bonanzas. ABS gave us a copy of the "time limited" parts list—those things that need inspection, overhaul or replacement on a scheduled or hourly basis, like landing gear and flap motors, alternators, batteries, instrument air pumps and fuel tank bladders. We got a list of Airworthiness Directives (ADs) applicable to the airplane and learned about manufacturers' Service Bulletins and mechanics' Service Difficulty Reports (SDRs), a good measure of the reliability of the type, and the possibility of future unplanned expenses.
Meanwhile, we looked at the list of installed equipment on the 1982 B36TC to begin our upgrade budget. If you know what it's going to cost to put the airplane into your "perfect" order, you can calculate what you're willing to pay for the airplane. We purposely looked for one that was as close to the original as possible, to simplify our upgrade process. That meant replacing 20-year-old radios, an original interior and an aging paint job. To minimize other costs, we needed to make sure the airplane itself was sound, which meant that we needed a prepurchase inspection.
The Prepurchase
The type club recommended locations for a pre-purchase inspection—a mechanical review of the airplane by a Beech-savvy mechanic, independent from those who had previously maintained the airplane (to enhance impartiality). The prepurchase A&P (airframe and powerplant mechanic) will also scrutinize the airplane's logbooks, reading between the lines to detect any unreported aspects of the airplane's history. A prepurchase follows the basic outline of an annual inspection; for a high-performance retractable, it will take an annual-like week or so to complete—with an accordant bill to pay. Most buyers can negotiate some or all of the cost of a good prepurchase inspection with the seller.
Meanwhile, it's a good idea to contact the Aircraft Owners and Pilots Association (AOPA) at www.aopa.org for a buyer's checklist, which includes information about non-aviation aspects of airplane ownership, like registration issues and title searches. You may also want to talk to an accountant about likely tax issues, as well as an attorney, if you're considering corporate or out-of-state ownership of the airplane.
The Deal—And The First Trip To The Shop
The B36TC passed inspection and the deal was struck. Next came a few weeks at an FBO near where the airplane was purchased (in central Tennessee). We had a short list of "must do," including the 24-month pitot/static and transponder checks. One look at the original sun visors told us that they had to go; they were replaced with a pair of Rosen sun visors. Also, in our view, a turbocharged engine demanded installation of an engine analyzer—saving either our lives or our pocketbook by helping us detect an engine problem before it becomes an engine emergency (see "Got Heat?," November 2001 Plane & Pilot).
After a pilot checkout with B36TC instructional expert Tom Turner ([email protected]), it was back to Los Angeles for the first year of ownership. Our airplane flew about 125 total hours, needing only one major repair—a new turbocharger—and a few more minor unplanned expenses. On track and on budget, it was time for the first refurbishment project: replacing the windshield (a little crazed at prepurchase, but now, more significantly so, with a few cracks at the base). Bonanza owners and ABS highly recommended Beryl D'Shannon's traveling modification shop, Kelly's Installations (see "Kelly's Installations," July 2003 Plane & Pilot), (956) 792-3923 or (516) 606-1480, which came to us for the installation.
---
Now that we were well-settled into our carefully planned aircraft ownership, up popped our first annual, which turned out to be quite an experience. If you'd like the first hint on how things went, it was scheduled for September 11, 2001. To see how this Bonanza fared, read the next installment of "Project Bonanza" part II below.
The Downward Ownership Cycle
As the buyer of a used aircraft, you should be aware of the downward ownership cycle. The most important point of this cycle to a buyer is the last year or two with the previous owner. As aircraft usage decreases in the typical scenario, the maintenance also decreases and, unfortunately, the new owner gets the associated problems. So, knowing about the cycle is helpful in thinking about your budget. Here are a few tips that we've gleaned from our Project Bonanza experience about the unpredictable ownership cycle:
• Most airplanes seem to follow a three- to five-year ownership cycle. The first year is full of activity. The plane is flown often and the owner spends money on airworthiness and upgrades.
• In the second to third year of ownership, aircraft use typically drops off dramatically. Either the cost or the time commitment of airplane operation overwhelms many owners. The airplane starts to suffer the effects of lack of use—seals begin to dry out and corrosion (of the airframe and inside the engine) begins, as moisture is not regularly "flown out."
• In the third to fifth year of typical ownership, it becomes harder and harder to justify the expense for the number of hours flown. Those new avionics installed in the first year begin to be out of date. Usage drops further; the airplane suffers and the pilot suffers from lack of recency—which makes him or her less comfortable flying the airplane, causing usage to drop even more.
The result is that mostly minor, but sometimes major, maintenance is postponed. Of course, some owners don't fall into this spiral. But many do. The emotional pilot may keep the airplane, turning it into a "hangar queen" or one of those you see tied down on the ramp with flat tires and weeds growing up to its belly. The more logical (or financially desperate) owner will sell the airplane—and the cycle begins again.
The buyer's concern is to know as much about these potential problems as possible, so always spend the time to study the maintenance history of the aircraft and look for a strong continued maintenance program. For your own good, know what to budget for healthy maintenance.