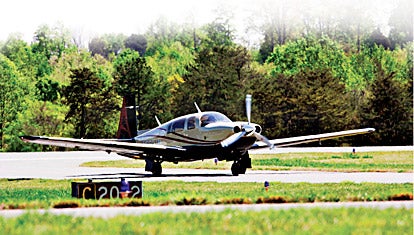 Flying is a compromise. You can have cheap, and you can have fun, but you won't necessarily travel fast. You can have fast, for sure, but it will not be cheap, and fun depends on your definition of the word. Several new single-engine airplanes are as fast as turboprops, but the question remains: Can an everyday Joe use that speed, say, on a typical business trip, and have fun in the process.
Businesspeople often have to attend meetings, and for that they need to travel. Airlines offer speed at the price of flexibility and convenience. Trains and automobiles take more time, and in today's world, time is one of the most precious commodities. Small airports at towns all across the United States suggest that general aviation can offer an alternative to "traditional" modes of transport. So, can a light GA airplane be an effective business tool?
After World War II, aircraft manufacturers went after the business market in a big way, as recreational piloting and the mail service would no longer be the sole outlet for light airplanes. Companies converted surplus bombers and even fighters into executive transports, but for the small businessman, lighter airplanes were the solution to a perceived need. The Cessna 195 was advertised at the "Business Liner" and everything from a Cessna 120 to the Beechcraft Staggerwing and Bonanza were billed as the solution for smaller businesses.
Indeed, the freedom offered by small GA airplanes enables businesses in ways that, while often overlooked, are central to the success of general aviation as a whole. Economies of scale for some big businesses, even in today's era of jet aviation, include a piston single or twin in their fleets for shorter hops.
The hallmark of a successful general aviation business airplane is speed and passenger capacity. If anything, speed is the more important of the two. Because of that, the marketing arm of any manufacturer will tend to emphasize speed over other factors.
---
Small business aviation has been dominated in recent decades by turboprops and turbocharged piston twins, both of which are expensive to own and operate. Until recently, most light GA airplanes haven't been able to compete in terms of speed, comfort, range and reliability. Cirrus has changed the face of single-engine aviation with variants of the SR22, Columbia rocketed to the front with the turbocharged 400 and last year, Mooney certified the turbonormalized Acclaim, taking the speed crown. Turbocharging allows light airplanes to post significant cruise numbers in the thin air of the teens and twenties.
General aviation offers the flexibility to land or take off from small airports that are more convenient than widespread locations. Speed is synonymous with time—the faster you fly, the more time you'll have on the other end. Is a GA airplane an alternative to the airlines in the 21st century? Can one of these new speed demons, specifically Mooney's Acclaim, make the grade for the average businessperson/pilot on a mission?
Plane & Pilot, our sister magazine, was fortunate enough to be the first aviation magazine to cover Mooney's new Acclaim, and as a result, I was offered a brand-new Acclaim to answer my questions. For any pilot, it would have been the ultimate dream: Mooney gave me the keys and said, "have fun." I decided that I would test my theory and, with faith in the speed of the Acclaim, I declared my intentions to set a speed record from coast to coast. I chose two cities that made sense from a business standpoint. San Diego, Calif., on the West Coast, and Charlotte, N.C., on the East Coast. Having put my foot firmly in my mouth, I had to make it happen.
As things worked out, Mooney could only get me an airplane for the week ending on April 6, 2007. No strong easterly flowing jet streams made it down south in April, but then again there wasn't any icing either. I established a perfect setup for a long business trip from one moderate-sized city to another. Because of scheduling, I had to make the speed run on April 6—make the meeting or airline it.
An airline trip from San Diego to Charlotte can easily take more than 10 hours, if everything runs smoothly and your shoes aren't a problem with TSA. You have to be at the airport an hour prior and it takes an hour to get there, an hour flight to LAX, along with another hour layover, which makes it four hours before you get out of California. If you get a direct flight to Charlotte with very favorable winds, it might take 3.5 hours of flying time along with an hour to get off the plane, get your bags and get to the rental car. Oh, and add another hour to get to your destination. No delays on an airliner and a flight schedule that accommodates your time requirement? Lucky you.
---
Now, let's say you're a savvy businessperson and know the value of time to your schedule. You own a Mooney Acclaim. The trip is 1,832 nautical miles, and the advertised speed is 237 KTAS. This would make a nonstop, no-wind trip time of 7.7 hours, but you do have to stop for gas, and who knows what the winds or weather will be. Your meeting is at 3 p.m.
The only special thing I did for this speed-record attempt was to join the National Aeronautic Association (NAA) and ask them to sanction the flight. I flight-planned, checked the weather and flew as if it were my plane on a typical cross-country. Midway near the great circle route between San Diego and Charlotte is Oklahoma City, so that was my fuel stop.
A planned trip time of about eight hours, plus time to stop for fuel along the route, dictated a very early takeoff time from San Diego to make my fictional meeting. A departure around 2 a.m. had two benefits: It was smooth and cooler over the mountains, and the military training areas weren't in use, allowing a more direct route of flight.
The first leg went just as planned: takeoff, climb out to FL230 and ATC gave me direct to Will Rogers VORTAC. The winds were cross or nothing—no help from Mother Nature. I flew lean of peak to conserve fuel, achieving 225 KTAS on 17.1 gph. Letting down into the Oklahoma City area required an unpredicted instrument approach, which could happen to any pilot. The rain did slow down my speed by two or three knots, and the built-in XM WxWorx kept me apprised of conditions, so I wasn't surprised by the changing weather.
An incredibly fast turn out of Oklahoma University's Westheimer Field put me back in the air less than 40 minutes after flying over the city. Climbing straight to FL250, I settled into a rich-of-peak groove between 232 and 235 KTAS burning 22.7 gph. The winds started to become more favorable, and for quite a while, I saw groundspeeds of 311 (for a short while, even 319 knots).
As I approached the Charlotte VOR, ATC directed a descent to FL230 and kept me there, at which point the airplane trued out at 237 KTAS just as advertised, but at a lower altitude. I didn't have the power all the way up and all the temps were well in the green, no CHT was over 373 and the TIT was 1,570. This engine/airframe combination is a good match.
The bottom line is whether the Acclaim met expectations and beat my "airline" benchmark. I arrived in Charlotte just after 1 p.m. local, 7 hours and 27 minutes after I left San Diego, easily beating the airlines. The resounding answer to my question is that the Mooney Acclaim can indeed make a serious business trip, reliably, in weather and be really fast doing it. For once, advertising matches performance.
Oh, by the way, three speed records toppled to the Acclaim and were confirmed by the NAA and, yes, it was a blast. A classy way to travel!