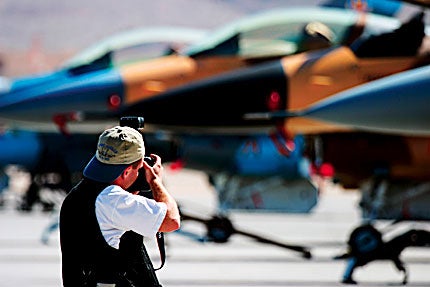 There it sits, waiting, a latency of brooding power. It's like the unprocessed image on a digital memory chip. Family: American warbird. Genus: Lockheed Stealth Fighter. Species: F/A-22 Raptor.
You can feel the deadly purpose rise from its gold-tinted canopy and cool, gray skin, like the heat waves that shimmer the Vegas Strip in the distance. The big bird poses for us beneath a sheltering awning, meant to block the intense sun, but still allows for enough daylight to seep in. That's good news for the Nellis Air Force Base (AFB) air-crew personnel. It keeps their brains from melting right out of their skulls. And it's good news for us, too, because light is what it's all about.

Think of us as a complete flock of lone eagles: around 150 professional aviation photographers and advanced amateur wannabes, who have come to "Sin City" to share our stories plus learn from top pro colleagues how to capture the beauty of those creatures we love above all others: airplanes.
The event, which was entitled ISAP (International Society of Aviation Photographers) IV, was cooked up three years ago by ISAP founders Jay Miller and Chad Slattery. This year's three-day event is the biggest yet.
At Nellis, none of us birdbrains passes on the slightest opportunity to load up our digital memory cards as well as film canisters with images. One of the highlights is crawling over muscular Iron Curtain flying iron: a Russian MiG-29 and Sukhoi Su-22 for openers and then an armory of Russkie whirly-birds, as well as missile launchers and ground-attack vehicles.
Miller and Slattery put together quite an impressive list of professionals, and who much better to lead off than general-aviation meistershooter Paul Bowen? He has been a mainstay of general-aviation imagery for a quarter of a century. After an affable presentation on how to keep safety shoot air-to-air photography ("You most certainly need to have excellent communication between the photo ship and the airplane you're photographing," he advises), Bowen shared the prides and pitfalls of his own transition into digital photography, including helpful insights into how he and his wife run their photo business.
Seiichi Nakajima from Japan dissected digital-image capture technology, while Mike Kline, art director for AOPA Pilot magazine, shared tips on what all editors and art directors are looking for when they select images. Joe McNally gave us a rousing presentation of his Nikon SLR digital shoots for the renowned National Geographic and the Lockheed Martin F/A-22.
---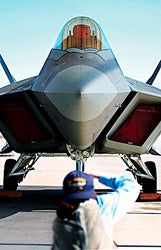 And then, several words from our sponsor, Canon U.S.A., spearheaded by Dave Metz, the director of professional products and longtime champion as well as sugar daddy of aviation photographers. Aided and abetted by regional tech rep Dave Carlson, Metz showed off Canon's latest gear. Nikon, AOPA,
Air & Space
magazine as well as Lockheed Martin also sponsored and supported the event with lots of presentations, gear and photos, while George Hall did his own take on the digital-photography revolution.
There were certainly many surprises. Paul Bowen as well as George Hall spoke about computer image processing time. We discovered that we were spending about twice as many hours in front of the computer monitor as behind the camera. One solution? Bill the client for the time!
Prolific Brit photographer, Mark Wagner, (he has shot more than 2,000 covers for the weekly magazine Flight International) gave a funny as well as inspiring discussion about his transition from film to digital imaging, as well as his experiences with working on Adobe Photoshop. Jim Koepnick, who runs the prodigious EAA photo load with ace-formation pilot Bruce Moore, gave a detailed and valuable presentation on safe and sane air-to-air shooting.
Incontrovertible was Koepnick's own view of the important role that air-to-air shooters must be willing to step into: safeguarding the mission. "Photographers are the greatest safety influence. You have to brief everyone on how you want each shoot to run, then stick to what was discussed. No surprises, or you're asking for trouble."
After the USAF Thunderbirds bend our minds with maneuvers that your own college physics professor would proclaim impossible, we bus out between the left and right runways for the crowning glory of our day at Nellis: the chance to shoot a "Red Flag" launch at ground zero.
Red Flag is quite a massive, multinational combat-training exercise involving troops and aircraft that Nellis puts on several times a year. We find our vantage points in the desert between two very long runways. The tension as well as excitement begin to rise because, before long, all hell is going to break loose.

---
| | |
| --- | --- |
| A flock of military aircraft, such as the F/A-22 Raptor, was the main attraction at ISAP IV, where aviation photographers from around the world took photos and shared tips and tricks of the trade. They were even given their own private air show by the USAF Thunderbirds (right).A flock of military aircraft, such as the F/A-22 Raptor (above), was the main attraction at ISAP IV, where aviation photographers from around the world took photos and shared tips and tricks of the trade. They were even given their own private air show by the USAF Thunderbirds (right). | |
Eric Long knocked us out with a trip through several months of shooting the development, move and grand opening of the Smithsonian's new Steven F. Udvar-Hazy Center museum located at the Dulles International Airport. "People who exclaim, 'Don't worry about the background. We can fix it in Photoshop,' create quite a dangerous mindset," says Long. "As pro photographers, we still need good lighting techniques, whether we're shooting digital or film."Jim Wilson took up the mantle with his talk on the importance of hustle and professional interactions with business types when photographing corporate aircraft. And Katsuhiko Tokunaga, widely regarded as one of the greatest living air-to-air military-iron shooters, gave a fascinating slide show of his global photo adventures.
Tokunaga's advice: "The way I survived for 25 years is to do everything safely. You have to continue to always judge the limitation and capability of the aircraft and the pilots you're flying with. You must plan very carefully. Brief carefully. Fly carefully. Always."
I feel the anticipation bristle through our milling gaggle of shooters: The very first jets are lined up and ready to go for us. Cameras soon raise, lenses zoom in as the airplanes waver in the telephoto-compressed heat waves, like phantasms.

And here they come! The first indistinct keening, then the roar, of engines, pushes through our soundproofed headgear as a huge dark gray F/A-18 Hornet accelerates toward us. Then the whump-whump as twin afterburners kick in, and I lock auto focus on the racing bird as it's rolling, rolling so fast now that it's hard to track him. I mash the shutter button, and the Canon Mark II shoots images so fast that I hardly notice the camera reflex mirror cycling up and down. So fast that it's not easy to track the bird. The size and power of the ferocious sound, like a body punch, and it flashes by. I zoom in on the flaming exhaust cones, full of brilliant orange fire, and it climbs for the whitish burning blue, and I pan back because here comes the next one. What a rush!
William T. Larkins, with his wife (who was a ferry pilot during World War II), closed out the final evening as ISAP's guest of honor. He charmed the assemblage with gentle amiability and a stirring display of his early aviation photography.
Larkin's presentation made for both a warm and fuzzy finale to ISAP IV and a heralding of the path that we all must walk. Looking at the black-and-white photos, many taken before most of us were even born, we instantly relived the astonishing birth of the century of flight, which changed our world forever. And along with it came a realization that there will soon come a time when, sooner or later, each one of us who are gathered at this spectacular event will no longer be able to lift the magic gathering glass to catch the fleeting shape of things that fly. It was a bittersweet moment that made us all the more cherish and relish these precious moments of time of being the eagle eyes behind the lens—a perspective that few get to really master.
Over the next hour and more, Eagles to the right of us and Hornets to the left of us volley and thunder, and happily, we fall pretty to their overwhelming power. Scrambling back and forth between the runways, we jostle for space on the radar tower nearby, seeking that special vantage point that hasn't already been discovered, absorbing the thrilling, throbbing power in our guts as we capture image after image after image. Ah, this is heaven.