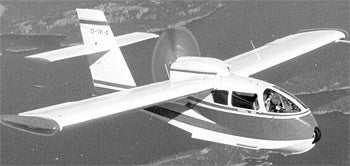 STANDARD DATA: Seats 4. Gross wt. 3,800. Empty wt. 2,500. Fuel capacity 100. Engine 285-hp Continental Tiara.
PERFORMANCE: Top mph 165. Cruise mph 154. Stall mph 56. Initial climb rate 1,030. Ceiling 16,000+. Range 795. Takeoff run (land) 520. Takeoff run (water) 790. Landing roll (land) 570. Landing (water) 490.
A product of Trident Aircraft Ltd., Vancouver, British Columbia, the Trigull 320 has been in the research, testing, and construction stage since 1971. The Trigull has been considered Canada's answer to the old Republic RC-3 SeaBee, the Lake Buccaneer, the Italian Riviera, and other amphibians that have been developed over the years. It is a pusher, which has many advantages over a tractor. The rearward location of the propeller and engine offers a more practical location of the center of gravity. Unique features include retractable wing floats that serve double duty as wing-lifting areas, a nose wheel that can act as a bumper, drooping ailerons with flap extension, Continental's tried and proven Tiara engine, retracting water rudder, and ample cabin and baggage space. The Trident's 285-hp powerplant turns a constant-speed reversible-pitch propeller and can produce up to 320 hp for five minutes. Seating is for a pilot and up to five passengers. Entrance is through three doors: one on each side of the cabin and one bow door.