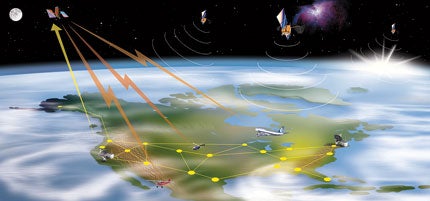 The combination of the GPS and WAAS satellite constellations provides all of the United States with the capability for WAAS accuracy and approaches.
The benefits of transitioning from pilotage to dead reckoning, four course ranges, ADF, VORs, Loran and then to GPS have been nothing short of spectacular. Each successive type of navigation brought the potential for more accurate navigation, better flight-planning capability, improved fuel management and a more knowledgeable and comfortable experience for the pilot. You could say that each step was a quantum leap in terms of capability. In the last few years, the use of the acronym WAAS has become commonplace, yet many pilots don't understand exactly what WAAS brings to flying.
To begin with, WAAS stands for Wide Area Augmentation System. In this article, we'll review some of the features and benefits that are inherent in WAAS. One way to view WAAS is as a more accurate GPS. More appropriately, it's a more accurate GPS with some bells and whistles that provide the basis for a variety of new instrument approaches. Given that, could you or would you say that WAAS is another quantum leap forward in navigation? Depending upon your criteria, the answer could go either way. For two reasons, I lean toward the belief that it is, indeed, another step up the navigation curve.
---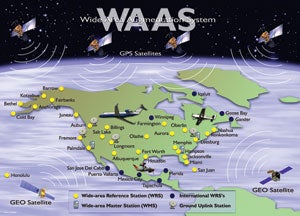 1) Accuracy
WAAS is substantially more accurate than the existing global positioning system. A direct quote from the FAA's website, "Using WAAS, GPS signal accuracy is improved from 20 meters to approximately 1.5–2 meters in both the horizontal and vertical dimensions." GPS has always been more accurate in the horizontal plane, but WAAS now ensures a high level of accuracy in the vertical plane as well. In addition, the WAAS implementation automatically monitors the aircraft's GPS accuracy and will instantly alert a pilot when the accuracy is degraded.
This monitoring is referred to by another acronym, RAIM, which stands for Receiver Autonomous Integrity Monitoring. In a strange twist, that phrase actually provides a good description of what RAIM does. Without going deeply into the details (which could be an article in itself), RAIM automatically monitors system integrity, i.e., accuracy. If there are at least the requisite five GPS satellites visible for basic fault detection (FD), or six for an enhanced version called fault detection and exclusion (FDE), continuous testing determines (from the satellite availability, geometry and other criteria) whether the accuracy meets the minimum required. If not, the pilot will be notified within six seconds, and depending upon factors like when the alert was received, the aircraft's position on an instrument approach, etc., the requirements might allow for continuing an approach or a mandatory suspension of the use of GPS, thus requiring a change to another navigation technology (e.g., VOR/ILS).
Although WAAS actively monitors for potential accuracy issues, the fact is that degraded accuracy is usually a result of not having enough operational satellites in optimal view. Because the satellites' orbits are known, there are applications that predict RAIM availability through some GPS units, other applications and websites; RAIM information can also be obtained through an FSS briefing or through DUATS GPS RAIM Prediction. Pilots should verify expected accuracy before beginning a flight in any questionable weather.
---
2) Availability
The second reason you could consider WAAS a quantum leap forward is accentuated by a recent FAA press release: "As of September 2008, there are now more Localizer Performance with Vertical Guidance (LPV) instrument approaches in the U.S. than there are Category-I ILS approaches." As of January 2009, there were 1,445 published LPV approaches.
An LPV approach is based upon WAAS capabilities and could conceivably be to the same decision altitude as an instrument landing system (ILS). Most, if not all, are to a slightly higher decision altitude. Although not considered a precision approach by the FAA, like an ILS, it's flown with what the FAA refers to as a "glidepath"—think glideslope—to a decision altitude. Considering that it's theoretically possible to have an LPV approach at every airport in the country without each airport having to spend millions of dollars for an ILS installation, WAAS is a major improvement in general and commercial aviation utility.
We would be remiss not to qualify the previous statement. Any airport that wants an LPV approach will have to meet specific FAA requirements. For example, things like runway and approach lighting, runway length, airport property size, approach plane clearance, etc., are spelled out in detail. As a result, even though WAAS could support an LPV approach, some airports simply can't qualify.
But if the airport can meet those criteria, then it's possible to fairly quickly, easily and relatively inexpensively have a WAAS approach approved. The decision to install an ILS or a WAAS approach (and its required equipment and improvements) could equate to a difference of millions of dollars. Or much less if the airport already has most or all of the required improvements!
---
What Is WAAS?
The WAAS infrastructure consists of 38 ground reference stations spread throughout the United States, two master stations that provide control for the other stations, two geosynchronous satellites, four uplink stations, two operational control centers and the WAAS terrestrial communications network. The ground stations operate from precisely measured locations and send data that adjusts the normal GPS accuracy to the higher level of accuracy that WAAS receivers require. Additionally, the aircraft's WAAS computer typically operates at a much higher speed than previous GPS devices, thus ensuring continuous and accurate monitoring.

WAAS Approaches
Like ILS approaches, LPV approaches are easier to fly than conventional nonprecision approaches because they have a glideslope. But there's a feature of the LPV approach that makes it even easier to fly than an ILS, especially as the aircraft gets closer to the runway. ILS approaches get increasingly more accurate—read "twitchy"—as the aircraft descends. In other words, the aircraft requires increasing precision to stay on the localizer and glideslope as it gets closer to the runway threshold. An LPV's glidepath scaling changes to linear, as opposed to an ILS's angular scaling. In other words, it remains at the same scaling on the approach. The result is the likelihood of a more stable approach.

In addition to the LPV approach, there are two other types of WAAS approaches. If you include them in the mix, practically every airport in the country could have a WAAS-based GPS instrument approach.

LNAV approaches are analogous to normal GPS approaches, but at a higher level of accuracy. LNAV/VNAV provides a "pseudo" glideslope that allows a constant rate of descent rather than the normal step-downs of the LNAV or standard nonprecision approach. Although there's a glidepath indication, an LNAV/VNAV approach also isn't considered a precision approach and doesn't have the lower LPV approach minimums. But otherwise, it's as easy to fly as an LPV and easier than an LNAV.

As of January 2009, there were 3,915 LNAV approaches, 1,577 LNAV/VNAV approaches and, as mentioned earlier, 1,445 LPV approaches. That's a total of 6,937 WAAS approaches in the United States. For a sense of the future, there are only 783 stand-alone GPS approaches remaining.

What WAAS means to the instrument pilot is the potential availability of precision-like and nonprecision approaches to an increasingly large number of airports, including some airports that previously couldn't have any instrument approaches. It also means that approaches like the LPV and LNAV/VNAV approaches are easier to fly because of constant-rate-of-descent glideslope indications. Finally, it means that many (maybe most) of these approaches are to lower minimums than existing approaches at a given airport.

In an interesting dichotomy, some conventional nonprecision approaches have lower MDAs than the newer WAAS approaches, even though they're over exactly the same routing. It pays to review all approaches to an airport before choosing one.

There's an interesting safety issue for aircraft with GPS devices, but especially for those with WAAS navigators. Because of their more precise course and altitude accuracy, these aircraft have an increased likelihood of midair collisions when flying on airways. As more aircraft are equipped with WAAS GPS units, looking out the window is going to become even more important.

The Future Is Now
The availability of WAAS has and will continue to open up airports to instrument approaches and enable new approaches to lower minimums. Consider, if you will, that just a scant few years ago, the FAA implemented the first "overlay GPS approaches" over existing nonprecision approaches. These overlay approaches required that the aircraft have, in addition to IFR-approved GPS devices, appropriate equipment to fly the approach using the underlying VOR or ADF technologies. Those days are long gone. Today's TSO-146a receivers operate independently of any other navigation technologies. A WAAS GPS unit can be the sole source of navigation on a flight. That's comforting since the FAA is phasing out NDBs and the first major shutdowns of VORs is scheduled for 2011.

If you haven't considered upgrading to WAAS technology, now may be a good time to think about WAAS. If you'd like to read more about WAAS, read the AIM, section 1-1-20, where you can find out everything you might want to know about it.
WAAS-Enabled Units For GA


Avidyne Entegra • Bendix/King KSN 770 • Garmin 430 • Garmin 530 • Garmin G1000