Tuesday, May 4, 2010
Putting The Adventure Back In Aviation
Top airplanes, gear and schools for a different kind of flying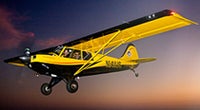 Aviat Husky
Aviat Husky A-1C
Aviat seems to reinvent the Husky every couple of years, and today's incarnation, the 180 hp "C" model, also is available with 200 hp and an MT composite prop. In addition, it has new ailerons that utilize Pitts "Super Stinker" technology to produce a higher-than-normal roll rate without spades. The useful load has been increased to 925 pounds, which is a bunch, and on top of that, the aircraft has unique cockpit-protecting airbags! Price: $240,251 (200 hp); $196,811 (180 hp). Contact:
www.aviataircraft.com
.

HUSKY
We were coming around a bend in the canyon, when suddenly, this tiny field was right there. Full flaps, a hard slip, and we thumped down on a long-abandoned pasture with 800-foot canyon walls all around us. Very cool!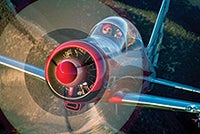 Bear 360
Bear 360
Available either as a kit or finished airplane, the Bear 360 is the fighter we've all been wishing for. Designed by noted test pilot Skip Holm and Sergei Yakovlev (yes, that Yakovlev), it truly is a fighter. The engine is the well-known, thoroughly loved Vendeneyev M14P/F (360 to 420 hp), and the all-aluminum airframe is produced in Russia to military standards. The 210 KTAS 75% cruise speed is at sea level, so since the engine is supercharged, it must be a howler at altitude. Price: $185,000–$285,000. Contact:
www.bearaircraft.com
.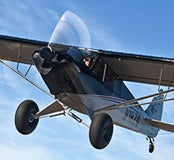 Carbon Cub
Cub Crafters Carbon Cub
And speaking of reinvention: The longtime home of the Super Cub, Cub Crafters, has reinvented the Super Cub as an LSA/S-LSA utilizing a 180 hp version of a Lycoming. The traditional steel-tube fuselage is engineered for crash survivability but is surrounded with space-age carbon fiber to bring the weight down to LSA limits. The airplane has performance to burn, with a 2,100 fpm climb rate, and 1,100 fpm at 10,000 feet! Price: $163,280. Contact:
www.cubcrafters.com
.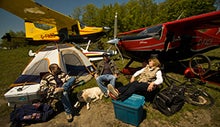 Found Expedition E350
Found Expedition E350
With its 52-inch-wide cabin (nearly a foot wider than a C-182), the Expedition is the Winnebago of backwoods airplanes, and its performance is just as big. Using a 315 hp IO-580 Lycoming, it'll tote 1,500 pounds of useful load in and out of smaller-than-normal runways and still cruise at 155 KTAS for a 750-mile range with reserves. The all-aluminum airframe is wrapped around a steel-tube cabin section for safety. Price: $495,000. Contact:
www.expeditionaircraft.com
.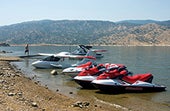 Icon A5
Icon Aircraft
A newcomer to the field, Icon Aircraft has introduced what it refers to as the "Jet Ski for the sky." A thoroughly modern and state-of-the-art two-place amphibian, the Icon A5's sophistication belies its LSA/S-LSA certification and challenges any factory's standard of execution and design. Its folding wings make for easy transportation and storage, and its 100 hp Rotax engine sips fuel. Price: $139,000. Contact:
www.iconaircraft.com
.
Page 2 of 5